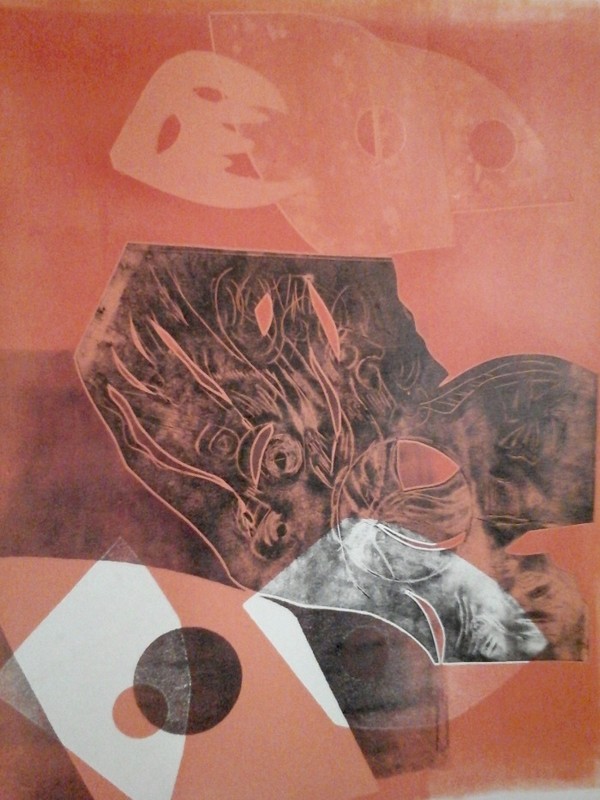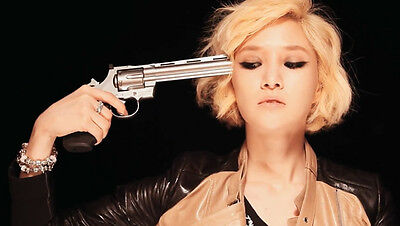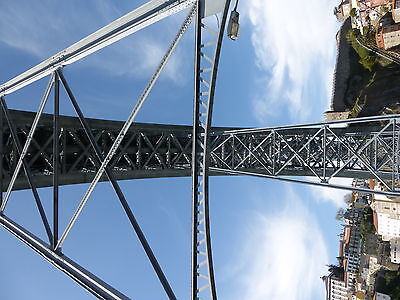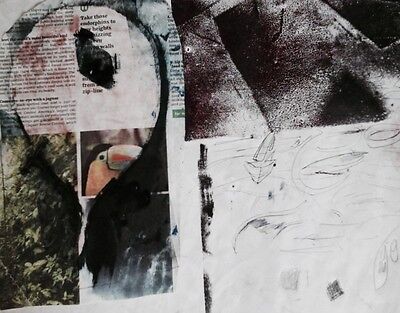 Twocan
Newspaper collage
and drypoint ink.
Follow other collectors, see whats selling at auctions and in global art fairs.
Accent colours with your interiors and pick out specific colours which draw your eye. Modern art holds its value and has a much wider audience, whereas older prints and paintings might attract specialist buyers and patrons. Conceptual art is a risky pick of the draw, and whilst current, you may have to wait several years for the young artist to gain recognition. when selling is concerned it's worth being objective to the trend at the time and the flow of interest. Holding out to the end of auctions and private views and NOT joining the majority might see you in with a bargain and a risk taking buyer!
Never take the passion out of what you do, be un- predictable, spontaneous but cautious with an overall balance of judgement. In other words don't give up change strategies and you might just find a refreshing jive to your print seeking expertise.

Storing prints is difficult and an art in itself. Use archival tissue, and glassene to seperate prints. Place in flat storage ie. a draw or table top. You can press cockled prints, however be careful to protect the prints.

Cardboard is great. When sending prints in the post make sure it is a reputable courier service, grey board to seperate larger piles and brown parcel paper with corner protecters to provide safe travel taped with archival tape when possible.
Take special care looking closely at the surface of the print. Has it damage, is it damp, foxed or creased. These can affect value.

Happy bidding or selling and again don't forget the passion!
Risk Taking
Learning to build an empire, but fall and rise with sales.
Take yourself apart from everyone else, look again, reschedule and always be on time.
This may seem ridiculous but sociable play exist in selling your work. There are no heroes in charity, in fact charity businesses are the most ruthless of management and marketing that exists. However, We must stress that Consistency, creativity and adaptability to play change and observation can lead you to a fail safe guarentee that you will be successful. Longer lasting and build your company brand or identity with a framework and visualisation that you can blue sky ideas at the worst times of all. There is no better sale though than those trusted customers collectors or users that always come back to you and like you.

After all being fake catches up with you in the end. Its all really positive and lovely! Go for it xxxx