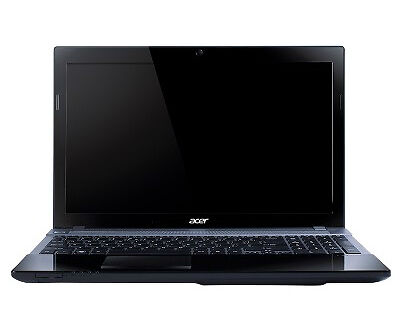 The main difference between PC laptops and netbooks is size. Netbooks are generally much smaller than even the smallest laptops, generally ranging from 10-inch to 12-inch screens. Laptops offer a wider variety of sizes, and they are less portable than netbooks. For buyers trying to decide between a laptop and a netbook, there are a few factors to take into consideration while shopping. Both options are generally convenient and can be taken out easily and used while on the go, but laptops may be a better option for consumers who need a larger screen for work or other tasks.
Laptops may also offer more features that some consumers may be interested in. However, netbooks are great for surfing the Internet or listening to music on the go. Students might enjoy the lightweight flexibility of netbooks. Since there are a variety of benefits to both types of computers, it is really a buyer's preference when it comes to selecting a PC laptop or a netbook.
PC Laptops
PC laptops offer versatility. However, some consumers may not want to pay the higher price for a larger computer. A laptop is easier to type on, offers a wider range of features, and has a larger, easier to read screen. It is also heavier, which can be a determining factor for consumers who want a computer to take along with them frequently.
Brands
There are several common brands that consumers see when they are shopping for a PC laptop. Brands vary in size, features, and prices, so buyers should select either a brand they already know and love, or the one that fits the criteria they are looking for when they are trying to find the right laptop.
Brands such as Compaq, Toshiba, HP, and Sony offer a variety of laptops in varying price ranges that offer different options and features. Dell is another popular brand to consider. Brands have different types of processors, offer a variety of internal memory storage, and may have software that consumers can enjoy.
Styles
Styles of PC laptops vary. There are sleek and streamlined styles, which are created to be thinner and therefore more lightweight, and there are laptops created in different colours and designs. Some laptops may be bulkier than others, and some may have a more square appearance while others are more rounded.
Various models of laptops offer different looks, and while a Sony Vaio laptop is extremely sleek, a Dell Inspiron is a bit thicker and heavier. Different brands and models offer different styles, so if style, aesthetics, and looks are a big deal for consumers, they may want to focus on an HP that is colourful, a Dell, or a Sony Vaio laptop.
Sizes
Size is where there are many options for consumers who are looking for a PC laptop. Laptops begin at roughly 12 inches and can go all the way up to 17-inch or even 18-inch models. The larger the screen is, the heavier and less portable the laptop is. For buyers who need a reliable laptop for work, a larger screen is easier to see and work with, and a bigger keyboard is simpler to type on. However, a smaller machine is more convenient to carry and weighs much less than a larger, bulkier laptop.
Features
The main difference in features between a netbook and a laptop is the fact that a PC laptop usually has a built-in disc drive, and a netbook is too small for that capacity, so an external disc drive must be purchased. This is an inconvenience that some consumers do not want to hassle with, especially if they require the use of a disk drive frequently for work or school. A laptop processor is most likely better and faster than a netbook processor, and the memory usually exceeds that of a netbook. Screen resolution also tends to be sharper, but the battery life is longer on a netbook.
Netbooks
Netbooks are small, lightweight, and very portable and convenient to carry. They can easily be slipped into bags or backpacks, and they are less expensive than PC laptops. Most netbooks also have built-in Wi-Fi, so users can access the Internet on the go, and some even have Bluetooth access. For consumers on a budget who need a handy, convenient computer for general or light usage, a netbook is a great and affordable option.
Brands
Common brands of netbooks are the same as many laptop brands. Quality brands like Dell and HP make netbooks, along with more affordable brands such as Lenovo, Acer, and Asus. Selecting the right brand is up to the buyer, but some brands are less costly than others, and some may offer fewer or more features. Some brands like MSI, offer colourful netbooks, and brands vary in terms of features, options, memory, and capacity.
Styles
There are a wide variety of styles when it comes to netbooks. These small, lightweight computers are either thin or thick, and are offered in a variety of colours and designs. The HP Mini is a popular style of netbook that offer different colours as well as 250 GB of memory along with other features.
Sizes
Netbooks range from smaller sizes such as 7 inches, and go up to roughly 11 inches. The smaller netbooks are less expensive, but their tiny screens may be hard to see for users. However, they are lightweight and extremely portable, weighing only about a kilogramme. The size does limit how much consumers can do, and it is difficult to perform more than one task at a time due to the limited screen size.
For users who just need a small, portable computer to carry along and browse the Internet, check email, or listen to music without doing too many tasks or even writing documents, a netbook is an affordable, fun, and stylish option.
Features
The only drawback to owning a netbook is that its features are limited compared to a PC laptop. The RAM is reduced, and there is no optical drive. However, an upside is that a netbook tends to use less battery power, so the battery life is up to twice as long as a laptop battery. The processor is also a bit slower, so for users who need to multitask, it may not be the best option.
It is lightweight and easy to use, and with the smaller keyboard, perfect for small tasks like typing emails and browsing the Internet. The memory can be expanded with the use of an external memory device, such as a USB drive. It really depends on what users use the computer for, and that should enable consumers to pick the right computer for the job.
Comparing the Two
For buyers who are trying to decide between a PC laptop and a netbook, there are several key differences between the two. As far as price goes, netbooks are much less expensive than most laptops, but netbooks also have fewer features.
Type of Machine

Size

Features

Processor

Battery

Memory

PC Laptop

Offered in various sizes

Has a built-in optical drive

Offers buyers more multitasking capability

Has a faster and more powerful processor

Battery life is generally only a few hours

Offers more internal RAM

Netbook

Smaller and thinner

More lightweight than a laptop

Has a smaller keyboard

May run a bit slower than a laptop

Can offer almost twice as much battery life

Memory can be expanded with an external device
It all comes down to price and the tasks the users need the computer for. Users who need a more heavy-duty machine for work may opt for a laptop, but casual users who want a computer for fun on the go may decide on a netbook.
How to Buy a PC Laptop or Netbook on eBay
To purchase a fabulous new or used PC laptop or netbook on eBay, there are a variety of options, sizes, brands, and colours available to please every user. Type the search terms into the user-friendly search bar on any internal page or the home page, or simply navigate to PC laptops and netbooks to see the selection. You can then shop by laptop or netbook, or choose the screen size you desire. Shopping by brand is a good choice for you if you already know which brand of machine you would like.
If you are on a budget, type in a price range to only see computers that are in your budget for convenient shopping. Only purchase laptops or netbooks from merchants who are Top-rated sellers on eBay. Read each listing carefully to see what comes with the machine, what features it offers, and what the shipping costs are. If you want to alleviate shipping your new computer, check for local sellers and stop by in person for a pickup to avoid the hassle of shipping.
Conclusion
Laptops and netbooks are amazing innovations. Being able to take a computer on the go to the office, to school, to work, or simply to the next room is convenient and easy. Netbooks are small enough to fit into handbags and are fun for surfing the Internet, listening to music, or checking up on social networking sites. Consumers who like to take work home with them will appreciate all of the features that a nice PC laptop offers, and the portability as well.
A netbook is a good starter computer for children, and the small keyboard is perfect for their little hands. They also may not require the storage or optical drive that older teens and adults need. A laptop or netbook is also a good second computer to augment the family desktop computer, so there is another computer that family members can take turns using if necessary. There are many upsides to buying a PC laptop or a netbook, and both are affordable and a great way to stay in touch with technology on the go.