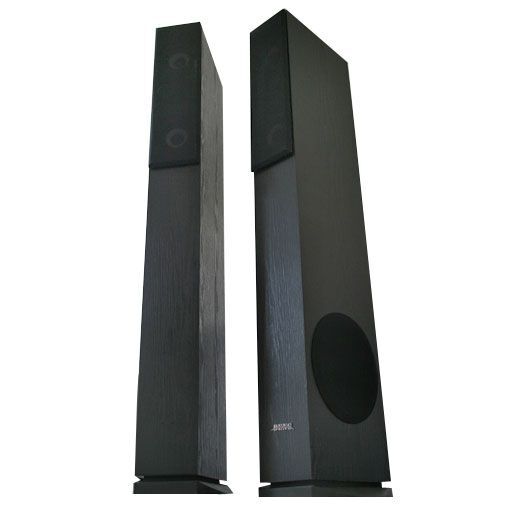 Speakers make it easy to get theatre quality sound in the comfort of your own home. However, purchasing speakers for your home audio system can often be a confusing process. With the wide variety of speaker types, understanding the different options help you to find the home audio system that best fits your needs. When choosing to purchase a home audio system, you can purchase multiple speakers to create a cohesive and lifelike sound experience. You can also purchase one or two speakers to simply enhance your television's sound quality.
Adding speakers to your home is one of the most affordable ways to transform your movie watching experience. Speakers for home audio systems can be purchased in electronic stores, or online using eBay.. Once you understand the different types of speakers and how they work together, you can purchase a home audio system that works best for your home and your budget.
Types of Speakers
Choosing which type of speakers fit best in your home is usually a matter of personal preference. Some people choose large floorstanding speakers for their sound quality, while others prefer smaller satellite speakers for their sleek design. For a complete home theatre experience, each type of speaker should be used to create a cohesive sound experience. By understanding the different types of speakers and their features, it is easy to make an informed purchase decision on the right speakers for your home.
Centre Channel Speaker
The centre channel speaker is one of the most important speakers in a home audio system. When watching a movie, the centre channel speaker delivers almost half of the sound, including most of the dialogue. These speakers are meant to anchor the sound to the television and enhance the sound of movies, sports, or television. The centre channel speaker should always be placed directly above or below the television for optimal sound quality, so it is important to consider placement of the speaker in your home before you make a purchase. This ensures that the surround sound is not disrupted. If you have a wall-mounted television, you do not have a stand to place the speaker, so wall mounts or an in-wall speaker would be the best option.
Another factor to consider when choosing a central channel speaker is size. Central channel speakers come in a variety of sizes. When choosing the size, consider your television size as well as the size of the other speakers you already have or are deciding to purchase. Subwoofer or satellite systems require smaller central speakers, while tower speakers require a larger central channel speaker.
Front Left and Right Speakers
In addition to central speakers, front left and right speakers provide sound that blends with video to create a more realistic movie watching experience. The front left and right speakers handle the musical scores in a movie, as well as many special effects. The special effects sound move back and forth between the speakers for an enhanced experience.
In addition, when listening to music, front left and right speakers act as the left and right stereo speakers. When purchasing left and right speakers, it is important to find the type that fits best in your home. The chart below shows the different types of left and right speakers, a description of each, and the benefits and drawbacks of each option.
Type of Speaker

Description

Benefit

Drawback

Tower speakers that are meant to sit on the floor beside the television or stereo

Produce high quality sound and provide great low-frequency response

Produce the most bass out of the speaker options

High quality options can be very expensive. Larger options take up more space than other options

Smaller tower speakers meant to sit on a shelf beside the television

Produce great sound and are more space efficient than floor-standing speakers

Often much more affordable as well

Bookshelf speakers don't produce as much bass as floor-standing speakers and can sometimes require an additional subwoofer

Compact speakers that can be wall-mountable or sit on a shelf

Produce big sound from a small package

Must be paired with a subwoofer, which can be an additional cost
Choosing speakers is based on personal preference and budget. After understanding the benefits and drawbacks of each type of left and right speaker, it is easy to choose the best fit for your home.
Surround Speakers
Surround speakers are placed around the room to create a realistic experience when watching movies by putting you right in the centre of the action. Surround speakers are responsible for atmospheric, ambient noises such as rain drops, rustling leaves, or footsteps on gravel. They also work with the other speakers to create exceptional sound for directional effects, such as a train speeding by or a bullet passing. The most common surround speakers is a 5.1 channel surround system and increase with quality. However, newer home theatre systems can power more than a single pair, and additional surround speakers can be purchased to create back sound around the room.
When choosing surround speakers, most people choose to go with satellite speakers or bookshelf speakers since the speakers are usually require a shelf or wall mount. Surround speakers should be the same quality as the other speakers to produce similar sound performance. When placing a surround speaker, pivoting mounting brackets or speaker stands can be used to direct the sound towards the audience.
Powered Subwoofer
Powered subwoofers are one of the most important speakers for creating a realistic theatre experience. Subwoofers enhance the bass, which is what makes the soundtrack feel bigger and more lifelike. Subwoofers produce sound such as booming thunder, crashes, and explosions.
Aside from movies, subwoofers enhance many different types of music as well. When choosing a subwoofer, the size should be the first thing you consider. Subwoofers with large drivers produce deeper bass than smaller options. Multi-woofer cones are another larger option, usually used in large rooms. Compact subwoofers work best in smaller rooms or for those looking for a lower bass option. Powered subwoofers have their own amplifier, so they do not need to pull power from other speakers.
Sound Bars
Sound bars are a compact and affordable option for enhancing your television sound. Instead of pairing different speakers for a complete home audio system, many people choose to simply purchase a sound bar to improve the sound quality of their television. Sound bars are smaller options that generally have a small, pipe design that doesn't take up much space. Some options include a wireless subwoofer for added bass. Other sound bars come with in-built bluetooth technology, which allows you to stream music directly from your smartphone or tablet. Bluetooth adapters can also be purchased if the technology is not already built in the speaker.
Determine a Budget
Creating a home theatre experience relies solely on the quality of speakers. While home audio systems can oftentimes be an expensive investment, quality speakers give you the most value for your money. While many people think buying a home audio system is extremely costly, the wide variety of types, brands, and styles make it easy to purchase a home audio system on any budget.
Some speakers boast different features and can become pretty pricey, but according to blind tests, there is little difference in audible quality. Budget speakers can be affordable, and have little difference from the more expensive options. Cable cords also have little difference in quality and can be purchased to fit within any budget. Since purchasing a home audio system can get pricey, some people choose to save money before making their purchase.
Purchasing Speakers for a Home Audio System on eBay
eBay offers an extensive selection of speakers to fit within any home and budget. To begin your search, you can start by searching keywords on the eBay homepage.. If you know exactly what you are looking for, you can search specific keywords such as 'satellite speaker&' or 'bluetooth sound bar'. To browse through even more options, choose a broader keyword such as 'home audio speaker' to see the different types and prices. When searching on eBay, you can be sure you stay within your set budget by setting your price limit.
Finding a Seller
Another thing to consider when purchasing a home audio system is buying from a local seller. Since speakers are generally very large and heavy, shipping can get very costly. If you purchase speakers from a local seller, you can often times set up a pick-up for the item to avoid shipping costs. When buying from local sellers, you can check their detailed seller rating to feel more comfortable about your purchase.
Conclusion
While choosing to purchase a home audio system can seem costly and confusing, eBay makes it easy to find what you need while staying within any budget. Different speakers enhance different sounds, so before purchasing speakers, it is important to determine the use of the speakers. Some people use speakers to enhance movies, sports, or television, while others use their home speakers for music when entertaining.
By understanding the different options, you can decide which speakers would fit best with your needs. If you are looking for a lifelike, theatre experience, you may choose to purchase a full home audio system. If you are simply looking for something to enhance your television's sound, you may choose to simply purchase a sound bar. Subwoofers may be the best option for someone using the speakers primarily for music. Whichever options you choose, adding speakers to a room enhances your experience without breaking your budget.