This is a brief beginners guide to buying toy soldiers on eBay that would be of particular assistance to those new to eBay or to those new to buying toy soldiers or indeed those new to both. It is not intended to comprehensively cover everything you need to know, it's more a list of tips that may help steer you in the right direction. eBay is fairly straight forward to navigate your way around and provides plenty of help. However I hope this guide may offer a few additional, more specific pointers and make it a little quicker to find what you want at a price you are happy with. My interest and experience is both personal and professional. I collect and paint a variety of different toy soldiers as a hobby and I also run an eBay store specialising in toy soldiers - Drum & Flag .
(Note: eBay also obviously has it's own myriad help pages do use those. I update this guide occassionally but in between times systems change on eBay so it may get out of date in places. If you need any help tracking down toy soldiers I am happy to assist where I can so please do message me via eBay using my user id flagbearer101. Last updated March 2008).
Both eBay members and guests may be reading this guide so for the benefit of the latter it is worth stressing that eBay is easy, free and quick to join. It is increasingly the place to go for toy soldier collectors seeking both new and old products from all over the world. There are always literally thousands of new and previously owned toy soldier items up for sale on the UK site alone and the listings change all the time. If you are worried about online payment you really don't need to as Paypal is excellent for paying both via credit card and bank transfer. You can also pay via cheque, postal order and good old cash if you prefer.
In terms of format you can buy from eBay auction listings or from eBay shop listings. Essentially auctions are characterised as having a variable price but a fixed time limit, whilst shop listings have a fixed price but a variable time limit. Auctions are generally better if you are seeking the chance of a bargain and shops if you want the convenience of buying what you want when you want it. In fact it is worth stressing here that eBay shops are just like other online shops only you get the added benefit of being able to see feedback comments and ratings to judge the service you are likely to be offered.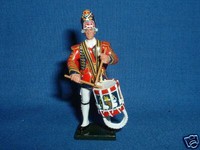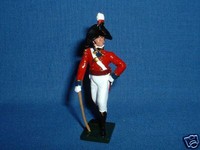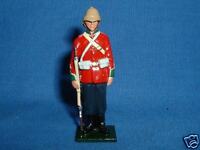 W Britains Redcoats
SEARCHING
Using eBay's search tools is key as before you can buy anything you have to find it. There are several different ways to search that I will detail here. Start by logging onto eBay's home page at ebay.co.uk.
Search - This box is at the top lefthand side of the home page and usually has a cursor blinking in it. You can search the whole of eBay across all categories by entering something in this box. Brand names such as Del Prado or Italeri or Britains or Airfix will turn up hundreds of items. As will types of product such as metal toy soldiers or 1/72 plastic figures. You may also get lots of non-related items turn up and decide you need to focus more.
eBay Categories - On the left hand side of the page you will see a list of top level categories. If you select Toys & Games from the menu list you will go to more detail where if you select Wargames and Role Playing and then Toy Soldiers you are where you want to be. From here uses the left hand box to further narrow your search by brand, type, material, price and you can also use the search box to help.
Advanced Search - Next to the Search box is another link labelled Advanced Search. By clicking on this it enables you to enter a series of menu options. These allow you to refine your search further by time, price, distance, condition and payment method. ie do you want to look at items ending soonest or just listed? by high or low price?, near to you, in the UK, EU or worldwide? new or used? with Paypal accepted?
eBay Shops - On the main home page at the top left you will see a space marked Shops. Hitting that takes you to an area of the site where you can search what sellers have in their shops. This is important as when you search in the ways so far outlined above eBay prioritises auction items and not shop stock. Obviously what you are after is just as likely (or more likely maybe) to be in a shop listing as in an auction listing so you need to cover both. My store for example has over 1000 items in stock but only 50 or so on auction at any one time. To round out this point I'll quote from eBay directly:
"Find items not available in eBay's auction search - eBay shop sellers can list all of their fixed price inventory for lower fees in their shops, allowing them to stock more items than can be found through eBay's auction search. Browse or search items in their shop to find items not available in the auction search."
As well as allowing you to search shop listings this area of the site allows you to home in on shops that specifically sell what you want. So if you click on the 'Toys & Games' and then the 'Toy Soldiers' categories you will end up with a list of shops listing items in that category. You can sort this list either by number of items listed to see who has most products or alphabetically which is particularly useful if you are looking for a shop by name.
Once you arrive at a specific shop you will find that the better shops provide you with their own bespoke category listings enabling you to drill down and examine their store inventory in detail. You can also search their store stock in the box provided.
As well as the stock on offer and the prices charged for the goods and post & packing other things you may wish to look out for when choosing where to buy your toy soldiers include:
'About the Seller' - Does the seller have this optional and useful link on their page? (This also shows up as the blue and red 'me' icon.) If present and used properly this page allows you to find out more information about the seller. I use this page as my home page telling customers what's new in stock, what's coming into stock, what's up for auction that week, about my business, about my terms & conditions and about other hobby information. I update it at least weekly to keep it interesting and current.
Terms & Conditions - Somewhere on their shop site good sellers will list these so that you know how quickly they will turn around your order, where they will ship to, what payment methods they will accept etc... This information can usually be found in display boxes or on the 'About the Seller Page'.
Power Seller - This icon indicates the seller does a fair amount of business with eBay, is more likely to be a full time professional concern and that they meet certain standards for sellers that eBay sets. It does not however mean that they are some faceless multi-national company though. I am a Power Seller and my business is a one man show where customer service is at the heart of everything.
Top Reviewer - This icon indicates that the seller has written one or more Reviews or Guides. As well as being a sales site eBay also provides members with the opportunity to post Reviews or Guides on pretty much any topic. Including this one I have written 20+ guides posted on eBay mainly covering collecting, wargaming and painting. Looking at these guides again helps you learn more about the seller, as well as hopefully being of stand alone interest in their own right.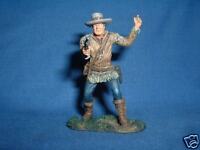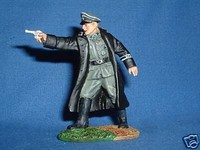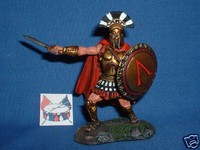 Conte Collectibles Figures
Newsletters - Shop owners are able to send out mailings to customers who choose to sign up for mailings. (You should not get mail from sellers you did not request it from). You can sign up for these by clicking the relevant boxes on the seller's site or by clicking the 'Add to My Favourite Shops' link. Again using my store as an example I send out five different updates once a month and use these to update customers as to what's new etc.. My five newsletters are divided up by historical period - WWII, Napoleonic, American Civil War, Ancient & Medieval and 'General' (ie everything else - five newletters being the maximum permitted.)
'Add to my Favourite Shops' - As well as signing up for Newsletters this link allows you to register the shop as a favourite so that you get sent automatic regular updates on products you are interested in.
Seller Profile - The Seller will be evaluated by eBay and it's members in at least three different ways. This is to help buyers assess whether this is someone they can be comfortable trading with. The three are feedback comments, rating and transaction volume.
Feedback Comments - This is central to eBay. All buyers are encouraged to report back on transactions giving a rating of positive, neutral or negative and a short written comment on the goods and service they received. Look for sellers whose feedback comments indicate they send out goods quickly and well packaged, that are friendly and helpful and that the goods are as they described.
Rating - Everybody on eBay has a rating indicating the proportion of feedback they get that is positive. Obviously look for 100% ratings or near 100%. But also read comments, look at any trends for a view on consistency and recent performance and bear in mind the volume of business someone is doing. If you have 10 negative feedbacks from 10000 transactions is paints a different picture than 10 out of 100 or even a 1000.
Gold Stars - In March 2007 eBay added ratings for Item Descriptions, P&P charges, Communication and Delivery Speed allowing customers to see more detail about each seller. If you glide your mouse over these stars the marks out of 5 will show up adding clarifty to the colouration indicator immediately visible.
Transaction Volume - The last of this trio of factors to assess in the actual number of deals done and is the figure shown in brackets after a sellers User ID (The different coloured stars sellers have also indicate this). Obviously someone who has a 100% feedback rating after 3000 deals is likely to offer better service that someone on 100% after only 30 deals, although we all start somewhere. Most sellers will have successfully done a lot more transactions than the bracketed number indicates as it only registers trade with a member once. So if buyers come back time and again they still only add the first one to the tally.
Other factors - Lastly a quick round up of one or two other things. Questions - you can ask the seller questions before you buy. Assess how speedily they replied and how helpful they were. Professionalism - do you get a good gut feel from what you see and read? Are the pictures and descriptions any good? Does the seller concisely present information or list you an endless ramble of what you must do to trade with them? I know which I prefer - most buyers like most sellers are sensible, fair and efficient. Small Print - check this to ensure you are getting what you think you are getting both in terms of goods and services. Postage Costs - do check these and factor into your decisions. Be wary of items at low prices with huge P&P costs.
'Categories'
The last main way of searching from the eBay home page that I will cover here is found under the 'Categories' heading. Let's say I am looking for 54mm metal Conte Collectibles product. These can be found with this method by clicking the path 'Toys and Games' > 'Toy Soldiers' > 'Other Toy Soldiers' > Lead.
At present only the following headings are listed after 'Toy Soldiers': Airfix, Britains, Charbens, Cherilea, Crescent, Del Prado, Elastolin, King & Country, Lones Star, Timpo, Unbranded, Vintage and Other Toy Soldiers. So Conte Collectibles for example is combined with many other makes and you may find specific shop and auction searches are more successful.
When you get to the listings your search turns up there are two further things to look out for. Firstly horizontally along the top are usually links to related searches that may be of interest. This morning for example in the 'Other Toy Soldiers' category these were Napoleonic, Lead, 54mm, Roman and German indicating what some of the most popular recent searches had been.
Vertically you'll see more refinement options. Again as an example for the 'Other Toy Soldiers' category this morning these were Lead (1279), Plastic (1456) and Tin (26). This indicates that there are three more specific searches available and the numbers in brackets reflect how many items are listed at that moment in time under those categories.
Further down the vertical axis you have more options similar to those detailed above when I talked about 'Advanced Search'. Once you have assessed all the options use the search box on the page and you should get the most optimised results for the item(s) you are seeking.
Of course it may not be there at this time or in the Shops searches either. Or it may be but not at a price or condition you are happy with. So the next tip is to get eBay to tell you when the item does become available. This saves you all the work. How ?
My eBay
This is your own summary page on eBay and is set up automatically for you once you have registered and started bidding or selling. It lets you monitor all items you are buying, watching and selling, review your messages and receive automatic search results. You can easily instruct eBay to send you alerts for items you want. You can do this by Seller, by Category and by Search. So for example you could get eBay to email you when any member you identify lists new items of interest, when new items appear in a specific category (eg all Del Prado Toy Soldiers) and by a specific search (eg Airfix Battle of Waterloo Assault Set).
If you don't want this information emailed to you you can still use the specified search instructions manually as and when you want to search. Sundays and Mondays are a good time to do this as many listings start and finish Sunday early evening and last seven days. Searching for listings finishing at other times is one way you can sometimes get a better prices as not so many others may be online at that time. Having said that sniping software and eBay's proxy bidding system reduce the need for being physically present when auctions close. More on some of these terms follows.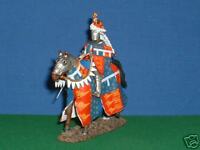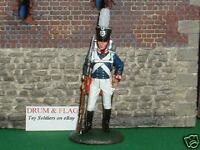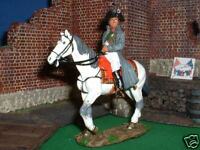 Del Prado Series - Medieval Warriors / Napoleon at War / Cavalry of the Napoleonic Wars / Men at War
BIDDING
If you are looking to buy your toy soldiers via auction rather than via shop listings a couple of things you should be aware of are 'sniping' and 'proxy biding'. What are they?
Sniping - This is where a bidder holds their fire on an auction right to the last minute. So an item may have been up for auction for 10 days with few or no bids and then in the last seconds a sniper bids. This can be frustrating if you have been biding from the start. It is however a perfectly legitimate and sensible strategy as it increases the snipers chance of winning the item at a lower price. This is because it keeps interest in the item low and minimises the chances of being outbid. Obviously if a few snipers are bidding on the same item it's back to square one! People can either snipe in person by waiting to submit their bids right to the last minute or I believe software is on the market that does it for you.
Proxy Bidding - This system allows you to decide the maximum you are willing to bid for an item and then walk away and let eBay do your bidding for you automatically. It is ideal if auctions are closing at an inconvenient time for you or you have lots of items you wish to bid on that are closing at around the same time. It works by eBay acting as your electronic proxy upping your bid in set increments as the auction gathers pace. So let's say there is a retired King & Country set you are desperate to get your hands on and you are willing to pay £200 pounds for it. The lot may start at £50 so to begin with that is what eBay will bid for you and it will only hit £200 if it has to driven up up other bids. (It's worth bidding odd amounts by the way to avoid ties - so if £200 is likely to be the common maximum price bid enter £203 for example to ensure yours is marginally higher and stands the best chance of winning). By way of a footnote to this section it is also worth noting that proxy bidding is recommended to those buyers who get carried away with their bidding and end up paying more than they intended!
Bargains!
Not so common perhaps now but you can maximise your chances of finding a bargain in the following ways:
1. ) Cast your net far and wide. Search all countries, payment methods, formats etc...
2.) Look for auctions closing at odd times of the day, week, month or year. Sunday at 6pm, near payday in the weeks leading up to Christmas is likely to be a bad time for bargains as lots of people will be online. Conversely 2am on a Wednesday morning in mid July is likely to be better as few people will be bidding. Obviously fewer items will be closing then too but there are always some. The TV and weather are also factors. The World Cup is not great for online sellers, nor is hot weather particularly for a more indoor hobby like toy soldier collecting or wargaming. But what is bad for sellers can be good for buyers.
3.) Some buyers make spelling mistakes and list in the wrong categories. If you 'programme' eBay correctly for the searches you want it to make you can still find these items where fewer other buyers will and hence increase your chances of winning the item at a good price.
4.) Best Offers. Fixed price items listed with this logo invite buyers to make the seller an offer. Give it a go and sometimes you will get an item for less than you think, although very low offers are unlikely to succeed.
Happy to answer any questions. You can contact me via eBay messages, user ID flagbearer101.
Information .Visit my eBay store by clicking here: Drum & Flag