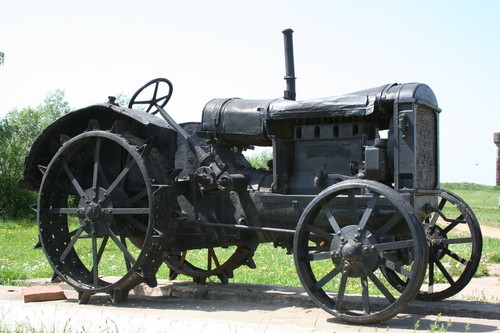 Antique tractor collecting and restoration is a relatively popular hobby. Although most people are aware of antique car restoration, few realise that farm equipment and lorries are also sought by collectors. Anyone who is interested in the evolution of machinery and engines will find this interesting. eBay is the perfect place to search for used antique tractors. The site allows a large number of sellers to reach a wide audience, keeping prices competitive and making it somewhat easier to come by rare items.
Learn how to search eBay effectively to find the perfect antique tractor. Knowing what to bear in mind and which factors to consider while shopping for a tractor makes it easier to find the right product the first time. This includes aspects such as finding tractor parts and accessories, and transporting items for a collection. Learn how to evaluate items and sellers before buying and the benefit of using eBay Shops.
Factors to Consider when Buying Used Antique Tractors
Knowing what to look for when searching for used antique tractors is important and makes it easier to find the perfect tractor for a collection. Popular makes include:
Choosing a popular make increases the chance of finding spare parts and accessories for restoration. Of course, rarer models fetch higher prices when resold. If the restoration is a labour of love, choose an easier project. If the buyer intends to resell, then they should consider a more challenging make or model, but make sure that it is in demand.
Finding Antique Tractor Parts and Accessories
If the antique tractors available on eBay have not been restored and buyers intend to start a restoration project, then they should consider the availability of parts and accessories before buying. Restoration becomes infinitely more difficult if the parts required cannot be sourced, whether new, used, or as copies. Bear in mind that some parts can be machined to return them to a functional state, but this adds to the cost of restoration. Postage and delivery of parts, especially when restoring an American made machine, should also be considered. Doing some research before purchasing benefits the buyer immeasurably over the course of the project.
Transporting Used Antique Tractors
On eBay, most used antique tractors are listed with free shipping. This simply means that the seller wants the buyer to collect the item. Since tractors are not licenced to drive on public roads and most antiques would not be able to make long journeys, the tractor purchased has to be transported by lorry. Buying from sellers that are nearby should decrease the transportation costs. Research these additional costs before buying to ensure that the total cost of purchasing the tractor stays within budget. Ask for a per kilometre price and search for sellers within a specific radius to keep the budget in check.
Buying Working Used Antique Tractors
If the used antique tractor is in working order, there are several things to check. If the seller is close by, ask him or her if the tractor can be inspected before it is purchased. If not, ask the seller specific questions to establish what condition the vehicle is in.
Check the Used Antique Tractor for Faults
The tractor should start easily, brake and steer properly, run well when it is hot, and the electrical system should be intact. Ask for a list of mechanical or cosmetic faults in order to establish how much work, if any, needs to be done and how much it would cost.
Some buyers are looking for antique tractors to use as an alternative to more expensive new ones. In this case, they should ensure that the tractor is in good enough condition to do what is required of it. Check the condition of the tyres, ensure that the engine is not making any unusual sounds, and check that the exhaust does not smoke excessively or have the wrong colour.
Check the Antique Tractor's Hydraulic System
Choose a tractor with the right hitching or hydraulic system to allow for the purposes required. The first three-point system was introduced in 1939. This type of hydraulic system consists of three arms extending from the back of the tractor and work hydraulically to lift and hold attachments in place. In the middle of the linkage is a power take off (PTO), which is a rotating shaft that can be connected to attachments like mowers and tillers to drive their mechanisms. Ensure that all the components are working. If buyers opt for an older model without this feature they may not be able to use them for everything that they need to do.
How to Search For Used Antique Tractors on eBay
Searching on eBay is simple: just type a phrase, such as "used antique John Deere tractor", into the search field, which can be found on every page. Alternatively, choose an autocomplete suggestion or a suggested search term from the list available. This displays all the items available that have been tagged with the chosen keywords. Now, refine your search by selecting the item features you want. For popular models there many be a number of listings to choose from, so the more detailed the keywords the better, but this may not be the case when searching for rare or uncommon items. You can also narrow or expand your search by using the advanced search option.
How to Evaluate an Item on eBay
Before buying on eBay, take the time to evaluate the item you want to purchase carefully. Always read the full item description on the listing page, which is accessed by clicking on the product, as this gives you a clear indication of the item's condition and what is included in the sale. Study any photos or images included. If you would like more information or have any questions about an item, use the "Ask a question" link to contact the seller. This is also where you can find details about buying options, the seller's accepted payment methods, and the seller's information, such as his or her location and feedback score. Although postage and packaging costs are listed here, sellers probably prefer to use the local collection option when selling antique tractors.
How to Evaluate a Seller on eBay
Once you have evaluated the item, get to know the seller. eBay's seller feedback feature shows you what other buyers have to say about a particular seller's products and customer service. This information is accessed by clicking on the number next to the seller's username. Detailed seller ratings provide additional information about aspects such as the seller's communication and the accuracy of the item description in the original listing. You can also see what items have been sold previously and individual comments left by buyers. Remember to leave feedback for the seller once you have collected your used antique tractor. If there is a problem with the transaction, try to contact the seller to resolve it. Most sellers want happy customers and feedback counts as a seller's online reputation.
eBay Shops
If you find a seller whose products and customer service you like, visit his or her eBay Shop. Many sellers specialise in particular products or types of products. An eBay Shop allows you to see everything that the person has for sale in one place. This is especially handy if you are serious about restoring antique tractors. You may be able to find the parts and accessories you need more easily. Alternatively, you may be able to buy a second tractor for spares.
Conclusion
Collecting and restoring used antique tractors can be a rewarding hobby. Whether your admiration springs from personal experience or from an appreciation of the nearly-forgotten workhorses of a previous era, everything that you need to get started can be found on eBay. The site offers a platform for sellers from a number of locations to find buyers for their tractors, parts, and accessories. Knowing how to search effectively is one of the most important facets of buying on eBay. Searches using keywords or phrases display all the items tagged with those words. Refine the search through item feature selections to see only those items in that you are interested in.
When choosing a tractor, consider the rarity and its impact on finding parts, as well as reselling the restored tractor. Factor transporting the tractor to your workshop or showroom into the item's final selling price to work out the total cost. Bear in mind that parts and accessories also have to be delivered to you when working out how much you can spend on restoration.
Before buying on eBay, evaluate the item and the seller. Always read the entire item description to ensure that you know as much information as possible about the tractor. Check the seller's feedback to get to know him or her and to know what to expect before you commit to buying such a large item. eBay sellers offer a range of used antique tractors, from rare models to the more popular.