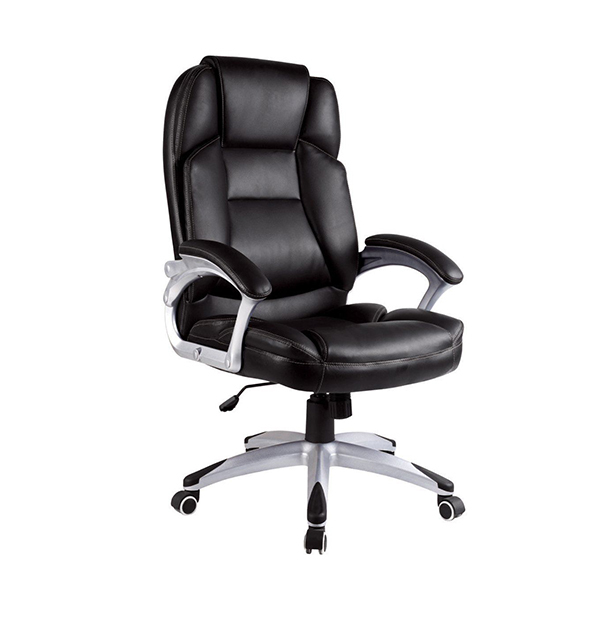 Those purchasing office equipment on a budget should consider purchasing used equipment, such as desks and chairs, when shopping. When dealing with office chairs in particular, office managers or individuals should keep in mind who the chair is for and its usage. Executives usually require a chair of a higher quality than do other company employees, whereas the actual workers of the company require sturdy, well-built chairs that often see a lot of movement.
After determining the type of chairs required, shoppers need to compare the different used office chairs available, including ergonomic, leather, or conference room seating options. When searching for chairs, shoppers should keep in mind such criteria as cost, size, comfort level, and ergonomics. Office managers can also consider buying a refurbished office chair as well. When buying used and refurbished chairs, shoppers can look at local office supply shops, through various manufacturer's websites and online on eBay.
Types of Office Chairs
When choosing a used office chair to purchase, shoppers have a wide selection. The chair that they ultimately choose depends primarily on how the chair is going to be used. The table below details the different types of office chairs, ranging from executive to office visitor chairs.
| | |
| --- | --- |
| Office Chair Types | Description |
| | High quality; upholstered with leather or other good fabric; cost more than other office chair types; adjustable height |
| | Mesh fabric allows for good air circulation; net-like in appearance and feel; increased work output due to increased employee comfort |
| Leather Task Chair | Named for its leather upholstery; typical office chair; smaller than an executive chair; adjustable height |
| | Provides maximum support and comfort for the body; allows users to control settings to maintain the correct posture |
| Operator Seating | Easily adjusted for people of different heights and weights; useful in an office where many different people use the same seat |
| | Bigger, more padded version of an office chair; usually comes with a footstool of the same material; allows users to recline |
| Visitor Office Chair | Simple, stationary chairs meant for visitors, guests, or those waiting in a reception area |
| Conference Room Chair | The chairs most commonly found in a conference room setting; either executive or operator type chairs depending on who uses them most |
When purchasing a used office chair for a business or home office, find one that fits the specific area and meets required comfort levels. Most often a leather task chair fits the bill, but some who work from home prefer the comfort that an executive chair provides.
What to Look For in Used Office Chairs
When shopping for used office chairs, keep several key factors in mind, including size, comfort, and cost. These factors, described below, can help a business or individual choose the best used office chair for their specific needs.
Size
Chair size and the space available play a large part in the chair chosen. Those who work from home might require a smaller operators or leather track chair as opposed to a bigger executive chair. Shoppers should have an idea about how much space they have to work with before purchasing a used office chair.
Ergonomics
Ergonomics provide another recent area of concern when it comes to office equipment. And while many businesses focus on ergonomic keyboards, posture additionally plays a major role in comfortably conducting the day-to-day tasks required of office workers.
Comfort Level
Comfort level represents another factor shoppers should consider when choosing a chair style and type. The chair needs to provide the level of comfort that users expect, otherwise, potential problems can arise, including back pain. Moreover, an uncomfortable chair can lead to a decline in productivity in the office. So make sure that a used office chair has plenty of padding before buying one.
Quality
The quality of the used office chair should come into play when making a decision about which chair to purchase. Make sure to look out for worn upholstery, and ensure that the height adjuster works. If buying online, ask the seller questions related to the item listed concerning quality and condition. Examine all pictures for damage. Furthermore, shoppers should carefully read the item description so that no confusion exists as to the condition of the item.
Cost
One of the most important criteria when comparing used office chairs involves the cost. Most shoppers have a budget that they try to adhere to when purchasing office equipment. In addition, cost can affect the features that a shopper can choose, as well as the type of chair they can buy. Executive chairs often cost more than other office chair types. In this case, an operator's chair, which costs less, could adequately fit the requirements that the users need.
Office Chair Features
When purchasing used office chairs, shoppers need to keep in mind the main features that they need. The table below contains a description of some of the more common office chair features, such as adjustable arms, seat sliders, and foot rings.
| | |
| --- | --- |
| Chair Features | Description |
| | The five-point chair base provides for a common feature on many office chairs; good stability and mobility |
| Office Chair Caster | Shoppers should pick caster type according to floor type; look for hooded double-wheel casters for the most free movement |
| Office Chair Glide | Glides offer an alternative for chairs that do not need casters; best for waiting areas and conference rooms |
| Office Chair Foot Ring | Helps keep chairs from tipping; used mainly on task chairs for extra leg and foot support |
| Office Chair Spring Tilt | Spring tilt allows chair users to transfer their upper body weight to the backrest when they lean back; can change the angle of the seat |
| Office Chair Seat Slider | Adjust the seat forward or back on the horizontal plane; most commonly found on ergonomic chairs; allow for angle adjustment |
| Office Chair Adjustable Arm | Arms adjust up and down; allow users to get closer to their work area; helps take tension off the neck and shoulders while typing |
| Knee Tilting Office Chair | Allows for the adjustment of the tilt of the seat of the chair; can adjust the seat when reclined |
| | Useful for adjusting seat height; common feature on ergonomic chairs; help reduce eye strain |
While many of these options and features figure heavily into an ergonomic, recliner, or executive chair design, some, such as the five-point base, figure prominently into the design of most chair types. If shoppers desire a certain feature in a chair, they should peruse the available items that fit within their budget for chairs with those features. If shopping online, make sure to ask the seller any questions about chair features.
Office Chair Materials
Chair material provides another area that shoppers need to consider when buying a used office chair. The following table contains a variety of office chair materials, such as leather, fabric, mesh, and wood.
| | |
| --- | --- |
| Chair Materials | Description |
| | Provides added comfort due to its softness; needs occasional conditioning and cleaning to keep the chair in tip top shape |
| | Most common office chair material; easily cleaned; not as soft as leather; cost less than leather |
| | Allows a chair to breath; better air circulation makes for cooler employees, increasing productivity |
| Metal | Most often a combination of metal and a fabric; shoppers can sometimes find totally metal chairs; strong and durable |
| Plastic | Found as a combination of plastic another fabric; lightweight but not as durable as metal or wood |
| Wood | Wooden chairs include all wood and wood and fabric combination chairs; warm and durable; most often used as visitor chairs |
When choosing materials, shoppers need to consider the style and colours of their business or home office. They should also consider what material would best suit the budget and the needs of the workers. This can help determine the material types needed.
Refurbished Office Chairs
Refurbished office chairs provide another option for shoppers instead of new and used chairs. Refurbished chairs feature worn or damaged components that have been replaced with new ones. This includes any damaged upholstery or other parts that deal with user comfort and the chair's aesthetic appeal. Shoppers can find a wide variety of refurbished office chair types, including executive, operator, mesh, and other office chair types.
Find Office Chairs on eBay
Shoppers can find products on eBay quickly and easily. No matter what type of product one needs, including office chairs, the eBay marketplace provides a wide variety of choices. To find the perfect product, just enter keywords into the search box on any eBay page. Use terms like "used leather office chair" or "used black office chair", for example, when shopping for chairs. Then, cut the list down by clicking on the categories options to display more specific listings for chair type, size, colour, and other details. To learn more about searching the site using keywords, visit eBay's search tips page. Moreover, remember to shop specific eBay shops, which give shoppers an excellent choice of business and home products.
Finally, when shopping on eBay, make sure to look through all of the product specifications, including size, colour, cost, condition, and other details. If any questions remain, contact the seller by clicking the Ask a Question link on the seller's listing page. Lastly, remember to check the seller's feedback rating, which includes ratings from other shoppers.
Conclusion
For office managers or individuals looking for office equipment, including office chairs, remember to set a budget and determine the type of chair needed for the task at hand. From executive, to conference room, to employee desk chairs, keep in mind size, features, and colour when choosing the right style. When choosing chair features, select from several options, including seat sliders, spring tilts, gas lifts, and adjustable arms. Shoppers can also select from varying materials, such as leather, mesh, wood, and fabric material. Remember to watch out for the comfort level, ergonomics, and quality each chair provides.
For shoppers on a more conservative budget, consider buying used or refurbished chairs. Refurbished office chairs, which feature replaced parts or new upholstery, function sometimes as good as new ones do. So when shopping for office furniture, including used items, check out the eBay marketplace for high-quality, affordable products.