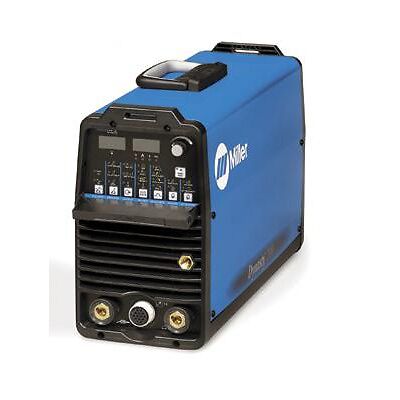 An industrial welder is an excellent tool to have in metal shops and for use in construction. Rather than spending a lot of money on a brand new one, buyers can pick up a good condition used welder at a more affordable price. There are a few types of welders to choose from for the job. These welders work best on different metals, in different environments, and some require more or less skill. Knowing exactly what the options are and what each welder can do is necessary to finding the perfect welder. Some buyers may even want to purchase more than one of these machines.
Buyers can get the best deals by paying close attention to the product description and its details. A positive seller's history is also a key indicator of a successful purchase. Welders are sold through industrial and metalworking tool manufacturers, on tool and machinery websites, in hardware stores, and through private sellers in classifieds and auction sites, such as eBay.
Types of Welders
Welders come in three main types, the Stick welder,, MIG, and the TIG welder. Each type of welder creates welds using different processes. Some welders are easier to use than others and better suited for novices, while others are better suited for different environments. The kind of used welder a buyer purchases depends greatly on that buyer's needs and their experience level.
MIG Welder
The MIG welder is a type of arc welder that uses a metal wire in combination with an inert gas to protect the weld from contamination. The MIG welder creates an electric arc between the welder and the base metal to melt that base metal into a seam. MIG welding is the easiest process to learn and work with on the job. It is also neat, without a lot of clean up. MIG welding is about four times faster than other types of welding.
A MIG looks like a small petrol pump except that the metal nozzle feeds a thin soldering wire into the weld as it is heated. One downside to using a MIG welder is that it requires both the metal wire and the inert gas, materials that are more expensive to purchase compared to other welding materials. Working with a MIG welder is the best option for those who want to work on thinner metals, complete a job fast, and are not as experienced with welding.
TIG Welder
TIG welders,, another type of arc welding, use a tungsten metal electrode in conjunction with an inert gas. This electrode is non-consumable, and a separate filler rod is used to provide soldering material for the weld. The TIG also creates an electric arc to melt the filler material into the metal seam. TIG welders provide more control over a weld with the addition of a foot pedal to regulate the temperature of the welder. This method also allows the welder to control how much metal is added to the seam, allowing for very small, clean welds.
TIG welding requires greater experience and skill with a welder than the MIG. Buyers need to multitask, and develop an understanding of when to apply more or less heat and filler material to the seam. It is also a slow process. As a benefit, the TIG welder can be used on a wide range of metals and creates high quality materials.
Stick Welder
The stick welder is the third type of welding machine that buyers use for building and industrial applications. This welder is different from the previous two types of welders in that it uses a consumable stick electrode that looks like a long stick attached to the metal nozzle. The electrode is covered by a flux metal that protects the weld until it cools. This means that the flux material must be chipped away from the weld after it has cooled. A time consuming process, but effective.
Using a stick welder means that an inert gas is not needed to protect the weld. This makes stick welding more cost effective, and it can be used in almost any environment including windy outdoor job sites. Stick welding is commonly used for fusing joints and alloys. It can be used on several different types of metals as long as the welder changes the stick to match the type of metal being welded. This method is also more forgiving when working with rusty or dirty metals. It is quite popular on construction sites, in shipyards, and in industrial applications.
Uses on Different Metals
Welders are used on different metals, and sometimes join two different metals together. Before purchasing a used welder, know what types of metals it is best used on. The temperature of the welder, the duty cycle, and the thickness of the metal all affect what type of welder can be used.
| Metal | TIG Welder | MIG Welder | Stick Welder |
| --- | --- | --- | --- |
| | Yes | Yes | Yes |
| Stainless Steel | Yes | Yes | Yes |
| Brass | Yes | Yes | No |
| Copper | Yes | Yes | No |
| Aluminium | Yes | Yes | No |
| Titanium | Yes | No | No |
| Iron | No | No | Yes |
| Magnesium Alloy | Yes | No | No |
The TIG welder is the most flexible of the different welders and can be used on all metals, except iron. Only the Stick welder is capable of welding iron due to this metal's tendency to oxidise and rust. A buyer may want to pick up at least two types of welders to ensure that the shop can handle almost any metal brought in by customers.
Tips for Buying Used
When looking to buy used welders, it is important to pay close attention to the seller and the item being sold. This is true for any type of expensive purchase, especially one made online. Look at the listing closely. An ideal listing should contain several pictures of the welder, plus a detailed description of it. This description should contain the make and model of the welder, how old it is, what condition it is in, and what, if any, accessories come with it. This is a lot of information, but it is worthwhile to any buyer.
Look at the seller before buying too. If possible, find out more about the seller's history by looking at ratings, customer comments, or even seeing how many previous sales the seller has made. This can be just as important as knowing everything there is to know about the used welder. Sellers with a consistently positive, reliable history of sales are the best bet to purchase from.
Used Welder Tips
In used welders,, buyers should look for machines in good condition with detachable, easy to replace parts that often wear out. For instance, MIG welders use a torch that can wear down with use and needs replacing. Detachable torches are easy to replace and can be done within minutes.
Also consider the duty cycle of the welder. The duty cycle is the length of time the welder can be used before it needs to cool within a period of ten minutes. For instance, a welder with a sixty per cent duty cycle can run for six minute and must cool for four minutes. These machines get very hot, so they have to be turned off frequently to rest. More expensive welders usually have longer duty cycles, and can even run for as long as needed to complete the weld without a rest.
Buying Used Welders on eBay
You can buy used welders of all types on eBay. Just make sure that you have found the right kind of welder for your needs. To do this, consider relying on the eBay search engine to complete your search of thousands of listings within seconds. To make use of the search engine, enter a keyword into the search engine bar at the top of any page on the site. This keyword can be specific to welders, or brand names, or even accessories used in construction. For instance, "Wolf" is a brand associated with welders as well as other industrial and construction tools.
Seller Distance
You can cut shipping and handling costs by using a local seller to make our purchase. These sellers can be found by clicking on the "Distance" refinement on the search results page. This reveals a drop down menu and a text box. Enter your postcode in the text box, and select your preferred search radius on the drop down menu. The site automatically updates the listings to show those in your local area.
Conclusion
Welders need a good piece of equipment to make consistently strong and reliable welds. This is possible to find in a used welder that is in good condition. Before shopping for a used welder, take the time to learn about the three different types of welders including the TIG, MIG, and the Stick welder. The TIG welder is the most useful on a wide range of metals, while the stick welder can be used in any environment. Stick welders are also more affordable and tend to be popular on construction sites and in industrial work. Buyers should also know what metals the welder works best with. Some welders only weld effectively on a few metals, while others work on lots of metals. For example, if a welder plans on working with iron, the only available option is the Stick welder.
It is a good idea to get to know the seller before closing a deal and to learn as much information about the welder as possible. By examining the make and model, the condition of the welder, and what accessories come with it, buyers can find the right welder to suit their needs on eBay.