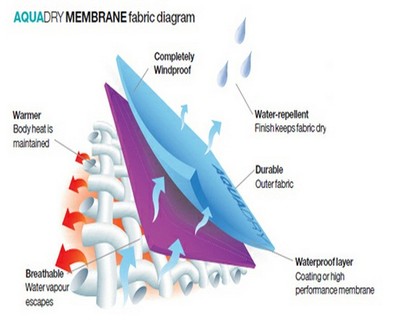 Water repellent and waterproof
This is a question that often arises when buying a garment for outdoor activities.

Briefly we can define the main features of this type of items:

Waterproof: totally insulates from water and wind with no exceptions.

Water-repellent: Fabrics that have received a finish or coating that is not easily penetrated by water (Source: Oxford English Dictionary)

Breathability: How much air can penetrate the fabric whilst still allowing sweat vapor to evaporate

So, depending on the activity and on how much rain you expect to be under these listed above are the factors you need to consider when buying a jacket that will keep you dry.

If you are planning to go for nigh intensity activities such as rumbling, hiking or cicling for example, you definetely need to take breathability into consideration, or else you'll end up over heating, or even getting cold in winter because of the sweat.

Water repellency can be graded to indicate how much resistance in makes to the water seeping through the fabric.
This is usually expressed in millimetres, and it refers to the height of a water column of water applied over a piece of fabric. This is an indication of how much water the fabric can keep out without it seeping through.
Tipically some manufacturers will include in their fabric's names this rating: e.g. Isotex 5000 means that the fabric can withstand 5000 mm high column of water without letting any water going through it.

So water repellent does not necessarily mean totally waterproof. However international standards state that a 800 mm of hydrostatic water column is sufficient to declare a material waterproof.
However to get an idea, wind-driven moderately heavy rain has a hydrostatic pressure of about 2000mm, when the we take into consideration that when the fabric is bent, for example you kneel down, the fabric it self is actually less water repellent than when it is straight.
So under heavy and windy rain you would probably be safer to go for a 10'000 mm water repellent fabric that also lets your body breath.

If alternatively all you need is to stay dry without doing too much movement, the more economical solution is to buy some non-breathable 100% waterproof fabric

I hope this has helped you making you decision. Please vote if you like my guide.