When it comes to choosing the right hot tub for you, your family and friends, it s good to understand the difference so you know what makes a good choice.

There are so many options and price ranges that it can be difficult to know what you should look for. Our useful hot tub buying guide will take you through a step by step overview of exactly what you need to know.

A simple guide to getting the right hot tub for you...

Size matters

So, where do you start? Firstly, have a think about what you would like from your hot tub. Is it for you to relax in or are you planning lots of great parties to include family and friends? Hot tubs come in a range of different sizes, from smaller 2 person right up to larger sizes. Generally, it s good to opt for something that will suit you, but also fit in your garden.

Jets and seats

If your e looking for a hot tub to relax muscles and loosen stiff joints or provide health benefits, then choose one with lots of jets and make sure they are strong enough. Lower quality hot tubs tend to be less than impressive when it comes to power and reliability. This is fine, if you just want somewhere to sit and enjoy the outdoors. A quality hot tub will provide you with strong, reliable jets that will make you feel great!

Seating formations vary in hot tubs, we love the lounger seats where you can sit in a moulded seat with strategically placed jets to relax your entire body. However, you may just want all seats to be upright to allow for more room. This is down to personal preference, again it s all about what you want from your hot tub.

Health benefits

You may have already considered the health benefits of hydrotherapy provided by a hot tub. Hydrotherapy from a hot tub can help with pain relief, soothe aching muscles and joints and generally relax your body and mind. Excellent for general well being, stress relief from work or aching muscles from exercise. Some suggest using a hot tub can help with certain long term illnesses and also acts as a prevention against some common ailments. They certainly help with circulation and make you feel great!

Get the look

You want your hot tub to be a great feature in your garden, so think about where it will go and how much room you have. Also consider your colour choice, hot tubs can vary in materials and styling on the outside and of course this is what you see when you step into your garden.

Quality control

There are lots of cheap hot tubs on the market now. These are perfectly adequate for the short term. Although the internal parts and jets may not be the best quality and the materials used may not last a lifetime.

For example on our H2O hot tub range:

We use the latest Balboa control systems which are manufactured in the USA. We also use self supporting shells and ensure running costs are kept to a minimum by using various insulating materials and other power/heat savings.

Buying a hot tub online

This can be a minefield of information. On a photo, one hot tub can look very much like another. However,don't be drawn in by cheap prices if you want your hot tub to last—often the cheaper tubs scrimp on build quality, controls and materials. They can often be more costly to run and heat.

When you buy a hot tub, think of it as an investment, it will be an asset to your home and provide you and your family years of relaxation and fun. The last thing you want is rotting shells or leaks and high running costs.

Hot tub covers

It s really important to keep your hot tub covered when you are not using it. This helps to retain heat and keeps insects, leaves and other debris out of the water. H2O provide you with a 100mm thick insulated lid as standard, we are one of the only companies who do this. The lid is the most important part for insulation as heat rises. The thicker the lid, the better the insulation (most other hot tub lids are 50mm thick).

If you would like any further information or some expert advice on owning a hot tub, get in touch with our friendly team today and we will be happy to help you.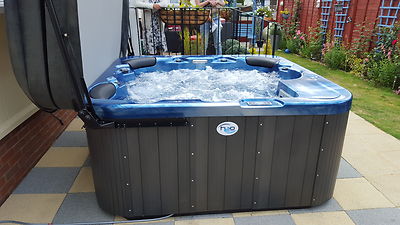 3000 Series Hot Tub
The 3000 series is by far ur best buy budget spa. one lounger and 5 additional seats this is a great hot tub for your family and friends. Running cost for this spa average at £35-£45 per month depending on usage. Balboa control system, Hydro jets and 100mm insulated cover provides great efficiency
H2O promise you

Top quality control system: The control systems we use are the latest balboa technology Wireless control from your Smartphone: Our hi-spec tubs come with BWA, Balboa's latest

wireless technology, so you can control your spa via your apple or android phone.

Sturdy enough for domestic needs: All H2O hot tub shells are self supporting. This means we do not use stainless steel framing to support the hot tub. Instead we use a wooden frame with a self supporting acrylic shell. It's important to use wood as it is more flexible. As you can imagine, steel has no give when the hot tub is filled with water and can cause unnecessary strain on your tub.

Reduced running costs: Your H2O hot tub uses two part insulation. CFC foam on the back of the shell helping to retain water temperature within the spa and reduce running costs. And on the inside and the floor, we use hi density reflective to retain the heat generated by the hot tub components such as the pumps and the heater. Keeping this heat within the hot tub reduces running cost and also helping in sound proofing.

Keep the heat in! We are one of the only companies to off a 100mm thick insulated lid as standard. The lid is the most important part for insulation as heat rises, so the thicker the lid, the better the insulation (most other hot tub lids are 50mm thick).

Premium Jets: During manufacture, we have 3 types of hot tub built for you. They are, budget, standard and premium. In all of our tubs except the budget one we use premium rising dragon jets, one of the highest quality components on the market.

Keep Running costs down: We use a 0.35 horse power circulation pump unlike most other hot tubs who use a 1 horse power one that runs at a higher consumption that equals more cost