Beautiful Cameras.
The Canon A-1 is a wonderful camera!

It has stood the test of time to become a true classic.

But not every used Canon A-1 is a dream come true!

This guide will help you to make an informed choice.

Canon A-1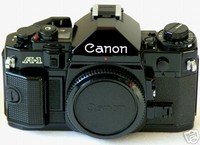 Strengths

A technically fabulous multi-mode machine. Right out of the top drawer! When first released, it was years ahead of the competition - and even today it can hold its own with pretty much any camera on the market.

Beautiful to look at! A genuine work of art!

A joy to use. For novices the Auto program makes this a point, focus and shoot camera - but it's much more than that. It has five modes, including full manual. No matter how good you are, the A1 will suit you.

Robust. The A1 suffers from very few "known problems". If you find a good one it will last you a lifetime.
The A1 is part of the massive & superb FD range. It has some of the best lenses and accessories ever made.
Street Cred! Everyone who knows about cameras knows that the Canon A1 is special. It's a camera to be proud of.
Weaknesses.
Not many!
The paint wears through easily - especially around the strap-lugs. This is known as "Brassing" because it allows the brass colour underneath to show through. Brassing is not always a sign of a bad camera - it happens to a great many A1s. But it can be an indicator of how well (or badly) the camera has been treated. If the brassing is very bad - or if it is in areas other than the strap lugs - walk away.

Canon Squeal. This is serious problem, and I have written a separate guide dedicated to the squeal alone! It is also referred to as The Squeak, The Whine, The Cough, and even The Sneeze! It is caused by the drying out of the mirror mechanism - and no matter what anyone tells you, it WILL eventually stop the camera from working. Always ask the seller about this problem. Read my guide and be prepared for a repair bill if you ignore my advice.
Light seals. This is not a specific Canon problem. Almost every classic camera will need new light-seals. See my other guides for more information.
Overuse. The Canon A-1 was primarily aimed at serious amateur photographers. But is is such a fine camera that many professionals and semi-professionals used it. Professionals hammer their cameras - so if you buy one that has been used by a pro - you are looking for trouble. Ask the seller about the camera's history. And check the ebay listing pictures. If you see very serious brassing or any other signs of hard use & abuse - walk away!

Conclusion.

They are truly wonderful!
Just make sure you buy a good one!
Please read my other guides for general advice about buying a classic camera. I love classic cameras and I want you to love them too! If my guides can help you avoid buying a lemon, then it has been worth the time and trouble.
Please be aware that all statemets made in my guides are purely my own opinions, based on my own personal experience.
I make this disclaimer in case any of the photo-giants sue me!

Please feel free to contact me via ebay messages if you have any questions. I will try my best to answer them, or to point you at someone else who can.

And visit my ebay shop

Beautiful Cameras

for perfect, Beautiful Canon A-1s.