Buying a Camera
There are four things to consider when buying a camera (apart from budget of course!):
Quality - known as Mega Pixels, e.g. 6 MP
Functions - what the camera can do, e.g. take photos in low light conditions
Shape - a camera that is comfortable in your hands is very important
Spec. - these are the hidden little details you must consider when buying a camera to take photos underwater!


Choosing Quality
The quality of images is shown as the number of 'pixels' contained in an image. Pixels are the tiny squares which make up the image, just like newspaper print is made up of dots.
The more pixels you have, the higher quality your image will be. If you're printing your pictures at home or in a local digital lab then you won't notice much difference once you buy more than 6 mega pixels. This is because your images won't be printed bigger than A4 or approximately 8"x10". If you want to print magazine quality images you will need a 6MP camera or bigger.
For a good quality image at A4 (magazine size) the smallest number of pixels you can buy is 4 mega pixels (4MP). For A3, go for 6MP.
The other quality of a camera is the 'build' quality. Most brand name cameras will have good quality lenses and sturdy bodies but it's always worth 'handling' a camera to see how you like the feel of it. If it feels cheap and breakable you'll always be nervous using it. Go for something you feel comfortable with.
Functions
Most cameras have 'Modes' but these are only for special conditions, e.g. portraits, scenery etc. Underwater you will rarely encounter such perfect conditions. Look for a camera that works well in low light, has a built-in flash and easy to use control buttons.
Light levels are measured like camera film: ISO. The higher the number the better your photos will be in dark conditions. Do be aware that your photos will look more grainy when you're using a high ISO.
You also need a higher ISO for taking fast moving images like fish or squid!
As a quick example, on a bright sunny day you can photograph a motorbike race with your camera set to ISO200. On a dark cloudy day, you would need to use ISO400 to freeze the same action.
Shape
The shape of a camera is very important, especially when you're taking a lot of photographs or have a heavy lens attached. Always choose a camera shape that feels comfortable in your hand and you can fit your fingers around.
Spec.
Also look for those extra specifications as they can greatly enhance your photography. For example, will your camera take a short piece of video? 640x480 video will look good on your TV for example but 320x240 will look tiny and grainy.
Can you adjust the settings manually or is everything automatic? As you learn more you'll want to experiment so look for a camera with a few manual functions you can choose to use later on when you've learnt a bit more.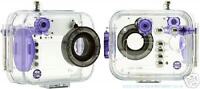 Buying a Housing
With usually only one or two housings available for a camera you are limited in choice unless you haven't bought your camera yet. In this case you can choose the housing as well. If you can't find a housing that will suit your diving and camera, it's time to rethink your camera choice.
Depth
Look for a housing that is rated to go the same depth as your diving. Most compact camera housings are rated to 40m which is fine for non-technical divers.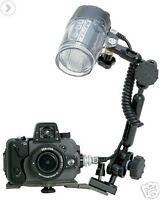 Upgrade Options
Most housings can be upgraded with extra lighting, screw on filters, larger memory cards and other marine accessories.
Look at the accessories available before you buy. You may want to upgrade your lighting very quickly but the cost could be huge if you haven't chosen a compatible housing!
Accessories
Filters are available to reduce the blue of mediterranean water or the green of atlantic water but not all housings have filters available. Just like the cameras, you have to look at the specifications of the housings to find out if they accept filters.

Cameras, housings and accessories can be found in our Ebay shop: Big Blue Squid Shop