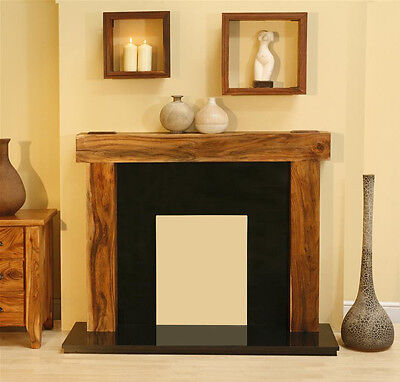 Our Ebay shop features three basic types of wood. MDF is probably one of the most common, and features in both our surrounds sets and full suites. MDF is great value for money, durable, and best of all can be used with an all manner of veneers to get a real wood look at a fraction of the price.

Sometimes though there is nothing like the real thing, which is why we have a beautiful range of natural real wood, ranging from acacia to oak to beach. With its beautiful grain, real wood is a great choice if you really want to give your interior a fresher, more organic vibe.



What is a Rebate?
Your rebate is the distance from the wall to where the front of the back panel will sit once the fire surround is fitted. Most of our fire surrounds have a one inch rebate, meaning that when a standard one inch back panel is fitted, it will fit securely between the wall and surround, with the inset fire recessed into the wall cavity behind.

Many homes do not have a cavity into which they can inset their fire. In this circumstance, an electric fire or flueless gas fire can instead be recessed into the suite itself, meaning the entire suite can sit flat against a wall, ( Flat wall fixing) of which many of our suites are, if unsure please inquire.

Many of our suites feature both one inch and three inch rebate options. By adjusting the inside return, (or unscrewing the rebate strips) you can fit the back panel further back, leaving a larger recess within which a fire can be inset.