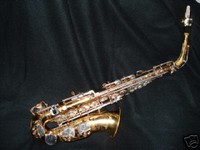 Selmer 'Mk VI'
alto and tenor saxophones, produced over a twenty year period from 1954, have assumed legendary status - with rumours, 'inside knowledge' and strongly-held opinions adding to the myths that surrounds this iconic model. This guide aims to add some wise words to help people separate fact from fiction and whether a Mark VI is the right instrument for them. And if it is, how to buy a good 'un!
Why buy a Mk VI?
They have an authoritative, complex and beautiful Selmer 'core' sound that no other model or brand replicates
Comfortable, modern ergonomics, not too heavy, very positive key action, they feel just right - a superb piece of mostly hand craftsmanship

They are almost an investment, seemingly forever rising in value
To paraphrase a recent M & S telly advert, "this isn't just a saxophone, this is a Selmer Mk VI"!
Why Not?
Wind instruments don't normally improve with age, things wear out
Intonation can be problematic with unevenness at the top and bottom of the range
Moderrn alternatives are arguably as good, more robust, more even and flexible, maybe even cheaper!

The sound really comes from the player, so why spend that much when you don't have to?

Launched in 1954, the Mk VI saxophone was a development of a long tradition of innovative instrument making from the firm of Henri Selmer, based in Paris. The Roman numeral 'VI' (never '6') signified the sixth model of saxophone design after Selmer won a Gold Medal at the St Louis Exposition in 1904. It developed from the 'Super' Balanced Action design and featured various innovations:
new bore proportions, for greater flexibility and power
new octave key mechanism and famous Selmer neck yoke
tilting 'table' keys for the left hand little finger
adjustable right thumb hook
high f# key available as an option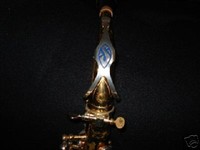 Various finishes were offered, including lacquer, all over silver plate, and keywork silver plated, as well as various levels of engraving. The famous 'crocodile' skin case was also produced, with some having space for clarinet and flute - the so-called Trepak case.
The Mk VI baritone was introduced later, and sold well into the 1980s - it has plenty of character and should be considered, even against modern baritones. The soprano also came along later and endured a production run well past 1974. The sopranos are not quite as sought after, with some folk feeling the adaptation of the keywork compromised the balance, and it was too heavy, with some more obvious intonation issues than the bigger sizes.
The 'Sound'
The reason Mk VIs are sought after is certainly not mere hype! They have a complex sound 'core' that is rich, interesting, very varied between registers and volumes, a vocal quality that you don't get with some other makes. Don't be fooled into thinking that the sax makes the player, that's down to years of practice and study, plus experience with appropriate mouthpieces and reeds. Remember too that there may be intonation issues with these saxes, and notes in the top and bottom ranges can be out of tune and a little husky, without 'humouring' the notes. The octave mechanism might not impress the Japanese makers, and they'll be similarly unimpressed with the often sticky g# mechanism. Experienced players will tell you that finding the right sax is merely the beginning because there's all the fun of trying out and searching for that elusive mouthpiece/reed combination when you've got your dream sax! This will undoubtedly change as you develop as a player.
Playability
One of the key factors in the Mk VI's rise to fame was the much improved ergonomics - they feel so comfortable! Palm keys are within easy reach, and the tilting left-hand table keys revolutionised complex passage work down in the sax's nether regions. The keys are well-spaced and all the keywork feels very positive, lettting you concentrate on the music. Many well-fettled Mk VIs have benefitted from much tlc from techs and they'll feel very light and tight - the sign of a good, well-loved, working instrument.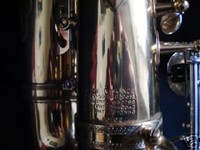 Serial Numbers
There's a lot of talk about which serial numbers range represents the supposed golden era of Mk VI production. A commonly held view is that 5-digit numbers had that 'magic'. The facts are that all Selmers are hand-made and there was more variation because of this. Another argument is that the tools, jigs and lathes were less worn for earlier saxes. My advice, having blown many examples, is that there are outstanding playing examples from every vintage - each sax is unique and should be judged accordingly. Better to have a good later Mk VI than a tired early Mk VI.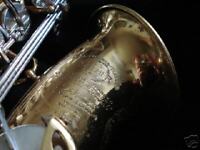 Lacquer
Some of the best-playing examples used by pros and big-name players have very little lacquer left. Some say they blow more freely without the lacquer. Personally I think there is some truth in this, but the player and reed/mouthpiece combination has a far more tangible effect on the sound. What you must look out for are signs of relacquering. Done well this preserves the appearance and durability of a sax, but it has its dangers. Firstly, the old lacquer needs to be taken off completely and this process could reduce the thickness of the original brass, especially if a machine is used in buffing. Old-fashioned hand buffing by an experienced technician is preferable. The way to check is to see how deep and crisp the bell engraving is. Also, is the lacquer clear or even yellowish? The original Selmer lacquer was rather more golden or brownish in appearance. Look at the places where a relacquer would be difficult to adhere to - arounds posts and fingerholes - does it look original? The bottom line is that every relacquer is unique so beware of the pitfalls - but judge the sax on its sound and general condition before you pass judgement on the lacquer!


Finishes and Variations
Mk VIs came in a variety of factory finishes. Most common was lacquered brass of course, but silver plate examples are not uncommon and were favoured by military bands for their durability and appearance. Brass lacquer body with silver-plated keys was a particularly attractive combination. Additional engraving was also offered as a modest extra cost option. Matte and black lacquer finishes, even coloured finishes, weren't unknown!
A useful factory option was a high f# key. There were also a limited number of altos with a low A key. Collectors love them, but personally I think they add to the weight of the sax, spoiling the ultimate feel and balance.
Although known as Selmer (Paris) saxes, some were assembled and finished elsewhere. North American Mk VIs were assembled and finished in the US and even Canada. These tend to have serial numbers on the neck and can have slightly less ornate engraving.
Most Mk VIs are identified by checking the serial number, normally below the thumb rest. Use the many online or printed lists to match the number with the year - see http://www.selmer.fr/html/english/sax/saxs/serie/serie.htm for information. Some had MARK VI roughly engraved near the bell joint at the front. North American Mk VIs often had the serial number on the neck as well as on the body.
Prices
The consistent upward rise in Mk VI values is a thing of amazement and constant joy to those that have one, but very frustrating if you're after one! Every now and then someone advertises a BNMIB (brand new, mint in box) example on eBay and all the Selmer afficionados get hot flushes and start twitching involuntarily. Unless you're a collector ignore these museum pieces and go for a good playing example. Prices for good condition original lacquer altos are usually well upwards of 2000GBP, with tenors usually attracting over 2500GBP. Remember that respected dealers will always charge a premium compared to a private sale, and you should expect a well-set up instrument and guaranteed provenance with such a sale - they'll often allow you to try out a selection, which is very worthwhile as they can vary a lot.
Frankly, some sellers are just plain greedy, and there's an element of 'jumping on the bandwagon' with overpricing every Mk VI, regardless of condition or provenance. With over 200,000 Mk VIs made there'll always be another one along in a short while so don't get desperate, take your time and seek out the well-cared for examples. And there are lots of stories of little old ladies almost giving away their deceased husband's treasured Mk VI to some 'helpful chappie' who's only too happy to help her clear out some 'junk'! Contrast this with the really big sums needed to secure a true 'minter', so beloved of Japanese collectors.
Buying or Bidding Unseen
Every Selmer Mk VI was a hand-crafted instrument over a long production run. Factor in several decades of use (or even non-use in less than ideal circumstances) and it's a sure bet that each instrument plays differently. If you're going to gamble on buying an old, reasonably complex mechanical-acoustical device then be sure you've allowed for a tune up or overhaul with your favourite tech. Don't rely on waffly generalisations like 'excellent condition' or 'blows like a dream', ask pertinent questions
before
you commit to buy. Gather as much info as to identifiable faults, owner and service history. The word 'mint' is subjective and can vary in interpretation - especially if it leads people to believe it's as new, with an over eager seller keen to get top dollar for it.
Buying Tactics
Thanks to the Interweb every man and his dog thinks they can make a killing with a Mk VI, and who can blame them? You can't haggle with an eBay listed instrument so be sure you've got enough good pictures, and responses from the seller over any questions you might have put. Before you part with any money ask relevant questions:
Confirm the serial number range
Estimate how much lacquer coverage, is it original?
Any dents, dings, dinks or scratches?
The neck is absolutely critical to the sound, has it ever been bent or dinged?
What condition are the pads?
When was it last used, or even serviced?
Saxes don't always photograph too well, ask them to try pictures without flash - macro shots are useful too

Ignore subjective teasing eBayer comments like "this one's a keeper", "this is the one you've been waiting for all your life", and "blows great!" - stick to the facts and let your judgement count. I'm always amused when a 'sax pro' friend of the seller declares the sax to be the Mk VI Holy Grail - they can never afford it themselves...
Finally - how will shipping affect the sax? It's always a worry when you have to rely on a general delivery service to transport your prized instrument. Just because a seller has a great instrument doesn't mean they're a great packer, so take steps to ensure the seller protects it. The consensus from the retailers I've spoken to is that it's better to have a level of cushioning in the packing so don't pack everything so tight that any knocks will go transfer right through the instrument. Have layers of padding around everything and pad the case inside a bigger cushioned package too. Done properly this could take a few hours even, so don't be offended if the seller's shipping costs exceed the basic postage charge. Oh, and always take out insurance!

The Alternatives
Whilst Mk VIs may have achieved 'legend' status, many sax players swear by other makes and models. Remember that Charlie Parker created his unique sound and improvisations on a variety of saxes and was never associated with the Mk VI except in a few fleeting instances. Saxes by Conn and King also have their legendary devotees and are sometimes preferred for their 'ballsier' sound. Some Selmer players actually prefer the previous generation of Super Balanced Action, or the earlier Balanced Action models - in my opinion these tended to have a more even, slightly softer edge to their Selmer 'core' sound.
After trying to recapture the magic of the Mk VI in subsequent models, and failing miserably at first, Selmer currently produce the Reference 54 series. Inspired by the very first Mk VIs, these thoroughly modern instruments have the sound and ergonomics to provide a very real and appealing alternative to buying a Mk VI. They're not cheap, but common wisdom is that they are the closest yet to that 'magic' that many Mk VIs have.
Some say Yamaha's 82Z model has a 'vintage sound'. I personally love these Yamaha saxes, and this model feels lighter and more responsive than other Yamaha Custom models - thinner ribbing and less bracing for a start, plus specially annealed brass. The legendary Phil Woods switched to an unlacquered version a few years back, after being a 'Mk VI man' for decades. Did he really, really prefer the Yamaha, or was there another incentive? I've no idea, but I suggest you try both and judge for yourself. Similarly, pro models by Yanagisawa in certain metal combinations are said to have that 'vintage sound' - but with 21st century ergonomics and intonation. The great British altoist Peter King changed from a Mk VI to a Yanagisawa A9932Z (after being given one by Yanigisawa)) - an enticing combination of solid silver, bronze and gold plate with exquisite engraving - surely one of the world's most beautiful and desirable saxes? Whatever the instrument, remember it's the player not the sax which matters - the right sax can merely only help!
Resources & Links
A superb book on the the history of horns is 'The Sax & Brass Book' (various authors ) published by Balafon, ISBN 1-871547-60-1.
Whenever I have enough time on my hands I head over to Sax on the Web (www.saxontheweb.net). Enjoy browsing through the wealth of experience and opinion on this lively and popular forum, which has its own selmer section (and archive).

Another great site is at www.saxpics.com - full of pictures and articles on all kinds of vintage saxes as well as modern ones.

Don Mackrill's website has a lovely section on the Mk VI and is well worth a browse at www.donmack.com/Selmer/SelmerMk6.htm.
Saxquest is a commercial site, again a wealth of information and a good source of going dealer rates for fine vintage stock, it's at www.saxquest.com.
There's some further information available from the SaxPics 'Vintage Saxophone Guide' at http://www.saxpics.com/?v=mod&modID=14

Conclusion
Bought wisely, a good Selmer Mk VI will prove a sound investment in every sense. Capable of that unique Selmer core sound with outstanding ergonomics, it might hardly lose value or even appreciate. As a badge of honour - the sign of a seasoned pro - it's unbeatable. It may not be the 'best sax in the world', but it will have a combination of qualities that ensure it remains something special to all who come into contact with it.
I'll be adding to this guide over the coming weeks, with pictures and links to other resources, but in the meantime I hope it's given you a taster insight into one of the most consistently sought-after instrument models of all time! If you have information to share or even pictures that would make this guide better, then do please get in touch and let's help spread the word!