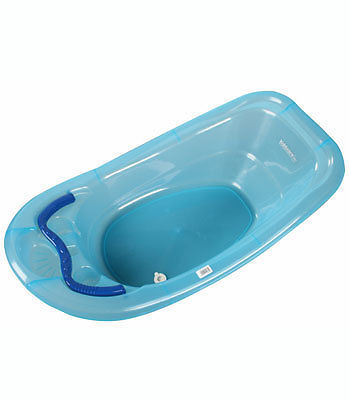 There is lots of information about bathing babies and also a lot of different products to do so. It can be quite a task as first but it must be said, that as with most baby items, you don't need all the gadgets that are available.

There are lots of choices available but to get started, you only need something basic. You could use a new small washing up bowl or even just in the sink whilst the baby is so small and unable to support itself. This will make it a lot easier for you especially in the early days.

You then may want to upgrade to a baby bath but it is important to look out for some features which will make things easier. Some things to look out for are: is it easy to carry and move around, does it have a handle, does it have a plug to easily drain the water out etc. Always make sure the bath tub is contoured so your baby is supported and in a slight upright position. Hard plastic bath tubs should have a smooth shape to make it comfortable for your baby to lie in.

Some models even collapse so it is convenient and easy to store so you may want to look into these if you need to conserve space. These are also great for travelling but may not be as efficient as a non folding model. It is also worth thinking about changing stations that sometimes have a bath built in. There are lots of contoured inserts (plastic and sponge) that can also be bought to stop the baby from slipping and also make it much more comfortable for them. A fairly new product to the market are inflatable ones which again are great for space but then you would need to inflate and deflate this every time.

If you don't want to buy several different baths, you could look into convertible baby baths that are specifically designed to be used from newborn up until when they become toddlers as it "grows" with your baby. This contains inserts which you remove at different stages.

Before buying any of these, think about what will work for you and your baby and what features are a must and what are a nice to have.