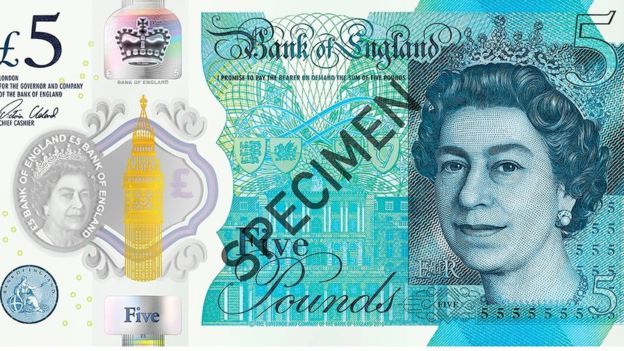 Paste a YouTube Video URL

Uploading...
The Truth
As a collector of British Banknotes from all eras, including some of the new £5 polymer notes, I'd like to share with you what makes one of these new notes collectable.
The sad news is that the majority of the notes on eBay are worth no more than their £5 face value..

1. Low AA01 Serial Numbers
The AA01 serial numbers are the attractive series for a collector of these £5 notes. The only real serial numbers that are very collectable (and valuable) are the very low series numbers, which are AA01 00XXXX, of which the majority are already in the hands of private collectors and dealers. Any of the higher AA01 numbers are likely to attract a smaller premium over face value, based on interesting sequences or lower numbers.

2. Collectable Serial Numbers
If an interesting set of numbers is within the above mentioned AA01 series, it is most definitely collectable, and could be very valuable indeed. Lucky numbers, such as 8, are very popular, as are numbers which make up significant years, dates or sequences.
An example would be AA01 000088 - which would be a very collectable and valuable note.

3. Collectable Consecutive Series
The AA01 series would again be the most valuable and collectable, with interesting sequences of notes being the most attractive, like 666, 777, 888 or 111, 1111
A series of consecutive notes is always very attractive for collection, even more so if the series is interesting rare and unique.

3. Novelty Series or Numbers
There seems to be a lot of these on eBay! I have seen a lot of the AK47 series being advertised for ridiculous amounts of money. The truth is that there are 999999 of these notes in circulation, so they are not rare, and nor is the AK47 reference in any way related to the note's subject matter, which is Sir Winston Churchill! Low AA Serial numbers containing 1874, 1965, 1939, 1945 may well be a different story.

4. Condition
Because these notes are so new, perfect uncirculated condition is really the only condition that should be considered. Any note pulled from someone's wallet with a serial number starting with AXXX XXXXXX is really not worth anything much more than face value.

I hope you have learned something about collecting the £5 polymer note!
Good luck finding the real gems out there.