Further to a very accurate guide regarding the difficulty of obtaining genuine Wayne Rooney autographs written by eBay member premiershipsignatures I feel motivated enough to respond.
If you buy Wayne Rooney signed products from A1 Sporting Memorabilia eBay Shop , they have been signed at one of three private signing sessions we have conducted behind closed doors with him in the last year.
For us, he always signed his name and number and on our various sites you will see photographic proof, not only of Wayne signing the products, but also of him with Freda and I and various members of staff.
He has told us that due to the proliferation of eBay dealers posing as fans and then selling his autograph, he virtually never signs in public any more. The Manchester United players are banned from signing at the training ground and he adheres to their rules.
Because he has been at the top level of English football for so long already, it is easy to forget how young he still is. He has been subjected to a lot of pressure, especially by the media. I can tell you however, that despite all of this, he is a really open and friendly guy and genuinely seems to me to be a good bloke!
We do the same as this with other players, notably Giggs, Scholes and from Liverpool Steven Gerrard. They all live in goldfish bowls , under loads of pressure but they are all good guys when you meet them properly.
So, to recap, if you want genuine Wayne Rooney or Steven Gerrard and other players signatures, you should buy from A1 Sporting Memorabilia or one of the other two companies that conduct proper controlled signings with the top names. We try very hard to charge fairly for our products. We are a Ltd company, Vat registered and as genuine as there is in the worldwide marketplace. We guarantee our signatures are genuine, our framing is of top quality and hopefully that our customers will be happy.
The biggest rule I'm sorry to say is this IF IT LOOKS TOO GOOD TO TRUE it probably is!! There are at least three companies, of some size, trading on eBay and online elsewhere that are selling forged signatures at cheap prices. Squad signed shirts are rare and on United, so called training ground ones Wayne Rooney never signs them. You have been warned.
I hope you found this guide useful. It is intended to increase our sales but we are selling genuine hand signed items at fair prices that reflect our huge investment and commitment to getting genuine products out there.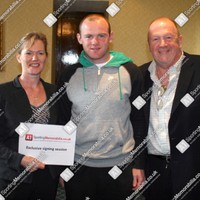 Terry Baker
Director of A1 Sporting Memorabilia
Ebay name: a1sportingspeakers