Whilst beauty is in the eye of the beholder, and everyone has a different take on works of art, buying a reborn doll can be a costly experience. A good one often does not come cheap, as the artist has spent a long time making it, and bought lots of supplies and parts to make the doll.
Firstly, for those that dont know what a reborn doll is, its simply a doll that has been made more lifelike by a artist. Below you can see an example of before and after pics
BEFORE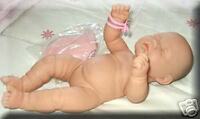 AFTER (the reborned doll)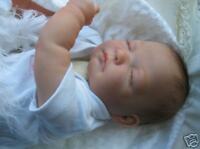 One thing you can do, is to see if the seller is a member of any "guilds", these are groups of people who claim to only accept members with a high standard of work. Usually a guild will have more than one level of membership, ranging from a standard member, who is still learning the craft, to a full or registered/charter member who is qualified to display the logo on their auctions.
There are many reborn guilds, including, but not limited to
ERA (Exceptional Reborn Artistry - ERA Guild)

R.L.L.B.G

(Reborn Life Like Babies Guild)

BRAG (British Reborn Artistry Guild)
BARB (Beautiful Angelic Reborn Babies)
Many guilds dont take into account just quality of work, they also make sure the seller keeps a good feedback rating on ebay, and looks after their customers. Its not a guarentee, but its always worth seeing if your seller is registered with at least one of the major guilds.
But, as with all purchases on ebay, its buyer beware, and you should not assume a guild membership is a sign that all will go well. It does not hurt to do some research into the guilds to see if they are reputable, do some creative google searches on the owners and admins of the guilds - do they have a lot of problems associated with them?
Whats in it for the guild? Do they get money from each full membership? Do they do it for free?
How easy is it to get a full membership in their guild?
What criteria do they have, and have all their members fulfilled that criteria or not?
You want a reborn that will last, and is made to a high standard, you also want to make sure if there are any problems the seller will work with you to resolve them, at least if the seller is a guild member, you may stand a better chance of this than with someone who has not registered anywhere.
It is worth checking to make sure the seller is actually registered with the guilds, as it has been known in the past for unscrupulous sellers to use guild logos when they are not actually a member. If in doubt go to the guild website and ask!
An example guild logo (in this case for ERA) is illustrated below. Each guild has there own type of logo.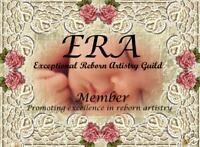 Good luck with your purchases!