Cotton Head Scarfs - buying and fitting
There are many scarfs in High Street shops but not many are made of cotton and are suitable for wearing if you need to wear one as a Head Scarf on a temporary or permanent basis. I found this a very difficult task a few years ago when buying for a close relative who was undergoing cemo treatment. Also once out of summer season they are almost impossible to buy. Whilst there are some very pretty ones in High Street shops that are not made of cotton i.e. silk or polyester these will easily slip off.
There are several sites on the internet that offer scarfs or head covers of various quality and prices. We bought a few ( some as far as the USA) and found some were of good quality and fitted well and that others were not made of cotton and were uncomfortable and ill fitting having elastic threaded through them.
When choosing a scarf the main criteria to look for:
Is is the right size to fit my head - small, medium or large - a square or triangle scarf will be the easiest to fit and tie.
Is it made of good quality cotton (the most comfortable to wear)
Is the material light weight or heavy - if it is too heavy and you are small built it may be uncomfortable and difficult to tie.
Is it easy to wash and iron
Do you like soft or bright colours
Do you like bright patterns or plain
Do you require for day at home or going out for a special occasion
You may find that the most comfortable to wear are triangle scarfs pre cut. These are easy to fit and tie. If it is a square scarf you will need to fold in half to form a triangle.
Instructions below: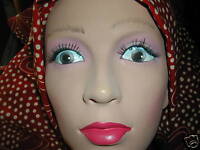 a Front you can either fit as it is or fold under edge at forehead
b Take ends and fold round back and cross over ties
c Tie at back either underneath leaving scaff hanging over or by tucking ends in.