Steven is a great guy. Very friendly, very committed to his club and very committed to his charity. He works hard in his spare time to raise money for his foundation and the autograph signing sessions have raised thousands of pounds that he donates to good causes.
When you buy a shirt or a photograph from A1 Sporting Speakers or our A1 Sporting Memorabilia shop, you are guaranteed a hand signed piece of quality memorabilia at the best price we can manage to sell it to you at. We are a LTD company with overheads and we are VAT registered and totally legitimate.
We put ourselves in the photographs of player signings, not from vanity but so that you can see that we are genuine and that owe know the player. Many of the rogue sellers hide behind a veil of anonymity and if you look closely, you will see no business address or phone number to contact the seller.
There are at least ten big looking companies trading on the net selling fakes or facsimile signatures. You will never be able to contact them if you don't find your purchase satisfactory.
Here's the general golden rule, IF IT LOOKS TOO GOOD TO BE TRUE, IT ALMOST CERTAINLY IS!!
If you buy Steven Gerrard pieces from us, or one of the other smaller but still genuine companies that buy wholesale from us
1. It's genuine.
2. An amount of money has made its way to a good cause via Steven
3. It is guaranteed and comes with our hologram certificate of authenticity.
That's our three point promise, it applies to lots of other signers as well. We regularly sign with Ryan Giggs, Paul Scholes, Wayne Rooney, Maradona, Pele, Sir Bobby Charlton ( he is exclusively contracted to us), Jimmy Greaves, Gordon Banks ( both exclusively contracted) and many others.
This guide is unashamed to promote our company and at the same time make you aware of the pitfalls out there. If a shirt is supposedly signed by a top star such as Eric Cantona (also contracted to us) and it's too cheap, you are being ripped off!!
Buy from reputable companies, we have been around for fifteen years and have represented the 1966 England team for ten, we have the respect of the players and friends in the game. We always pay the player a good fee or donate to charity in their name on certain occasions and you will have peace of mind and a quality appreciating asset on your wall.
I hope you find this interesting and it helps you not to get caught out.
Terry Baker
Director of A1 Sporting Memorabilia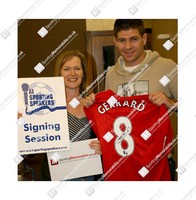 Image above: Freda Baker, Director of A1 Sporting Memorabilia with Steven Gerrard at exclusive signing session.
Ebay name: a1sportingspeakers