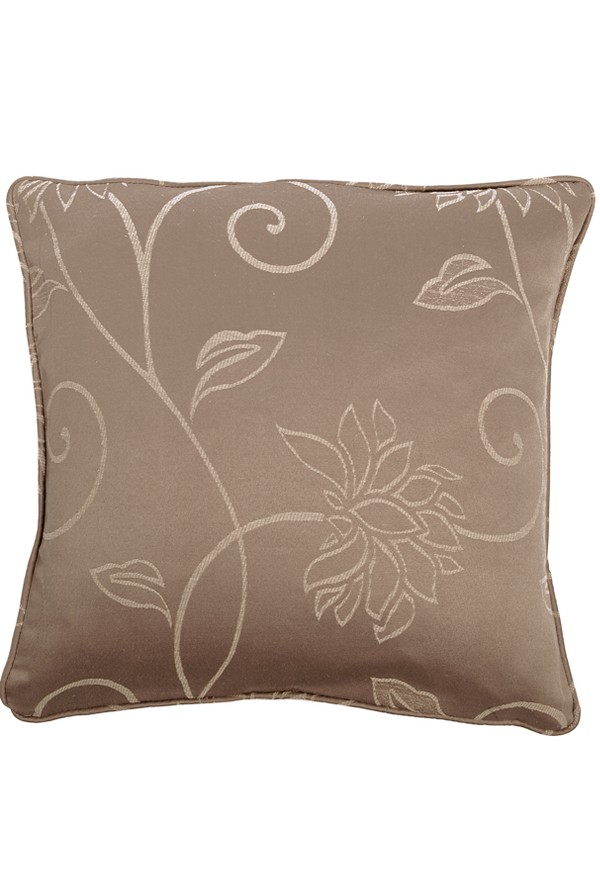 Buying cushion covers is a simple way to refresh and update the decor. It is also cost-effective as it is possible to keep the original cushion fillings and simply buy replacement covers in the same size. Or, there's the option to purchase new cushion fillings separately and buy several different covers to give the widest options for soft furnishings. The range of cushion covers, in a variety of fabrics, shapes and sizes, means spending as little or as much as can be afforded.
About Cushion Covers
Cushions and cushions covers have been used to add comfort and style to seating and kneeling for centuries. The presence of cushions would once have indicated the status or high rank of individuals, with cushions often reserved for royalty and the aristocracy. Modern cushions fulfil the same role they always have, with the added benefit of being much more affordable and practical – cushion covers can be removed and washed or dry-cleaned, and can be replaced cheaply, too. Cushions have traditionally been used to add comfort to seating, such as on wooden chairs or on ottomans. They are one of the most popular soft furnishing additions to a room, bringing colour, elegance, and a touch of luxury. While cushions are generally a practical addition to furnishings, they can also simply be an aesthetic choice, with the cushion covers chosen to complement existing decor. Using cushions is a practical and flexible way to change how a room looks, without having to resort to a makeover – replacing cushion covers can update the decor for a fraction of the price.
Choosing Cushion Covers
It's important to know exactly what size of cushion covers are required – if replacing existing covers, measure the filling to be used so the purchase matches. Extra large cushions or unconventionally shaped ones such as circles may require a more thorough search for cushion covers.
Fabrics for Cushion Covers
Natural and manmade fabrics are used for cushion covers and to choose the fabric that best suits both budget and the style of the room or the furniture. The choice of fabric will also depend on what use is planned for the cushions. Here are the most popular fabrics and some of the pros and cons of choosing a particular material.
| | | | |
| --- | --- | --- | --- |
| Silk | A breathable natural fabric, silk is made from the silkworm cocoon. | Silk cushion covers have a luxurious look and feel. | Silk cushion covers must be dry-cleaned. |
| Velvet/Chenille | The fabric is cut to create a pile effect that gives both velvet and chenille a distinctive feel. | Velvet and chenille cushion covers are sumptuously soft and luxurious. | Velvet must be dry-cleaned, while chenille needs to be hand-washed and dried flat. |
| Linen | Breathable and antifungal, linen is a durable natural fabric. | Linen and linen blend cushion covers are machine washable and come in lots of different colours. | Linen wrinkles easily and may need to be ironed more regularly than is practical. |
| Wool | The original hardwearing textile, wool is antibacterial and antifungal. | Wool is remarkably versatile and soft, so wool cushion covers are widely available. | Wool and woollen blends must be washed with care and can shrink. |
| Leather/Suede | Generally made from cowhide, leather and suede are durable natural fabrics. | Cushion covers in leather are less flammable than other materials and are easily cleaned, as are suede cushion covers. | Both suede and leather are among the most expensive fabrics to buy. |
| Synthetics | Synthetic fabrics such as polyester, fleece, faux fur, and fake leather and suede are widely used to make cushion covers. | As manmade fabrics are mass-produced, synthetic cushions covers are very affordable and machine washable. | Manmade fabrics may not be as durable as natural ones. |
Styles of Cushion Covers
Indulge in creativity when choosing cushion covers as there is a variety of styles that range from the plain and simple to the flamboyant. Here are some popular and easily obtained styles.
Modern

Often unembellished and unadorned, modern cushion covers have a clean, aesthetic quality and come in bold or plain colours to emphasise their singularity.

Vintage

Popular because they create a retro feel and look to a room, vintage cushion covers are eclectic and usually deliberately mismatched to cement the period vibe.

Ruffled

Ruffled cushion covers are known for the romantic look they can bring to decor. The ruffles are layered to create a luxurious and sumptuous feel.

Tailored

Tailored cushioned covers have the same lack of embellishment seen in modern style cushion covers. Solid colours are generally used while the seams may have coordinating piping.

Bohemian/

Shabby Chic

Like vintage cushion covers, choosing bohemian cushion covers allows to mix and match a number of different styles and looks. Anything goes as far as colours and adornments are concerned when it comes to shabby chic.
Trimmings on Cushion Covers
Cushion covers are available in simple designs and also adorned with all manner of trimmings. Personal taste will dictate whether to be tempted by tassels or braids, fringes or piping. Patchwork, applique, and quilting may also add to the extravagance of the cushion covers. Personal taste will dictate what kind of trimmings on cushion covers are to be had.
Size of Cushion Covers
Cushions come in all different shapes and sizes and are used for many different purposes. The type of cushion covers required will depend on what size of filling already had and where and how the cushions will be used. Here are six of the most common cushions, their use and general size.
Floor cushion/

beanbag

Floor cushions are frequently used on hardwood or tiled floors in the form of beanbags.

Vary in size from 40cm to 2m

Bolster

A long, firm cushion that gives back support on either a bed or sofa.

General size is 75cm x 28cm; smaller bolsters are 20 x 43cm

Seat/bench

Round, square or rectangular pads that cover indoor and outdoor seating, seat and bench cushions are tied to the leg of the chair or bench.

In general seat cushion covers are 40 x 50; bench cushion covers 135 x 35 (small); 160 x 35 (medium); 180 x 35 (large); 200 x 35 (extra large)

Ottoman

A padded or upholstered footrest, an ottoman may have added support from cushions.

Ottoman sizes vary widely. Measure the footrest carefully before purchasing cushion covers.

Throw

Throw cushions are placed on chairs and sofas and may be square, round or rectangular.

The size of throw cushions will depend on its style. Please measure before buying.
Find Cushion Covers on eBay
To find cushion covers on eBay, go to the homepage and click on Home & Garden. From there, open the tab on Furniture & Living, and then click on to Home Decor and Cushions. It is at this point that the search becomes less general and more specific. Use the search bar at the top of the page to enter the specific items required. For example, when looking for cushion covers in synthetic fabrics such as rayon, type in "synthetic cushion covers" into the search field. The search can be further refined by size, pattern, design or colour.
Conclusion
Cushions have been one of the most popular of soft furnishings for the home for centuries, and are an inexpensive way to adding colour and comfort to a room and seating. Replacing cushion covers is a relatively simple task and allows to alter the style and feel of a room without having to redecorate or change furniture. The type of cushion covers required will depend on the size of the cushions or pads the purchaser already has. Also, factor in the type of fabric required, with more durable material necessary for the furnishings that see the most use. Cushions of unusual shape or size may necessitate longer searches to unearth the correct size but the plethora of manufacturers producing replacement cushion covers is likely to make this quest a successful one.