I have been selling dance vinyl on ebay since 2001 and before that I was buying vinyl for a few years as well, so I thought I'd share some of the things I have learned over that time.
1, Always make sure you know what you are buying. Is it the correct mix, is it a record and not a cd?
A common mistake is bidding on a listing that might say 12 excellent trance tunes thinking you are getting twelve 12 inch vinyls when in fact it is an album. You missed the bit in the description that said 12 excellent trance tunes...on three 12 inch vinyls Also 12 tunes might be six 12 inch's with a tune on each side. So READ THE LISTING CAREFULLY and if in doubt. Ask the seller!

2, Check the condition of the record. Does the description give a condition, if not the ask the seller. Make sure the seller defines their definition of very good or excellent as these can be subjective. A good seller will have a grading policy that you can read.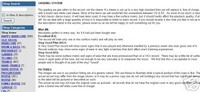 3, Make sure you know the postage price of the record? Does the seller offer a discount on postage for additional records? If so it may be worth seeing if they have anything else that you have been looking for to take advantage of the reduced postage prices. Sellers may have a an ebay shop with lots more similar items.

4, If the seller is over-seas then make sure they will ship to your country.
5, It is not always the items with the cheapest list price that represent the best value. You can customise your search results to show the postage price next to each item so you can see the best deals at a glance. Don't be fooled in to buying a record at £2.99 and having to pay £5.00 postage when you could have bought it or £4.99 and paid £2.50 postage, saving you 50p. Again don't forget to check for postage discounts, if you buy 10 records from a seller that does not offer a discount, you could end up paying £50.00 postage!




6, Make sure you read the item description thoroughly and can comply with any terms, payment methods, payment timescales etc. If not then why not email the seller before bidding to see if you can work something out, they may be able to accommodate your request.
7, If the seller has an about me page then take he time to have a quick read, it may help to familiarise you with the seller's ethos and selling policies.

8, See if you can get the record cheaper by doing a specific search for it and sorting it by lowest price first. Try this search for Tiesto.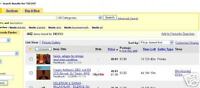 9, When searching try not to add unnecessary words. Eg a record by Dj Tiesto will always have the word Tiesto in the title so there is no need to search for Dj Tiesto. Try searching for both and see how many more records are found using only Tiesto.
10, Read through the sellers feedback. Sellers with a large volume of sales will always have some negative comments, some may be deserved, some may not be. As a general rule I would say that a feedback of 98%+ is excellent. Less than 95% would have me asking questions. It may be that the seller is still ok but has negatives from when they were new to ebay or for other valid reasons, so it may be worth emailing or telephoning the seller to get a bit more info before placing a bid.
11, If you have been happy with your purchase then why not add the seller to your favourites.
HERE IS A LIST OF THE EBAY SHOPS THAT SELL DANCE MUSIC. SOME HAVE SEVERAL THOUSAND ITEMS, SOME HAVE ONLY 3 OR 4. DIFFERENT SHOPS SPECIALISE IN DIFFERENT GENRES OF DANCE MUSIC, HOUSE, TRANCE, DRUM & BASS, HAPPY HARDCORE ETC. I WOULD SUGGEST YOU TAKE SOME TIME TO FIND THE ONES THAT COMPLEMENT YOUR DJING STYLE AND ADD THEM TO YOUR FAVOURITE SELLERS.