I have noticed that a number of suppliers are selling laptop power packs / chargers, often at very attractive prices, which upon delivery are found to have UNFUSED UK plugs moulded onto the cord set.
These plugs are DANGEROUS to use in the UK. A typical example of an unsafe plug appears below -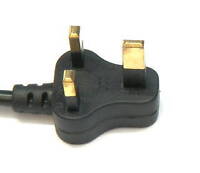 The reason that these plugs are unsafe is that here in the UK, the wiring to your wall socket is protected by a 30 amp fuse at your distribution panel, which is there to protect the house wiring. A separate fuse is
required
to protect the appliance mains lead, which in this case is probably rated at no more than 3 amps. If a fault in the appliance develops, such as a short circuit, then anything up to 30 amps could run through the lead, causing it to overheat, possibly catch fire, or the insulation could melt, exposing hazardous mains voltage.
In a further twist, I bought a couple of power supplies for an IBM ThinkPad. Both supplies came equipped with unfused plugs, and one developed a fault shortly after purchase. Rather than send it back, and with my suspicions raised, I decided to take it apart and look inside. I was very concerned to find that upon trying to separate the welded seam that held the two plastic halves of the item together, it practically fell apart in my hands, with very little pressure needed - a truly awful safety issue. The plastic was thin and brittle and the quality of the electronics was poor.
Examining the supplied mains lead further, I was able to fracture the insulation just by bending near the strain reliefs at each end - again, a serious safety issue and indicative of very poor quality plastics.
So, be very careful if you're considering buying a laptop power supply at what appears to be a very cheap price. If it's really cheap, there's a reason. If you need to cut costs, look instead for a good quality, original equipment second-hand item - check photographs and description carefully.
If you do receive an unfused mains cable,
do not use it
!!! Render it inoperable, throw it away, and purchase a proper fused lead instead - the fuse is there to protect YOU.