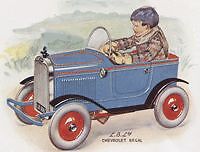 Buying or Selling a Vintage Pedal Car I can help with identification and valuation. I have been restoring pedal cars for many years and will be pleased to help you in any way I can with your restoration
Should you restore your car ?
Am I paying to Much ?
Am I selling to cheap ?
Where can I buy parts ?
What parts do I need ?
Any questions ? my contact number is in all my listings where I have many items you may be interested in. I am looking for parts all the time to add to my ebay shop .
The best cars to look out for are the larger Triang models such as the Centurion the Triang 80 the Triang Racer and of coarse the very popular Triang Jaguars.
All vintage pedal cars are having a price boom so now is the time to buy if it has not been molested by the diy man and most of the parts are still intact then you should be safe.
I have found boot fairs to be the cheapest purchasing venue local papers are another good source you can try the for sale cards on supermarket notice boards and in shop windows, local junk shops, church auctions and ebay. I have found the most expensive place to buy is online auctions as now the bidders are worldwide not just the bidders in the room.