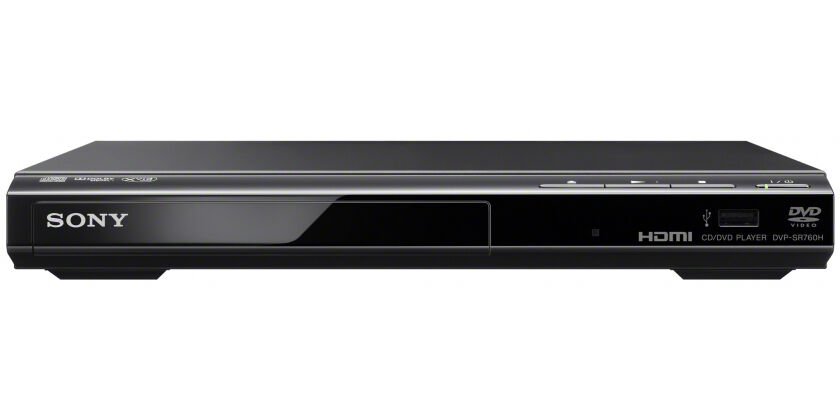 Every home needs a DVD player. In some cases, more than one may be needed. There are several types, brands, and styles of DVD players that can fit into every need and budget based on what type of player the buyer desires. From simple and compact single DVD players to combination VCR and Blu-Ray players that can turn any home into a movie theatre right in the living room, there's a perfect DVD player for every movie watcher.
For smaller rooms or kids' bedrooms, a portable DVD player may be a good option for kids on the go. These can also be taken from room to room and enjoyed, for maximum convenience and versatility. No matter what the buyer's budget is, there is a DVD player, recorder, or combination player that is right for every need, so consider the options available when it comes to DVD players before purchasing one on eBay.
Types of DVD Players
There are several common types of DVD players, and these are the ones that the buyer run across most frequently on eBay. The DVD player that is selected should have all the features the buyer desires, whether it is remote control, widescreen or HD capability, Blu-Ray playability, or simply that it is small enough to work in a limited space. For consumers that have the room and want a top of the line player, there are options that may include better speakers or high definition picture as well as other features.
| Type of DVD Player | Features |
| --- | --- |
| | Standard DVD Player with one port for DVD's |
| | Takes up half the space of a standard DVD player |
| Combination VCR/DVD Player | Features the option of playing DVD or VHS tapes |
| | High Definition DVD player |
| | Great for viewing DVD's away from home |
In order to choose the best possible dvd player to suit one's needs, it is important to understand in more detail what each has to offer.
Standard DVD Player
A traditional, standard size DVD player is generally wide and slim, and has one port for DVD's. Some DVD players also offer a recording option, where the buyer could record content onto a DVD, but some merely offer the option to play. A higher end DVD player may also play rewriteable, recordable CD's and DVD's, making it a fully functional entertainment system. Extra features like picking up exactly where the viewer left off on a DVD, added sound features, and sleek design may be desired features that a buyer enjoys when purchasing a standard DVD player.
Some DVD players may also come with USB input, high definition capability, and less cables for a more convenient DVD player design. A USB port can be a great addition for viewing stored items on a USB stick, or for viewing items from a computer, which can be connected to the DVD player.
Compact DVD Player
A compact DVD player is smaller than an average sized player, roughly taking up about half the space as a standard DVD player. This option is good for consumers that do not have a lot of space in the entertainment area of the home and need a smaller option, and also for buyers that do not need anything too fancy with a lot of additional features. A compact DVD player is an affordable option but has limited extras, so for buyers that are on a budget and need a simple player, this is the best route to go.
Combination VCR/DVD Player
A good option for buyers that still enjoy watching VHS tapes but need a DVD player as well is a combination player. A combination player is large, and offers the buyer the choice between watching a video or watching a DVD. The setting can be changed simply to accommodate either option.
Some combination VCR/DVD players can also play audio CD's and rewriteable DVD's. Another added feature of a combination player that buyers may enjoy is the recording option. Consumers can insert a recordable DVD into the DVD slot, and record a VHS tape onto the blank DVD. This can be convenient for consumers that are interested in converting their VHS tape collection to DVD.
Blu-Ray Player
A popular type of DVD player nowadays can also play Blu-Rays, which are a high definition type of DVD. A Blu-Ray player can typically play both Blu-Rays and regular DVD's, but some Blu-Ray players only play the special Blu-Ray DVD's, so the consumer should check this before purchasing to ensure they are getting the right type of player for their specific needs.
A Blu-Ray player offers HD quality when playing movies, as well as an upgraded sound experience. Some Blu-Ray players offer additional features such as USB playability and Internet connection so buyers can watch Internet content on the player as well as DVD movies. Several common brands manufacture DVD players, and they come in a variety of prices in accordance with what features they offer.
Portable DVD Player
A portable DVD player can be a good option not only for travelling, but for the home as well. For rooms that do not have a television or standard DVD player, a portable DVD player is an affordable way to have movies anywhere in the home and can be easily taken from room to room so multiple family members can use and enjoy it. Most portable DVD players are quite small and usually have a screen size of roughly seven to nine inches.
Portable DVD players may also come with a remote, and some may have a screen that swivels for more convenient viewing. Portable players that have a USB port make it easy to listen to music on the players, as well as watch content that is on a USB stick. Plug headphones into a portable DVD player to reduce noise for other members of the household, or for movie watching while travelling.
DVD Player Brands
Some common brands that the buyer may run into when searching for the perfect home DVD player may seem familiar, and the consumer may want to search by brand alone, but some brands may offer different features in a DVD player that become more appealing. Checking into the available brands allow the consumer to make a more informed decision about how much he wants to spend on a DVD player and which features are most important before purchasing.
Samsung
Samsung offers a range of different DVD players, from the basic model to a higher end Blu-Ray player. Some Samsung DVD players also offer the USB port option, while some play Blu-Rays and DVD's.
Philips
Philips is another well-known and reputable DVD player brand, offering options like a DVD player that also plays CD's, as well as a range of portable DVD players in several sizes with different features. Philips DVD players also offer sleek Blu-Ray players that also have standard DVD playability.
Sony
Sony is probably the most well known and popular purveyor of DVD players. Sony DVD players offer every type of player, from the standard, traditional DVD player to the combination VCR/DVD player, as well as high definition and Blu-Ray options as well. They also have a variety of portable DVD players that are great for kids who like to watch movies in bed or in the playroom.
Toshiba
Toshiba DVD players are sleek and streamlined, and come with many choices. The newer ones are made to be lightweight and fit easier into the home entertainment system, and they offer lots of features such as Blu-Ray as well as standard DVD playability, as well as remote control and HD viewing.
How to Buy a DVD Player To Suit the Home on eBay
If you're looking to buy a DVD player for your home on eBay, it helps to know exactly what you're looking for. Do you still have a large VHS collection, and would like to be able to watch your old tapes as well as DVD's? Then you may enjoy having a combination VCR/DVD player. A DVD recorder could be handy if you want to record movies. Search DVD players to narrow down your selection by brand, price, or extra features, such as Blu-Ray or HD compatibility.
Buy DVD players from merchants that are Top-Rated Sellers, and make sure if you're purchasing a used or refurbished DVD player that is has all the original parts and comes with a remote control, instructions, or anything else you may need to operate the player. Communicate with the seller and if they are local, swing by to pick up your DVD player in person for a more special buying experience. See if the seller has other items to bundle with your new DVD player, such as movies on DVD, and any other items you could add to your purchase for a discounted shipping rate.
Conclusion
Buying a DVD player can be frustrating and time consuming, but it does not have to be either for buyers that choose to shop for one on eBay. Sometimes buyers find the perfect item within minutes, right at his or her fingertips and alleviate the stress of having to go from store to store. Looking for the perfect DVD player for the home may require a bit of knowledge about what types of players are available, but once the options are narrowed it is easy to select the right DVD player for any home.
Whether budget or space is an issue, there is a DVD player that fits into every buyer's home entertainment space, child's bedroom, or home movie theatre. From small, simple, compact DVD players to stereo surround sound speakers and high definition picture quality, there is a DVD player that is right for everyone on eBay. Turn any living room into a fun spot to watch movies with the family with the right DVD player for a great price.