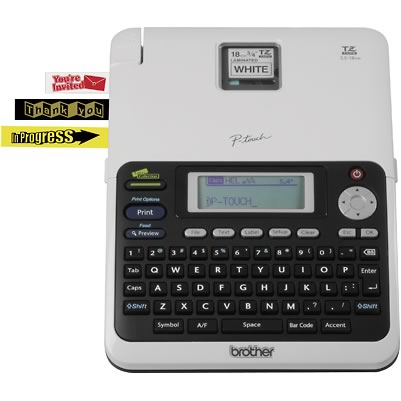 Label makers make it easy to keep your office neat and organised. By labelling things from storage boxes to mailboxes, staying organised is simple and easy. Other businesses rely on label makers for their everyday business, such as factories or distribution centres. There are many different shapes and sizes of label makers that all print different types of labels. Some label printers are able to print multiple lines on a label, while others can only print a single line. Some label printers allow the user to change fonts and colours, making personalisation easy. Most label makers print labels on self-adhesive labels, while others simply print on cardstock. Before choosing a label maker for your office, it is important to determine which features are most important for the office or project.
Label makers are available in brick and mortar office supply stores, or online using eBay. eBay has a large selection of label makers, replacement labels, and ink cartridges, often at lower than prices than normally found at office supply stores. When choosing a label maker, it is important to determine the different types of label makers, as well as other considerations for label makers before making a purchase.
Types of Label Makers
There are different types of label makers with different sizes, features, and mechanisms. When using the label maker for personal use, a simple affordable option easily gets the job done. If the label maker is intended for professional use, you may want to choose a more expensive option with different features and options. You should choose the type of label maker based on the size of the office and frequency of use. Understanding the different types of label makers helps you to decide which option best fits your individual needs.
Personal Label Makers
Personal label makers are inexpensive, desktop or handheld label printers that print labels on different types of tapes, such as embossing tape or thermal tape. Personal label makers are best suited for low volume jobs in small business environments. The device includes a printer and a small keyboard, therefore the user does not need to attach the label maker to a computer or printer. Label makers using embossing tape stamp the letter into the plastic so that the plastic raises into the letter and discolours, allowing the label to be easily read. Personal label makers that use thermal tape usually also feature a display screen, and print the letters with thermal transfer onto the tape. Most embossing and thermal transfer tape is self-adhesive, and is easy to peel and stick onto multiple surfaces.
Desktop Label Printers
Like personal label makers, desktop label printers are small and inexpensive. They are also recommended for low or medium volume use, in a small to medium sized business environments. Desktop label printers either have a keyboard feature, or must be connected to a computer. Label software is included with printers that must be connected to a computer, which is used to create or design labels. This gives the user the ability to change fonts or colours, depending on the type of label maker. Desktop label printers print on stock up to 10 centimetres wide.
Commercial Label Printers
Commercial label printers are best suited for medium volume use. Like desktop printers, commercial label printers have either a keyboard feature, or a computer attachment. Commercial label printers also print on stock, usually up to 20 centimetres wide, and many have the feature to write on multiple lines, or use different fonts and sizes.
Industrial Label Printers
Industrial label printers are label makers meant for large volume jobs and regular use. Industrial label printers are either portable, or must be attached to a computer. Portable label makers are best for sites where computers are not available on location, such as construction sites. Non-portable label printers are best for places with continual use of the device, such as distribution centres or factories.
RFID Readers
RFID, or Radio Frequency Identification Devices, read RFID tags by transferring data with electromagnetic waves for tracking or identifying. RFID readers are able to print and encode RFID tags. The paper used for RFID readers are included with the purchase of the device. RFID readers also have backwards compatibility with barcodes.
Other Considerations for Purchasing a Label Maker
After determining which type of label maker would be best for your business, you need to decide on additional factors such as features and display first. By understanding the different considerations when purchasing a label maker, it is easy to find the perfect label maker for your business.
Keyboard and Display
Label makers come with the option of a built in keyboard or computer attachment. Some people prefer the computer attachment, since many label maker keyboards are small and do not provide options for changing font, colour, or size. When purchasing a label maker with a keyboard on the device, it is important to make sure the keyboard is big enough to type on without making mistakes.
A display screen is another feature to consider when choosing a label maker. Display screens are only available on label makers with keyboards. The screen makes it easy for the user to see what they are typing, and erase letters if they make a mistake. Display screens come in different sizes. Some display screens are large, showing the entirety of the text, while others are smaller and only show a certain number of letters at a time.
Power Source
Label makers are made to run either on electricity, or battery power. Electronic label makers do not have batteries that need replacing, but they are usually not portable since they need to be plugged into an outlet. Some battery powered label makers come with rechargeable batteries, or an additional power cord, so the user does not have to constantly change the batteries in the device. Before deciding on a power source, take into consideration how much the device would be used, and if the device needs to be portable.
Type of Label
Some label makers print on cardstock, while others print on a self-adhesive tape. Other label makers have options to create different types of labels for different projects. Before purchasing a label maker, it is important to determine the size and type of label, and if the device requires purchasing separate labels or ink. Some businesses require a specific type of label for the job, such as thermal paper labels to label fruits and vegetables. If your business requires a specific type of label, it is important to choose a label maker compatible with that type of label.
Additional Features
When searching for a label maker, take into consideration any additional features on the device. Additional features may cost more, but they are worth the money if they are beneficial to the company. Some label makers are able to print pictures, symbols, logos, or barcodes, and some have the option to use magnetic ink, allowing the label to be read by a scanner or other device. Browsing through different types of label maker categories helps you find additional features that would be helpful to your business.
How to Buy a Label Maker for Your Business on eBay
After understanding the different types and variations of label makers, you can begin searching for a label maker that best fits into your lifestyle. With the thousands of options available on eBay, it is easy to find the perfect label maker for your business with all of the features or options you are looking for. eBay is also a great place to find label maker supplies, such as label paper refills and ink cartridges. To begin your search, you can start with the use of keywords in the keyword search bar. If you already know the type of label maker you are looking for, you can search a specific term, such as 'industrial label maker'. To browse through different options or prices, you can use a more broad search, such as 'label maker'.
Not only is shipping on eBay quick and convenient, eBay makes it easy to stay within your budget. eBay often has much lower prices than the competitors, and eBay allows you to set your price maximum, so you do not waste time searching through options outside of your price range. Because of the large selection, it is easy to find a label maker with all the needed features without going outside of your budget.
Conclusion
Whether you are looking for a label maker to organise the office or do business on a regular basis, label makers are one of the most essential and versatile tools in the office. After considering the intended purpose and frequency of use of the label maker, it is easy to choose the type of label maker that would be best for your business. From portability, electric source, display, and type of label, there are many different considerations to take into account before making a purchase. Some label makers are small and easily shared, while others are large but feature additional options. Keep in mind where the device is going in the business, and if one label maker is enough. Many businesses have multiple label makers for different jobs or departments within the company. No matter what type of label maker you are looking for, eBay makes it easy to find, and easy to afford for anyone.