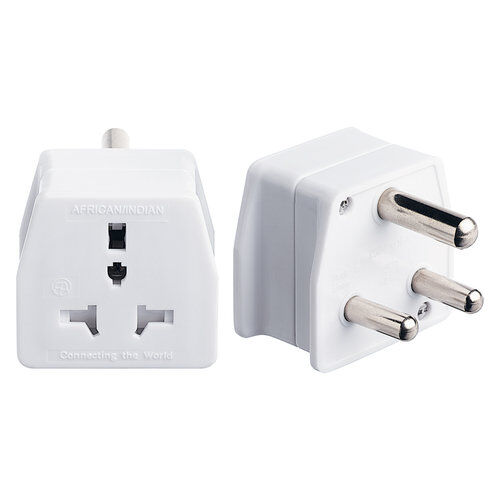 In our globalised world, it is becoming increasingly easier to travel and use one's personal electrical appliances in different regions of the world. Most modern electronics, for example, are adapted to receive either 110 or 220 Volt power. Notwithstanding, there are still many devices that require power adaptors, and even when there is no need to convert voltage, plug adaptors are needed to connect to each region's outlet types.
Failing to use power adaptors can damage devices and cause electrical failures. On the other hand, not carrying the right plug adaptors when travelling may result in numerous inconveniences, as they can be hard to find in certain areas. Travellers must keep in mind important information about the types of power and plug adaptors that are commonly needed when travelling around the world, as well as know how to read device voltage labels and select the right power and plug adaptors for purchase.
Travelling with Electrical and Electronic Devices
Today, most people travel with their own laptops, tablets, cameras, and personal music players. Additionally, people often travel with their own electric shavers, hair dryers, and curlers. Even when travelling light, a cell phone charger is generally in the mix, which means that almost anyone travelling to a different region needs to consider whether it might be necessary to purchase plug and power adaptors.
Deciding What to Bring
There is no reason leave one's personal electrical and electronic devices home, as long as they are accompanied by the right set of adaptors. However, it is very important to establish whether these may be necessary at all. For example, some hotels provide different voltage circuits, and some others offer the complimentary use of plug adaptors. Therefore, it is always recommended to talk to hotel management and find out about what they provide. For example, many hotels feature in-room hairdryers, which might make carrying one's own unnecessary.
As a rule, it is always a good idea to find out about devices that may be readily available locally, to avoid packing superfluous items. For example, people not travelling on business who are staying at a hotel with a great business centre might not feel the need to bring their own laptops.
Understanding Power Labels
Once the decision about which devices to bring along is made, it is time to establish what kind of adaptors are needed to make a smooth transition when arriving in a different country. The first step to achieve this has to do with reading power labels correctly.
Information about a device's power supply requirements may be found on the following spots: a label pasted onto the back of the device, a label or moulded inscription on the transformer box or on the plug itself.
The standard format for such specifications is as follows: Input: AC 100 — 240V 50-60Hz 14W Output: DC 1.2V 2.3A. The most important information has to do with the input source. The input line specifies whether the device is single, dual or multi-voltage. In the example, the device is multi-voltage, as it can work with any power supply between 100 and 240 Volts.
The required alternate current frequency, measured in Hz, may vary across different regions, but this does not affect most devices. Appliances that are commonly affected by frequency variations are those featuring motors, which run faster or slower depending on cycle variations. These include clocks, turntables, and a variety of power tools. Using this type of device with a different frequency current than the one specified on the label may damage them in the long run.
The number of Watts or Amperes, usually mentioned after the frequency, is important for selecting a power adaptor, as the adaptor's wattage needs to be superior to the device's. Finally, the output refers to the internal mechanisms of the device, as power also needs to be managed internally to allow correct functioning.
Multi-voltage, Dual, and Single Voltage Devices
Single voltage devices list only one possible input. For example, in the UK, most appliances match the local power supply of 230V, whereas in the US they work with 110V. Most electrical devices commonly used in a kitchen tend to be single voltage, as they are rarely carried along while travelling.
Dual voltage devices can be recognised through power labels that list two different voltages, most commonly, 110V/220V. This is very common with hair dryers, which often feature a switch to select the desired voltage setting. When travelling with dual voltage hair dryers, the best practice is to change the setting right before packing for travel, so as to avoid accidental damage by plugging in the device with the wrong setting on.
Multi-voltage devices list a range, rather than a voltage; usually 100-240V. This is most often seen on modern battery chargers and AC adaptors for electronics such as laptops and smart phones. A multi-voltage device like the one in the example can work in the UK, the US, continental Europe, and basically anywhere in the world.
When shopping for electronics and electrical devices abroad, multi-voltage devices are always the best choice, especially when the buyer is a frequent traveller.
Main World Standards and Regional Differences
Power supply standards extend through large regions. They have many cultural and historical reasons to be what they are in each area, which means that countries belonging to a certain cultural block generally share the same voltage standards. However, there may be variations, even within a certain otherwise uniform region, and even within the same country, as it is the case with Brazil.
In the Western world, as a general rule, North and Central America use 110 to 120V, Europe, and Oceania use 220 to 240V, while Latin America, Africa, and Asia present more variations. There are many exceptions to these rules, especially in the case of former colonies, which have generally adopted the systems of their colonising countries, regardless of their location.
Power Supply Standards by Country
It is important to check an international power standards' chart before travelling, in order to avoid surprises. In the case of Brazil, for example, different regions use different voltages, so it is advisable to check ahead.
| | | | |
| --- | --- | --- | --- |
| Region/Country | Voltage | Frequency | Plug Style |
| 1. North America | | | |
| All | 120 V | 60 HZ | US |
| 2. Central America | | | |
| Main Standard | 110-120 V | 60 HZ | US |
| Belize | 110-220 V | 60 HZ | US |
| Dominican Republic | 110-220 V | 60 HZ | US |
| El Salvador | 120-240 V | 60 HZ | US |
| Guatemala | 115-230 V | 60 HZ | US |
| Haiti | 110-220 V | 60 HZ | US |
| Honduras | 110-220 V | 60 HZ | US |
| Jamaica | 220 V | 50 HZ | US, UK |
| French St. Martin | 220V | 60Hz | French |
| Curacao | 110-220V | 50Hz | US, EU |
| Trinidad & Tobago | 115-230 V | 60 HZ | US, UK |
| 3. Europe | | | |
| Main Standard | 220-240 V | 50 HZ | EU |
| Czech Republic | 120-220 V | 50 HZ | EU |
| Denmark | 230 V | 50 HZ | EU, DMK |
| Ireland | 220 V | 50 HZ | EU, UK |
| Italy | 230 V | 50 HZ | EU, Italy |
| Slovakia | 120-220 V | 50 HZ | EU |
| Switzerland | 230 V | 50 HZ | Swiss |
| United Kingdom | 240 V | 50 HZ | UK |
| 4. Africa | | | |
| Main Standard | 220-240 V | 50 HZ | EU, UK |
| Algeria | 127-220 V | 50 HZ | EU |
| Cameroon | 127-220 V | 50 HZ | EU |
| Egypt | 220 V | 50 HZ | EU, UK |
| Ethiopia | 220 V | 50 HZ | EU, Italy |
| Gabon | 220 V | 50 HZ | EU |
| Lesotho | 230 V | 60 HZ | UK |
| Liberia | 120 V | 60 HZ | EU, US |
| Libya | 115-220 V | 50 HZ | EU, US, UK |
| Morocco | 127-220 V | 50 HZ | EU |
| Namibia (Nambia) | 220 V | 50 HZ | South Africa |
| Senegal | 110 V | 50 HZ | EU |
| South Africa | 220-240 V | 50 HZ | South Africa |
| Togo | 127-220 V | 50 HZ | EU |
| Tunisia | 127-220 V | 50 HZ | EU |
| 5. South America | | | |
| Main Standard | 220 V | 60 HZ | EU, US |
| Argentina | 230 V | 50 HZ | EU, AU |
| Bolivia | 110 V | 50 HZ | US |
| Brazil | 110--220 V | 60 HZ | EU, US |
| Chile | 220 V | 50 HZ | EU, Italy |
| Colombia | 110-220 V | 50 HZ | US |
| Ecuador | 110-220 V | 60 HZ | EU, US |
| Guyana | 110-240 V | 60 HZ | US |
| Surinam | 110-127 V | 60 HZ | EU, US |
| Venezuela | 120-240 V | 60 HZ | US |
| 6. Oceania | | | |
| All | 230-240 V | 50 HZ | AU |
| 7. Asia | | | |
| Main Standard | 220-240 V | 50 HZ | EU, US, UK |
| Bahrain | 110-230 V | 50-60 HZ | US, UK |
| China | 220 V | 50 HZ | US, AU |
| India | 230-250 V | 50-60 HZ | UK |
| Indonesia | 127-220 V | 50 HZ | EU |
| Israel | 230 V | 50 HZ | Israel |
| Japan | 110-220 V | 50-60 HZ | US |
| Southern Korea | 110-220 V | 60 HZ | EU, US |
| Lebanon | 110-220 V | 50 HZ | EU, UK |
| Philippines | 110-220 V | 60 HZ | US |
| Saudi Arabia | 127-220 V | 50 HZ | EU, US, UK |
| Taiwan | 110-220 V | 60 HZ | US |
This chart can be a useful tool for learning the basics before packing electronics to travel. However, these standards may change, and it is advisable to check local information websites for updated data. The values listed as "main standard" apply to all countries not specifically mentioned for each region.
Packing the Right Plug and Power Adaptors
Travelling between regions that do not share the same electrical power standards makes power and plug adaptors a necessity.
Power Adaptors
Power adaptors convert incoming voltage into a type of output that the selected devices can work with. The lightweight travel-friendly version of the heavier and bulkier transformers are called converters. Transformers are needed in the case of electronics, while converters work fine with all other devices. There are two main types of common power adaptors; 110-120 V to 220-240 V, and 220-240 V to 110-120 V. The former can be used when going from a 110-120 V standard region to another one where the standard is 220-240, while the latter is needed when going from a 220-240 V region, for example, when travelling from the UK, to a 110-120 V region such as the Caribbean.
Voltage adaptors can also be classified according to their wattage. A common converter's wattage can go from as low as 25 W to over 1,800 W. As a rule of thumb, low wattage adaptors should not be used with any type of device that draws a large amount of power, such as power tools, irons or computers. When purchasing a power adaptor for travel, it is necessary to make sure that it is suitable for the devices one is travelling with, as misuse of low wattage adaptors may result in electrical fire.
Another common mistake people make is to assume that a plug adaptor is also a transformer. While a plug adaptor may allow travellers to plug in a device in a foreign country, this can be very risky when they are not using the right power adaptors.
Plug Adaptors
After one has secured the right power adaptor, it is still impossible to plug in any device without the right kind of plug adaptor.
Widespread plug types include the US standard, which features two different-size parallel prongs, the UK standard, which has three thick rectangular pins that form a triangle, and the EU standard, an ungrounded plug with two round prongs.
Some countries have their very own plug styles, such as Denmark or Israel. In these cases, it may be hard to find adaptors at home, so, they may have to be purchased on arrival. It is also important to point out that some plug types may look the same, even when they are not. For example, Japanese plugs look like US plugs, but their pins are of the same size.
Finally, some countries use a variety of plug types, so that adaptor requirements may also depend on the type of device one is planning to plug in. Generally speaking, devices that are usually carried when travelling tend to use standard plug types, such as the ones listed above. High-power installations, microwave ovens and the like sometimes use bigger and safer plugs. On the other hand, some devices commonly used in the bathroom may feature extra insulation, such as the UK's standard plug for electric shavers, which has two prongs instead of three.
Universal Adaptors
Some of the most useful adaptors one can find on the market today are a combination of a power adaptor with a variable plug that can fit into different types of sockets. These universal adapters can be very handy, although they tend to be more expensive than regular adaptors.
How to Buy Plug and Power Adaptors on eBay
eBay boasts a wide variety of power and plug adaptors to choose from. Whichever region you may be travelling to, you can find something on the site to fit your needs. The offer of plug and power adaptors on eBay includes many universal devices that can travel well through several regions. If you wish to secure this type of item, you can narrow down your search by adding "universal" as a keyword on the search bar.
When you are looking for plug adaptors, the best option is to input something that identifies the plug styles involved, for example "UK to European plug adaptor". Alternatively, when trying to find power voltage adaptors, the best option is to input the conversion type, for example, "110 V to 220 V power adaptor". Naming the countries of origin and destination can also yield many relevant search results. Although there is a limited offer of used adaptors for sale on the site, this is a type of item that people prefer to buy new.
If you are planning to use your adaptor with devices that contain a motor, you must not forget to check frequency. Finally, some adaptors have a variety of uses, and it is always a good idea to ask the seller whenever you are uncertain about their suitability for your travel destination and device choices.
Conclusion
When planning to travel, one must always check some details before bringing along electronics. First of all, it is important to find out what the power supply standard is in the destination country, and what the standard sockets look like. If the power supply is different from the one in one's home country, a power voltage adaptor may be necessary. However, some devices are dual or multi-voltage, and they do not require power adaptors.
Before packing, it is a good idea to check the power labels on every device one is bringing along. In the case of dual voltage devices, it is advisable to switch them to the destination region's setting before packing.
When purchasing power adaptors, one must try to select high wattage options, as extremely low wattage may become a problem in the case of devices that draw large amounts of power. Finally, it is also advisable to double-check everything before plugging in a device, as short circuit and electrical fires are not uncommon when using the wrong kind of adaptors.
Buying power and plug adaptors online can be a convenient way to make sure one can safely use a variety of electrical and electronic appliances when travelling to any part of the world.