There are loads of different types of trowels on the market. There is a lot of cheap tat, that is ok for the odd DIY job and there are some really good quality trowels out there as well.
The brands to look for if you want quality are Marshalltown or Tyzak.
As we are sellers of Marshalltown i will focus this guide on their range of products.
Marshalltown tools are USA made, unless they are the QLT range which is a fairly new range that is usually made in China. The QLT range is still very good quality but the proper Marshalltown USA is the best.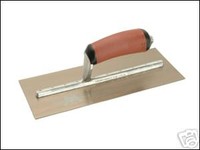 Plastering trowels:
Standard high carbon steel:
Carbon steel trowels are the cheaper of the bunch, they do rust a bit faster than the other types and will need to be broken in before proper use. they are available in a huge range of sizes and handle types to suit any job and style of plasterer.
Stainless steel:
This is the next step up from high carbon. These trowels cost a little extra but have the advantage of lasting a lot longer before they get any rust. Depending on how hard you use your trowel it may be cost effective to have stainless. If you are likely to wear out your trowel by heavy rendering etc before it gets a chance to rust you might as well stick with the cheaper high carbon version. Again these will need to be broken in.
Pre-worn stainless steel:
Pre-worn means exactly what it says, these trowels have been worn in by a machine (they are not second hand) this means that they can be used for perfect plastering straight from the box. Thedges are usally slightly curved to stop them digging into the plaster. These trowels cost a little bit more again, but have the advantage of not needing to brake them in before use. They also have the same benefits of the stainless type above.
Marshalltown call these
Perma Shape
trowels
Pre-worn gold finish:
These are the best, you pay for what you get, they are the dearest of the bunch but they have the most features. The have all the benifits of the pre-worn, but are tempered to a gold finish, they are very long lasting nad are very resistant to rust. This is the profesionals choice of trowel.
The perfect finishing trowel.
We have a wide range of Marshalltown tools in our ebay shop