Everyone knows that shopping online is a minefield. Shopping for vintage online is even more so. Ever bought a dress which looked lovely in the picture but which failed to live up to expectation when it arrived? These simple tips should ensure that future online vintage purchases are keepers.

1. Know your shape & style...
Are you an apple, a pear or an hourglass?

Is your best feature your legs? Your waist? Your bust?
Is there any body part you're not confident about and would like to conceal?
Are you a low-maintenance kinda gal or do you love to put on full make-up and heels with your swing dress?
Do you wear your hair in long, bohemian waves or a short, trendy style?

Keep these questions in mind as you browse, as it's very easy to get carried away and buy a gorgeous vintage prom dress.... which you'll never wear because you don't like that it reveals your upper arms. Or to buy an elegant evening gown which simply looks wrong with your shaven head.
2. ...and what will suit it.

Dresses from the 1950s suit most shapes as the waist is cinched at its narrowest and the full skirt skims the bum and thighs. If you have great legs then 1960s styles may suit you well: it was the era that spawned the mini skirt! The 1990s look may be in vogue, but this really works best on the young (i.e. those who were way too young to have worn the 90s fashions first time around!). Flared trousers (popular in the 70s) are very flattering on curvy women.

When buying any clothing not made specifically for you – high street as well as vintage – it helps to accessorise and style your clothes so they flatter you. Clever accessorising also has the benefit of making your look unique, which is probably why you're buying vintage in the first place. Use a belt to draw in a baggy dress, or tuck a shirt into pair of high-waisted trousers. Stilettos can make a potentially frumpy (but on-trend) midi look high fashion.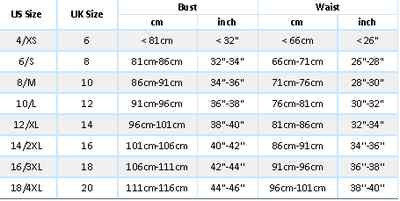 Add a caption
Measurements for each modern day size
Click to edit caption
3. How to get the size right
As I'm sure you know, NEVER go by the size on the label when buying vintage clothes. Standard sizes have changed a lot over the years.
Most online sellers will try and estimate a modern size for you, but it is best to use measurements to check the actual size.
The trick is not to measure yourself but instead to take several items of your favourite clothing and measure them. Measure them lying flat, then double the measurements for all of the following:
Shoulder seam to shoulder seam on the back
Bust (armpit to armpit)
Waist
Hips
Trousers only: Crotch to hem, waist to crotch and thigh width

For trousers: Waist to crotch, thigh width and crotch to hem (for your inside-leg measurement). Obviously, you won't need to double these measurements!

If the item description doesn't have these measurements then ask the seller to provide them. This will not be a problem for most sellers.
Secondly, carefully consider the cut of the item you are buying. The bust measurement may be the same as your favourite shirt, but is the cut of the item you are buying a loose, blouson style? If so, you'll want the measurement to be bigger than your fitted shirt.
4. Properly read the item description.

Look carefully at ALL the pictures and thoroughly read the description. If you miss something that is stated in the listing, you've only yourself to blame!


5. Clothing can be altered, and cheaply too!

If all else fails and your item arrives but, despite your care in measuring, it doesn't fit then all is not lost. Are you good with a needle and thread? If not, why have we forgotten that clothes can be altered for not much money by a professional? It often only costs £10 - £15 to have a hem taken up or a waist nipped in, and if it will make all the difference to the wearability of that item then you'd be daft not to :-) Your local dry-cleaner will probably be able arrange this for you.

Brought to you by...
....me! Also known as Vin Rouge Vintage, I have been selling vintage on ebay, etsy and at markets for the past 3 years. I always love to chat about vintage so do find me on here, or at our facebook page.