THIS IS A GENERAL INFORMATION GUIDE ONLY AND SHOULD NOT BE CONSIDERED AS DEFACTO
WHAT TO LOOK FOR AND WHAT TO AVOID
NOTES ON BUYING ORIGINAL TELEPHONES
DON'T RUSH IN TO BIDDING JUST BECAUSE IT LOOKS NICE, ASK AS MANY QUESTIONS AS YOU WANT & KEEP COPIES OF THE ANSWERS AS YOU MAY NEED THEM LATER. REMEMBER ALSO THAT SOME SELLERS MAY WELL BELIEVE THEIR ITEM IS ORIGINAL WHEN IN FACT IT MAY NOT BE (YOU ARE BUYING SO YOU FIND OUT). YOU WILL PROBABLY BE LOOKING AT SPENDING ANYTHING BETWEEN £100 & £300 FOR AN ORIGINAL. IF YOU ARE BUYING FROM A DEALER EXPECT TO PAY MORE ESPECIALLY ON 'BUY IT NOW' & REMEMBER THAT DOES NOT GUARANTEE IT'S ORIGINAL. OTHER POINTS TO LOOK AT: BLACK METAL IS GOOD, HEAVY IS GOOD (PROBABLY OVER 2KG THE SELLER WILL KNOW THE EXACT WEIGHT FOR POSTAL REASONS), PLAITED (TWISTED) CLOTH WIRING IS GOOD, OLD THINGS LOOK OLD AND USED, ALSO TRY AND GET NUMBERS, DATES & MANUFACTURER INFORMATION FROM THE PHONE, JUST BECAUSE IT MAY HAVE A DIAL DISK WITH SOMETHING LIKE 'UPTONSNODSBURY 23' DIAL '0 FOR OPERATOR' ON IT, IS NOT, EVIDENCE ENOUGH TO PROVE ANYTHING.
CANDLESTICK RECENTLY SOLD ON EBAY ITEM No 110020950794

THIS IS A GOOD EXAMPLE OF AN ORIGINAL GPO CANDLESTICK, NOTE THE No2 MARKING OFTEN STRUCK OUT AND RE-MARKED AS 150 ALSO TAKE A LOOK AT THE ' HOUNDS TOOTH FINGER STOP ON THE DIAL, THIS ONE IS A No 10 DIAL BECAUSE THE STOP IS SLIGHTLY FATTER. THE PAPER DIAL INSERT IS NOT ORIGINAL TO THE DATE OF THE PHONE, HOWEVER, THIS DOES NOT MATTER. ALSO NOTE MARKINGS ON THE REAR OF TRANSMITTER.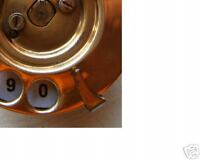 ABOVE IS AN EXAMPLE OF A MODERN INDIAN ITI 24C TYPE DIAL, NOTE THE FINGER STOP, ITS SHAPE AND ITS DISTANT POSITION IN RELATION TO THE NUMBER 0 ON THE DIAL, ALSO NOTE THE TWO OFFSET FIXING SCREWS. THIS DIAL IS FOUND ON MODERN INDIAN POOR QUALITY REPRODUCTIONS & ON POOR QUALITY INDIAN BAKELITE COPIES AS WELL, THEY MOSTLY DON'T EVEN HAVE A PROPER NUMBER RING BUT INSTEAD HAVE ONE MADE FROM PAPER AS THIS ONE DOES!
EARLY GPO CANDLESTICKS
MOST EARLY CANDLESTICK TELEPHONES HAD NO DIALS, NO INTERNAL RINGER (BELLS) AND A VERY BASIC INTERNAL WIRING SETUP, THESE ARE IDEAL AS AN ORNIMENT BUT PERFORM POORLY AS A FUNCTIONING TELEPHONE, IF COMPLETE WILL ALSO HAVE A BELL BOX USUALLY WOODEN TYPE No 1
Other GPO types
I WILL PROVIDE INFORMATION ON OTHER TYPE AS TIME PERMITS
Telephone No 72
THESE STICK OUT LIKE A SORE THUMB AS THEY HAVE A MERCEDES TYPE DIAL (LOOKS LIKE THE BADGE ON THE FRONT OF A MERCEDES CAR) THESE COME UP RARELY ON EBAY AND I THINK SHOULD BE GRABBED AT ALL COSTS
Telephone No 150
THE MOST COMMON VERSION YOU WILL FIND IS TELEPHONE NUMBER 150, THESE CAN BE IDENTIFIED BY THE NUMBER 150 STRUCK INTO THE SIDE OF THE BRASS BRACKET AT THE REAR OF THE TRANSMITTER (MICROPHONE). IT IS NOT UNCOMMON TO FIND AN EARLIER NUMBER STRUCK OUT IN THE SAME PLACE. EARLY VERSIONS HAD A MAINLY METAL TRANSMITTER PART (MICROPHONE) & LATER VERSIONS (MORE COMMON) HAD AN ALL BAKELITE TRANSMITTER PART. THERE ARE ALSO TWO MAIN VERSIONS REGARDING THE DIALS, THE CB VERSION WITH NO DIAL BUT HAVING AN AREA ON THE BASE WITH A BLANK TO ACCEPT A DIAL & THE AUTO VERSION WITH A DIAL.
REPRODUCTION TYPES
THERE ARE SOME REALLY NICE REPRODUCTION TYPES OUT THERE AND THERE IS ALSO A LOT OF RUBBISH. JUST TO PUT IT INTO PERSPECTIVE, IF YOU JUST WANT ONE AS AN ORNAMENT IT REALLY DOES NOT MATTER IF IT WORKS AND IN THAT CASE JUST ABOUT ANYTHING GOES, HOWEVER, IF YOU WANT TO ACTUALLY USE IT THEN OF COURSE IT DOES MATTER.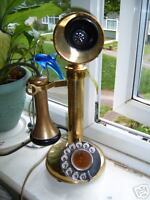 ABOVE IS A GOOD EXAMPLE OF A MODERN REPRODUCTION OF A GPO 150 MK1 (NOW 20 + YEARS OLD) NOTE THE DIAL, IT'S A PROPER GPO TYPE 21 (LOOK AT THE FINGER STOP IT'S STRAIGHT ON ITS LEFT EDGE) WITH A METAL FINGER PLATE, THESE REPRODUCTIONS WERE MADE IN THE LATE 1970'S UNTIL THE EARLY 1980'S. EARLIER VERSIONS WERE NOT APPROVED AND HAD SOME MINOR PROBLEMS WHICH CAN BE EASILY RECTIFIED. APPROVED VERSIONS ARE MARKED SO ON THEIR BASE
INDIAN REPRO'S
IDENTIFY THESE TYPES BY A BRASS MOUTHPIECE TRUMPET RATHER THAN BAKELITE, POORLY FITTING PARTS, ODD WIRING & THE DIAL, IT WILL BE AN 'ITI' No24 MORE INFORMATION ON THE DIAL CAN BE FOUND ON MY GUIDE ON BAKELITE TELEPHONES
THESE ARE FINE AS AN ORNAMENT AND ARE MAINLY ALL BRASS WITH A HEAVY CAST BASE AND DO POLISH UP WELL, HOWEVER, THEY ARE OF POOR CONSTRUCTION QUALITY EXTERNALLY AND OF APPALLING INTERNAL CONSTRUCTION, THEREFORE I WOULD SUGGEST NEVER BUY ONE TO ACTUALLY USE
GPO/PO/BT SR 1005B
IDENTIFY THESE IN PROFILE THE REAR IS ALMOST FLUSH TO THE STALK WHILE THE FRONT PROTRUDES OUT A LITTLE GREATER THAN THE DIAMETER OF THE DIAL, THE DIAL IS THE SAME AS YOU WOULD EXPECT TO FIND ON 1970'S GPO/PO TABLE PHONES, BRASS EFFECT TRIM AROUND THE BASE OF THE STALK & THE RIM OF THE EARPIECE ALSO THE HINGE SECTION BEHIND THE TRANSMITTER (MICROPHONE) IS BRASS EFFECT. COLOURS SHOULD BE IVORY OR BLACK, THE BASE SHOULD ALSO BE MARKED 1005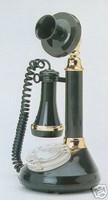 NICE TELEPHONE OF MAINLY ALL PLASTIC CONSTRUCTION CAME OUT IN THE LATE 1970'S, THESE PHONES ARE WELL MADE TO TELECOM STANDARDS WITH A PROPER DIAL (CLEAR PLASTIC) AND SHOULD IF LOOKED AFTER LAST FOR YEARS. IF THE PHONE HAS A BT TYPE PLUG YOU SHOULD BE ABLE TO PUG IT IN USE WITHOUT ANY PROBLEMS, IF NOT SOME CONVERSION WILL BE NEEDED. THESE PHONES DO NOT RING AS THEY HAVE NO RINGER BUILT IN BUT COULD BE USED WITH AN EXTERNAL PLUG IN RINGER
ASTRAL (DIAL TYPE)
IDENTIFY THESE BY A LARGE DIAL NUMBER WINDOW (POSSIBLY HAVING ASTRAL PRINTED ON THE PAPER),DIAL HAS A BLACK BACKGROUND WITH WHITE FIGURES, A PLASTIC BASE WITH SIX RUBBER FEET & HAVING 'ASTRAL ENGLAND' MOLDED INTO THE PLASTIC & A THREE PIECE BRASS FINISH RECEIVER
THESE ARE TELECOM APPROVED (S/1214/3/H/500 865) & HAVE A BUILT IN TONE RINGER (NOT A BELL), THEY ARE OF REASONABLE QUALITY, HOWEVER, THE METALWORK IS QUITE THIN SO THEY TEND TO DENT EASILY & THE METALWORK IS ALSO VARNISHED, AS THESE PHONES ARE NOW IN REGION OF TWENTY YEARS OLD EXPECT TO FIND SOME PITTING ON THE METALWORK ESPECIALLY IN AREAS WHERE THEY HAVE BEEN HELD AS THE VARNISH MAY HAVE RUBBED OFF. OTHER KNOWN PROBLEMS ARE: NOISE & INTERMITTENT DISCONNECTION (DUE TO MICRO SWITCH FAILURE), EXCESSIVE NOISE / SIDETONE IF HANDLED WHILST CALLING (CAN BE IRRITATING TO CALLED PARTY, CAN BE ADDRESSED BY CHANGING THE FOAM INSULATION AROUND THE MICROPHONE) ,DETACHED OR LOOSE MOUTHPIECE TRUMPET (THIS CAN BE RE-GLUED) & LOOSE OR LOST DIAL TELEPHONE NUMBER COVER (IT IS HELD IN BY TWO PLASTIC LUGS ONE OF WHICH CAN BREAK OFF.
CONCLUSION: NICE LOOKING PHONE IF LOOKED AFTER, SOME POSSIBLE PROBLEMS MOST OF WHICH CAN BE FIXED
NOTES ON CLEANING
THE VAST MAJORITY OF EARLY ORIGINAL CANDLESTICKS WERE NOT ACTUALLY MADE TOTALLY OF BRASS, BRASS WAS MORE OR LESS LIMITED TO THE SWITCH HOOK AREA (THE BIT WHERE THE RECEIVER RESTS) AND IN SOME CASES PART OF THE TRANSMITTER (MICROPHONE), THE RECEIVER BEING MADE OF BAKELITE OR EBONITE & THE BODY OF THE PHONE PRESSED STEEL OR OTHER METALS, THESE WERE USUALLY PAINTED BLACK TO PROTECT THE METAL FROM RUST ETC. THEREFORE RUBBING OFF THE PAINT WONT REVEAL BRASS AND JUST MAKE LOTS OF EXTRA WORK IN PUTTING IT BACK THE WAY IT WAS AND POSSIBLY SPOILING IT ALL TOGETHER.
AVOID REMOVING AND RE-FITTING THE EARPIECE COVER, THIS CAN EVENTUALLY DESTROY THE THREAD ON THE COVER MAKING IT DIFFICULT TO RE-FIT
MODERN REPRODUCTION CANDLESTICKS WILL BE BRASS, BRASS PLATED, PLASTIC
AND IN A FEW CASES WOOD (YUCK)
IN MANY CASES THIS BRASS OR BRASS PLATE WILL HAVE BEEN TREATED WITH LACQUER, LACQUER AGES, CHIPS AND GETS SCRATCHED OFF GIVING AN UNEVEN LOOK, IF YOU DECIDE TO CLEAN THE PHONE EXPECT A LONG JOB, AS ONCE YOU START YOU'VE GOT TO DO THE WHOLE THING.
IF THE PHONE IS JUST PLATED YOU'VE GOT AN EVEN BIGGER PROBLEM BECAUSE IF YOU POLISH YOU MIGHT FIND IT ALL STARTS TO TURN SILVER AS YOU GET TO THE BASE METAL, THIS BASE METAL MAY BE SUBJECT TO CORROSION IF UNTREATED
I SUGGEST IF YOU MUST POLISH, THEN TAKE THE BASE OFF AND TEST YOUR TECHNIQUE ON THE INSIDE OF THE PHONE SO IF IT TURNS OUT TO BE A PROBLEM IT WON'T SHOW, OTHERWISE, TRY A SMALL PATCH AT THE REAR.
SORRY JUST STARTED CONSTRUCTION MORE TO COME GPO/REPRO ETC.
PLEASE NOTE I HAVE WRITTEN THIS GUIDE FOR THE BENEFIT OF THOSE WHO HAVE NO OR LITTLE UNDERSTANDING OF TELEPHONES, I WELCOME ANY SUGGESTIONS RE ERRORS OR FURTHER INFORMATION, HOWEVER, PLEASE DON'T GET ALL TECHNICAL AS THIS IS NOT ITS INTENSION.
A LINK TO AN IMPARTIAL AND GOOD QUALITY THIRD PARTY TELEPHONE WEBSITE OF A MORE TECHNICAL NATURE IS AVAILABLE ON OUR 'ME' PAGE
REGARDS, PAUL