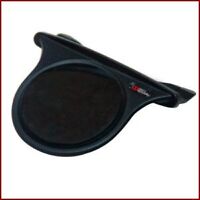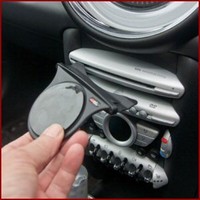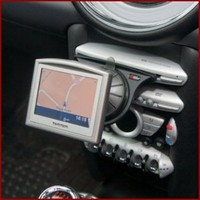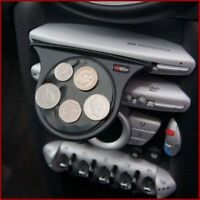 The
CD Slot Mount
is a smart new product which was a winner at the recent British Invention Show.
It simply slots into the car's CD player and instantly provides an additional storage surface which is strong and is "sticky".
It is the stickiness that makes this such an interesting product. Some people call the CD Slot Mount a Sat Nav Holder, but it could just as easily be called a mobile phone holder, an iPod holder, an MP3 holder etc. Indeed you can attach virtually anything you might wish, for example loose coins for parking or tolls, a child's dummy, a pen or a pencil.
In case you're wondering, the CD player continues as normal. Even with a CD Slot Mount in place, you can still play a CD in the car's CD player.
A further consideration is that the Highway Code states that windscreens and window must be kept clean and free from obstructions to vision. The CD Slot Mount helps to achieve that. It provides a clearer road vision and reduces hazardous dash wires.
Also, note that some types of Sat Nav holders are held by suction rubbers onto the windscreen and, unless you wipe away the suction marks, you'll be leaving tell-tale signs which will be noticed by thieves who may decide to break in to see if the unit has been left in the glove box or boot.
The CD Slot Mount is perfect for taking on holiday with you too, for use in your hire car. It is compact enough to store neatly in your luggage.
In summary, the
CD Slot Mount
:-
* Is designed to safely store Sat Navs, Mobile Phones, MP3 Players, iPods, Loose Coins etc
* Is simple and easy to use
* Keepsr the windscreen free of clutter and attachments to give clearer road vision
* Fits most in-car CD players
* Is a Universal Mounting Pad
* Allows the CD still to play
* Has a durable sticky pad
* Is a disability friendly aid
* Helps keep you to stay safe within the law
* Helps reduce hazardous dash wires
* Is made in the UK
* Is an Award Winner at the British Invention Show
To see a video of the CD Slot Mount in action,
click here
.