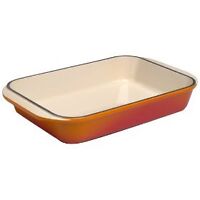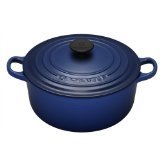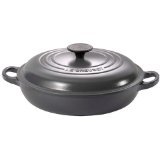 So you have just purchased your first
Le Creuset cast iron casserole cookware
and wonder how to best take care of it? If looked after and cleaned properly a Le Creuset cast iron
casserole
,
saucepan
,
frying pan
or
grill
should last you a lifetime.

BEFORE FIRST USE
Remove all labels. Wash the pan in hot soapy water, rinse and dry thoroughly. Pans with enamelled cooking surfaces are now ready for use and require no further preparation
AFTER USE
Always cool a pan for a few minutes before washing in hot soapy water.
For removal of stubborn residues allow the dish to cool, fill with warm soapy water and allow it to soak for 10 – 20 minutes
Dishwasher
All pans with integral
cast iron
,
phenolic handles
, or
stainless steel
lid knobs, can be washed in the dishwasher, but constant dishwashing may lead to some dulling of the enamel finish. This is not harmful and will not impair performance. When using the dishwasher always allow the cycle to complete before opening the door. This will ensure the pans are dried thoroughly.
Wooden handle pans are not dishwasher safe. Non-stick surfaces may be washed in the dishwasher, but after each cycle the surface should be re-conditioned with cooking oil.
Hand wash
Rinse and dry thoroughly.
DO NOT FILL
a hot pan with cold water or plunge into cold water as thermal shock damage to the enamel may occur.
Nylon or soft abrasive pads or brushes can be used to remove stubborn residues. DO NOT USE metallic pads, or harsh abrasive cleaning agents as these will damage the enamel and polished trims.
Black enamel cooking surfaces will, over time, produce a patina (a brownish film) DO NOT attempt to clean this off as it enhances the cooking performance and food release from this surface.
Light stains or metal trail marks (caused by metal tools) can be removed with Le Creuset Cookware cleaner. An occasional conditioning clean with this product will also retain the new appearance and polish of your pans.
STORING
Never store away pans when they are still damp. Store pans in a dry cupboard or airy space away from kitchen steam.
I hope this guide will help you to maintain your casserole for a lifetime.