Charles M. Shulz created and began drawing "Peanuts" in 1950, and the comic strip went on become the most famous and enduring in history. The adventures of Charlie Brown, his dog Snoopy, and their friends is one of the most popular comic strips of all time, appearing in more than 2,000 newspapers and being translated into more than two dozen languages. The characters from this enduring series are well known to us all and have spawned a multitude of collectible merchandise. One of the most popular characters watch collectibles around is Snoopy. This beloved beagle is displayed on timepieces from many different manufacturers, but the most popular and most sought after by watch enthusiasts is the Timex Snoopy watch collection.
(Please take a moment at the conclusion to vote for this guide. We enjoy creating these to offer our fellow eBayers information that is hard to find elsewhere, and ask in return only that you place a vote so that we know if they are well received. Positive votes encourage us to continue with additional guides.)
The single most contentious feature of these timepieces would have to be the date of manufacture. We've all seen ads for Timex Snoopy watches that claim the watches were made in 1958. This is due to the copyright printed on the dial, which states "Copr 1958 United Features Syndicate, Inc.". This refers to the Peanuts copyright granted to United Features in 1958, NOT to the date of manufacture. (The original copyright was granted in 1950, and was periodically updated. Some Timex Peanuts watches have different years as the copyright, such as the Flying Ace Snoopy.) Not only is it highly improbable that Timex manufactured all of these watches in a single year, in 1958 Timex was not even known by that name. The company name at that time was Ingersoll. This mistake is so common that we've even spotted a Snoopy "tennis racket" watch incorrectly documented in a recent issue of a popular and respected price guide for watches, as well as in other watch collector guidebooks.
The first Timex Snoopy watch was manufactured in 1969, and features a happy dancing Snoopy with his arms rotating to point to the time. This was such a hit that Timex created the same watch in many different color combinations, from basic black and white to red, yellow, and white combinations.
One of the most popular Snoopy Timex watches ever sold features an animated dial, with Snoopy in a tennis visor holding a tennis racket in one paw and a tennis ball circling the dial as a second hand. There are several different models with this same theme. One is known as the "denim Snoopy", and features a dial background that resembles blue denim and a denim band with black backing. The United Features Syndicate 1958 copyright is printed on the dial, along with the signature "Schulz". The numbers on the dial are orange with yellow trim, and Snoopy's hands turn to point to the time. The stainless steel case is goldtoned. This is a manual, or wind-up, timepiece and was manufactured by Timex in 1976. This model was available in two sizes, large and small.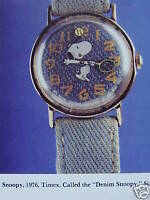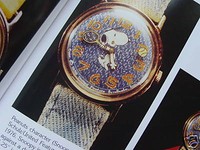 (Left: from Brown and Thomas' "Comic Character Timepieces"; Right: from Braun's "Comic Character Wristwatches".)
Another very popular model features the same theme on a different background, yellow rather than denim. On this timepiece the numbers are positioned at the quarter-hour marks with black bar slashes indicating the alternate hours, and the case is silvertoned. The UFS copyright and Schulz signature are on the dial. Since the background is yellow the tennis ball is bright green and the band is bright yellow. This wind-up collectible was manufactured in 1977.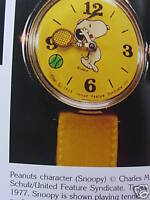 (From Braun's "Comic Character Wristwatches")
Other models with the same tennis theme include a red dial and red band watch. There may be additional color combinations for the Snoopy Timex tennis racket watch.
Other Snoopy Timex watches have stood the test of time and are also popular collector's items. One features a Snoopy figure on the dial with his arms revolving and pointing to the time. This was manufactured as a children's watch and sports a light blue band with a light blue dial background. The case is silvertoned with the Arabic numbers in bold black, while a red second hand circles the dial. The United Features Syndicate 1958 copyright and signature Schulz are also found on the dial. This is also a wind-up watch, manufactured in 1976, and the band was sized to fit a child's wrist. This watch, along with the Snoopy tennis watches described above, were all available in the Snoopy "dog house" Timex watch packaging. This particular packaging is almost as popular as the watch itself.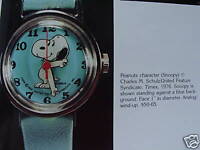 (From Braun's "Comic Character Wristwatches")
The popular "dog house" watch packaging available for many Snoopy Timex watches.
Another popular Snoopy watch model was known as the "Woodstock Snoopy". The watch featured a dancing Snoopy in the dial center with his arms revolving to show the time. The numbers on the dial are similar to those on the yellow tennis racket Snoopy watch. A small yellow Woodstock character circles the dial as the watch second hand. The watch came in a red background and red band, one of the most popular models, but may also have come in other color combinations. Timex manufactured this model as early as 1969. Another company, the Lafayette Watch Co., produced a very similar watch in the early 70's, which was larger in size than the Timex model.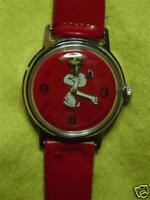 Another Snoopy Timex watch was very distinctive, the Snoopy Red Baron watch. This was also known as the "Flying Ace Snoopy" watch. This unique timepiece featured Snoopy the First World War Flying Ace on the dial, on his beloved red Sopwith Camel doghouse. His mission: search and destroy his nemesis the Red Baron "somewhere over France". Snoopy sports his flying goggles, cap, and scarf. The animated second hand dial features cloud graphics and the Red Baron's miniature red bi-plane circling the dial. The Arabic numbers are etched in white onto the black case, outside of the watch dial, and the watch hands are white. The band is black and inscribed with the Timex logo and some models feature a compass built into the lower band. This model was available with the Snoopy dog house packaging and was manufactured in 1979. The copyright date inscribed on the back of this model is 1965.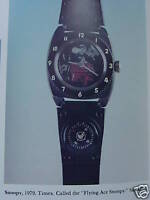 (From Brown and Thomas' "Comic Character Timepieces")
Pricing and Value
The value of collectible watches varies acording to a number of factors. The values change according to the availability of each item; the number of collectors wishing to add them to their collection; the condition of the item and whether or not it comes in original packaging with paperwork; and other factors. As any dedicated and experienced watch collector knows, there is no "set" price for any given collectible watch. While some buyers might pay no more than $50 for a mint condition blue denim Snoopy "tennis watch" in its original doghouse packaging with outer cardboard cover and paperwork, another collector may be willing to pay as much as $250. You can get an idea of what the items are selling for by doing an eBay search on completed listings for Snoopy watches. Determine the price you would like to pay and try not to get engaged in a "bidding war" and pay more than you intended unless the item is really one that you desire for your collection. If, however, you are continually overbid on your auctions, your determined price may be too low and you may wish to reconsider it. While there are reference books that give dollar amount values to collectible watches, by the time the book is published the values may have already dramatically changed. You may note discrepancies of hundreds of dollars for a single watch item between several different publications, showing clearly that the value is in the eye of the beholder. These reference book values should only be loosely used as guides when attempting to determine the price you are willing to pay for a certain collectible timepiece.
Snoopy and other Peanut character watches are fun to collect and are very popular with watch collectors. Please note that this guide is a partial list; it does not cover all Snoopy or Peanut watches manufactured by Timex.
References:
1. Comic Character Timepieces: Seven Decades of Memories. Hy Brown, Nancy Thomas. Schiffer Publishing. 1992.
2. Comic Character Wristwatches. Debra S. Braun. Schiffer Publishing. 2001.
We hope this guide has been of use to you. Please remember to vote by clicking on a box below. Thank you for viewing our guide!
Check out our additional guides on character watch collecting:
eBay Guides - COLLECTIBLE CHARACTER WATCHES- LORUS DISNEY WATCHES
eBay Guides - COLLECTIBLE CHARACTER WATCH REFERENCE GUIDE BOOKS
eBay Guides - CHARACTER WATCHES - A UNIQUE AND MEMORABLE GIFT IDEA
eBay Guides - STORING YOUR COLLECTIBLE WATCH PURCHASE
eBay Guides - DISPLAYING YOUR CHARACTER WATCH PURCHASE
eBay Guides - SAVE MONEY ON EBAY FEES FOR BUYERS AND SELLERS
eBay Guides - BUYING A COLLECTIBLE BRADLEY DISNEY WATCH
eBay Guides - BASIC WATCH CARE PROLONGING THE LIFE OF YOUR WATCH