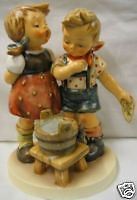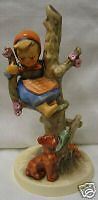 GOEBEL'S 'HUMMEL'
First released in 1935, Goebel's 'Hummel' figurines were inspired by drawings of children by a nun,
Sister Berta Hummel.
Since then, over 500 different figurines have been modelled.
Examine marks on the base to help you identify the name and the period in which that particular piece was made.
'Crown' marks and marks with a large bee motif denote early examples, which are amongst the most valuable.
Over time from 1950, the bee becomes smaller in size and moves inside the V shape.
After 1964, the bee motif was dropped in favour of text, a large 'G' dominating the mark from 1972.
As well as early examples from the 1930s-50s, also look for variations in colour of certain parts of clothing.
These variations can be sought-after and fetch higher prices. Larger examples above the 6in size are also more valuable.
Dates shown here relate to the time period each piece was produced in, using its mark to help date it.
Note that some designs are still in production today.
Condition is a vital indicator to value. The ceramic chips and cracks easily, so examine figurines carefully for damage or repair,
which reduces value. Also take care not to bruise figurines against each other when on display.