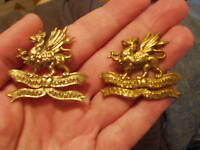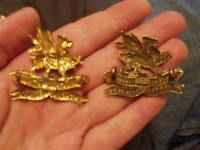 pics....left shows the front of a copy (at left) and genuine(at right )11th Border badges in diestruck brass..right pic shows the backs of a copy(at left) and genuine(at right) 11th Border badge..the genuine one being a darker less bright brass,heavier smoother quality and with a JR Gaunt London tablet (tho the tablet may not always be fitted)..as you look at the second picture above,note the back of the genuine badge.....if the badge had an additional loop in the dragons wing it would be a FAKE......the copy by comparison is a sharper, cleaner striking but the edges are all rough and sharp, it is too bright and has poorly fitted loops...the difference???...a diestruck copy in brass is a 99p to £7 badge whereas the genuine brass is a £200 to £350 badge!!.diestruck brass copies started to appear on the collector scene in the UK in the late 1980s through "Martin Marsh Militaria", a uk dealer in repro cap badges,but now, especially with the advent of e bay, most dealers will have them...and some try to sell them as "genuine" badges,so beware the wording you read on e bay descriptions...its a "badge" its a "cap badge"..its a "genuine cap badge"...but it probably wont be a period genuine badge...so watch how descriptions are worded....a dealer may guarantee a copy to be a genuine cap badge, and it will be....it just wont be a proper period badge!!. On e bay uk on 16 aug 2011, a broken example of a brass badge identical to mine with gaunt tab but missing the whole bottom right ribbon with "REGIMENT" on sold for an impressive £74.60...for a broken badge!!!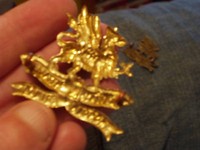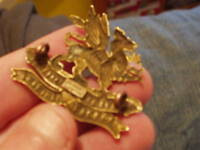 pics..left shows the back of copy badge, right shows back of genuine badge.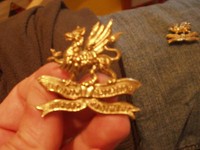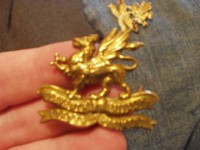 pics....left shows the front of a copy, right shows the front of a genuine badge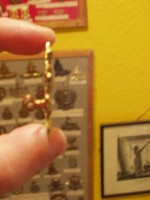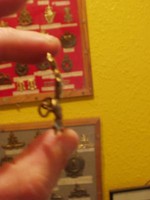 pics..left shows side profile of a copy, right shows side profile of genuine badge.theoretically, most genuine badges,whatever regiment, will not be straight (looking as if they have just left the factory die), most genuine badges will have been issued at one stage, and most will be bent like the genuine one shown here.