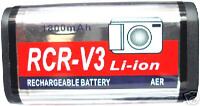 I have yet to find a more versatile, useful and ubiquitous product than RCR-V3 Lithium Ion Digital Camera Battery. This guide is to present information on the product and things to look for when you are purchasing a replacement battery for your camera.
RCR-V3 is a rechargeable version of its popular Cousin CR-V3. The CR-V3 costs about £6. This is supplied as a package when you buy a new camera. With your new found enthusiasm for your new found toy you tend to click and click and many times using flash. This results in the battery being drained very quickly. You are faced with a stark reality of replacing it with another expensive battery.
Invariably you dont have time to go to the photo shop,or shop on Ebay and Amazon, so you look to replace this with a standard AA battery. You would soon realise that the power hungry camera would drain the normal AA battery hours. You would then try to replace this with a rechargeable AA battery which is a lot more expensive albeit rechargeable. Although this option is a lot less expensive, you will be lucky if the charge lasts One day. For those special moments the camera is ready to click but fails miserably - Just when you need it most The Magic moment is forever lost! The picture is only in your memory. Failure! Dejection! Misery , even Depression!
If this is your story so far - read on because the right thing to do is to replace your CR-V3 with the RCR-V3 and get a mains recharger for this battery. Although the option is slightly more expensive, it is the long lasting solution to your camera battery problems. For a small investment you would save more than 2400£ over the life time of the battery ( Assume 400 recharges).
RCR-V3 Typical Specification and Features
Dimension 51.90 x 38.40 x 14.20
Weight 38.5 Grams
Used in 3 Volt Cameras that will accept 1 CR-V3 disposable battery or 2 AA size batteries or 6 Volt Cameras that will accept 2 CR-V3 disposable battery or 4 AA size batteries
Better than Ni-Mh batteries
Retains 90% of charge after being idle for 28 days
No memory effect - (Some types of batteries report a full charge when they are really not so because of remembering the repeated "short charge" as "Full Charge" - Incredible but tru)
Charging type ranges from 2.5 hours to 6 hours. Again depends on the level of charge already existing.
Number of recharges - 400 - 600
Pictures per charge - about 450 ( Now you will belive what it said about using other type of batteries)
Capacity varies from 1100 mAh to 1800 mAh (More on mAh below)
Compatability list
KODAK CR-V3 CR-V3P KCRV3 LB-01
KONICA CR-V3 CR-V3P LB-01
KYOCERA CR-V3 CR-V3P LB-01
MAXELL CR-V3
MINOLTA CR-V3 CR-V3P LB-01
NIKON CR-V3 CR-V3P LB-01
OLYMPUS CR-V3 CR-V3P LB-01 LB-01E
PANASONIC CR-V3 CR-V3P
PENTAX CR-V3 CR-V3P LB-01 RCR-V3
POLAROID CR-V3 CR-V3P LB-01 PRCR-V3
PRAKTICA CR-V3 CR-V3P LB-01
RAYOVAC RLCRV3-1
RICOH CR-V3 CR-V3P LB-01
ROLLEI CRV3
SAMSUNG CR-V3 SBP-1103 SBP-1303
SANYO CR-V3 CR-V3P LB-01
SIGMA CR-V3 CR-V3P LB-01
TOSHIBA CR-V3 CR-V3P LB-01
VARTA CR-V3
Typical selling price of a battery + charger is about £25 + postage at most popular Web sites. In Ebay you can get it for about 12£. Again watch very carefully the price of postage, packing and shipping costs. Some times you can be hit for 23% customs duty and Vat when you import from outside the EU. Also watch out for sellers from Hongkong and China promising the delivery from UK but in reality they actually ship from Hongkong and China - if you care to look at their delivery time.
Ensure that the Charger is CE and ROHS(Removal of Hazardous Substances regulations) compliant.
Warranty is another item you should be aware of. Most sellers provide 1 year warranty from date of purchase. This proves useless if the goods are shipped from China or Hongkong due to cost of postage being greater than the cost of product.
mAh
Batteries come in various capacities in terms of mAh. The capacity of a battery to store charge is often expressed in ampere hours .If a battery can provide one ampere (1 A) of current (flow) for one hour, it has a capacity of 1 A·h. If it can provide 1 A for 100 hours, its capacity is 100 A·h. There for the higher the mAh the higher is the retention and need to recharge and you get more shots for a single charge. So dont be fooled by the price again - Check price per mAh you may be paying more for less!
You should also note that Batteries expire in life so you should not really go by the price only as a consideration.
It does not matter Where you buy from as long as you Buy - you will Save not only money but those PRECIOUS MAGIC MOMENTS ON YOUR CAMERA !
This is also compatible with the following models:
BENQ DC4500
CASIO GV-20 QV-2000UX QV-2100 QV-2300UX QV-2400UX QV-2800UX QV-2900UX QV-3000EX QV-3000EX/ Ir QV-3000UX QV-3500EX QV-4000
QV-8000SX QV-lr XV3
KODAK EasyShare C300 EasyShare C310 EasyShare C315 EasyShare C330 EasyShare C340 EasyShare C360 EasyShare C433 EasyShare C433 Zoom EasyShare C530 EasyShare C533 Zoom EasyShare C643 Zoom EasyShare C743 EasyShare C743 Zoom EasyShare C87
EasyShare C875 Zoom EasyShare CD33 EasyShare CD40 EasyShare CD43 EasyShare CD50 EasyShare CW330 EasyShare CX4200EasyShare CX4210 EasyShare CX4230
EasyShare CX4300 EasyShare CX4310 EasyShare CX6200 EasyShare CX6230 EasyShare CX6330 EasyShare CX6445 EasyShare CX7220 EasyShare CX7300EasyShare CX7310
EasyShare CX7330 EasyShare CX7430 EasyShare CX7525 EasyShare CX7530 EasyShare DX3215 EasyShare DX3500 EasyShare DX3600 EasyShare DX3700 EasyShare DX3900
EasyShare DX4330 EasyShare DX4530 EasyShare DX4900 EasyShare DX6340 EasyShare DX6440 EasyShare Z612 EasyShare Z650 Zoom EasyShare Z663 Zoom EasyShare Z700
EasyShare Z740
KONICA Digital Revio KD-200Z Digital Revio KD-210Z Digital Revio KD-220Z DiMAGE G100
KYOCERA Finecam L3 Finecam L30 Finecam L3v Finecam L4 Finecam L4v
MINOLTA DiMAGE E203 DiMAGE E223 DiMAGE E323 DiMAGE F100 DiMAGE F200
DiMAGE F300
NIKON CooIPix 2100 CooIPix 2200 CooIPix 3100 CooIPix 3200 CooIPix 4100 Coolpix 600
OLYMPUS C-1 C-1 Zoom C-100 C-120 C-150 C-160 C-170 C-180 C-1Z C-2 C-2 Zoom
C-200 Zoom C-2040 Zoom C-2040Z C-21 C-2100 Ultra Zoom C-2100UZ C-211 Zoom
C-21T.commu C-220 Zoom C-300 Zoom C-3000 C-3000 Zoom C-3020 Zoom C-3030 Zoom C-3030Z C-3040 C-3040 Zoom C-3040Z C-310 Zoom C-3100 Zoom C-315 Zoom
C-350 Zoom C-360 Zoom C-370 Zoom C-40 Zoom C-4000 Zoom C-4040 Zoom C-4040Z
C-40Z C-4100 Zoom C-4100Z C-450 Zoom C-460 Zoom C-460 Zoom del Sol C-480 Zoom C-500 Zoom C-5050 Zoom C-5050Z C-55 Sport Zoom C-55 Zoom C-5500 Sport Zoom C-700 Ultra Zoom C-700UZ C-720 Ultra Zoom C-720UZ C-725 Ultra Zoom C-730
C-730 Ultra Zoom C-730UZ C-740 C-740 Ultra Zoom C-740UZ C-745 Ultra Zoom C-745UZ C-750 C-750 Ultra Zoom C-750UZ C-755 Ultra Zoom C-755UZ C-960 Zoom
C-990 ZoomC-990 ZS Camedia C-180 Camedia D-435 D-100 D-150 D-150 Zoom D-150/ C-1 D-230 D-370 D-380 D-390 D-395 D-40 Zoom D-425 D-460 Zoom D-490 Zoom D-510 D-510 Zoom D-520 Zoom D-530 D-540 Zoom D-545 Zoom D-550 Zoom D-560 D-560 Zoom D-565 Zoom D-575 Zoom D-580 Zoom D-595 Zoom E-1 E-10 E-100RS E-20 E-20N E-20P FE-100 FE-110 FE-120 SP-310 SP-320 SP-350 SP-500 SP-500UZ X-200 X-250 X-350 X-550
PENTAX *ist D *ist DL *ist DL2 *ist DS *ist DS2 Digibino DB100 Digibino DB200 Optio 230 Optio 30 Optio 330GS Optio 33L Optio 33LF Optio 33WR Optio 43WR Optio S30 Optio S40 Optio S45 Optio S50 Optio S55 Optio S60
PENTX *ist DL
POLAROID PDC-1050
PRAKTICA DC 2.1S DCZ 1.3S DCZ 2.2S DCZ 2.2V DCZ 3.2S DCZ 3.4 DCZ 4.1 DCZ 4.2 DCZ 5.1 EXAKTA DC 3300
RICOH Caplio RR330
ROLLEI Prego da3 Prego da4 Prego da5 Prego da6
SAMSUNG Digimax 101 DIGIMAX 130 DIGIMAX 200 Digimax 202 DIGIMAX 210SE
DIGIMAX 220SE DIGIMAX 230 Digimax 240 Digimax 250 DIGIMAX 300 Digimax 301
DIGIMAX 340 Digimax 350SE DIGIMAX 35MP3 Digimax 360 Digimax 370 Digimax 401
DIGIMAX 410 Digimax 420 Digimax 430 DIGIMAX 50Duo Digimax 530 Digimax A4
Digimax A40 Digimax A400 Digimax A402 Digimax A5 Digimax A50 Digimax A502 Digimax A503 Digimax A55W Digimax A6 Digimax A7 Digimax V10 Digimax V3 Digimax V4 Digimax V40 Digimax V4000 Digimax V5 Digimax V50 Digimax V6 Digimax V70 GX-1 GX-1L GX-1S
SANYO Xacti DSC-R1 Xacti DSC-S1 Xacti DSC-S3 Xacti DSC-S4 Xacti DSC-S5 Xacti VPC-R1 Xacti VPC-R1E Xacti VPC-R1EX Xacti VPC-S3 Xacti VPC-S4 Xacti VPC-S5
Xacti VPC-S5BK Xacti VPC-S6
SIGMA SD10 SD9
TOSHIBA Allegretto M700 PDR-M500 PDR-M700 PDR-T10
YASHICA EZ 4030
Please do your own checks to verify the information that has been provided because there may be errors or omissions in the collection or in the sources of collections. Best way to do this is to cross check this information with other web sites / orginal manufacturers recommendations.
I HOPE YOU LIKED THE ARTICLE AND IF YOU GOT A MINUTE TO SPARE PLEASE LEAVE A FEED BACK VOTE!
WISH YOU A HAPPY DAY TODAY.