Have a look of what Swarovski says about their crystal?
HIGHEST QUALITY
The brand CRYSTALLIZEDTM Swarovski Elements also stands for highest crystal quality, ensuring the excellence and durability of fashion and jewellery pieces.
The exceptional resistance of CRYSTALLIZEDTM Swarovski Elements secures best results in case of electroplating, gluing or setting and thus guarantees a highly efficient and versatile application. They meet the most demanding requirements for everyday use, and are resistant to perfume, chlorine- and seawater and thus support the long lasting beauty of the crystal design.
INDIVIDUALITY
CRYSTALLIZEDTM Swarovski Elements are starting points used to create outstanding design pieces and to differentiate premium designs from ordinary products.
The key to sustainable success is having a story to tell and being highly innovative while always ensuring best quality. CRYSTALLIZEDTM Swarovski Elements facilitate both: fascination, differentiation and the creation of high quality designs in a multitude of different ways.
CONSISTENCY OF COLOURS AND COVERING EFFECTS for all cuts and sizes.
OUTSTANDING BRILLIANCE due to highest clarity of crystal and perfect cutting technology. The XILION elements stand out because of their clearly differentiated star shape cut (1) They set the ultimate level of brilliance with the broadest light distribution and most intense luminosity (2) CRYSTALLIZEDTM Swarovski Elements are offered in the most complex and differentiated cuts, generated by the perfect positioning of facets and highest precision (3) The perfection lies in the fine details that can be achieved: the small-sized edges of our products results in even higherlevels of brilliance.
PERFECT HOLE SOLUTIONS: CRYSTALLIZED Beads or Pendants have a crystal clear hole that creates even more brilliance and colour intensity (4) In addition, the rounded edges on the hole entry and exit protect the thread and support the longevity of the designed piece.
PLATINUM FOILING meets highest demands (5) It withstands severest processing techniques (soldering, electroplating etc.), and thus is resistant to common environmental influences (perfume, chlorine- and seawater etc.) in finished jewellery pieces.
Is it real Swarovski Cyrstal or just fake glass?
Not like those finished products you can see in Swarovski store which always comes with whole package and certificate, CRYSTALLIZEDTM Swarovski Elements crystal come in gross packages, and was handmade by creative jewellery designers together with carefully picked accessories. They are machine cut so they should all be uniform and the corners should meet. You should also not see any air bubbles within the crystal with the naked eye. The quality of glass that Swarovski uses will give it a clearity and luster like no other, so impurities that might find their way into other crystals should not be present if you are looking at a real Swarovski cyrstal.
Have a look of the original package of some items we brought from wholesalers: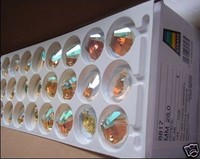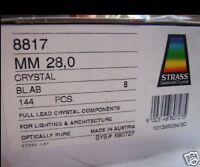 Some earlier Swarovski Strass crystal are immediately identifiable because of their laser-engraved STRASS signature as you can see in the picture below.