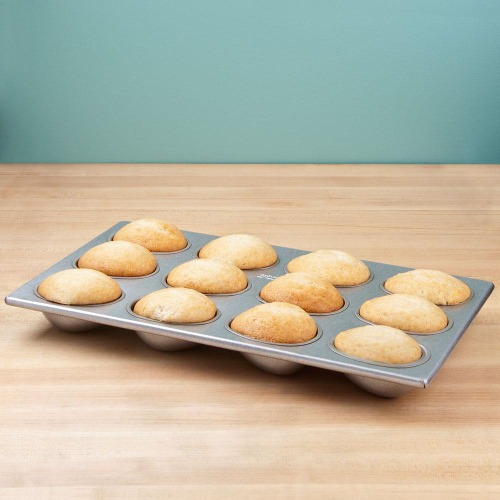 Any baker knows that cake moulds are a must have for many purposes when it comes to cake and dessert making. Cake moulds can be used to make candies to go on top of cakes, and they can also be used to create cakes as well as cake pops and other treats. Cake moulds come in an endless variety of designs, styles, and sizes, to meet every baker's needs.
Cake moulds are also used to make cupcakes, large or small-sized Bundt cakes, chocolates, tarts, and other types of desserts. For a special birthday cake or a cake that is for a special occasion, such as a wedding, cake moulds are the perfect way to make a one-of-a-kind cake or decorations to add to a cake. The newest way to enjoy cake, which is a lot of fun for parties and for children, is by making cake pops. Cake moulds are used to create individual sized cakes atop a stick, similar to a lollipop. Buyers can find cake pop and candy moulds as well as many other types, sizes, and styles of cake moulds on eBay.
Cake Mould Designs
Cake moulds vary in design types, from standard cake style moulds to moulds that are shaped like characters, animals, letters, or flowers. Buyers should choose cake moulds based on the occasion and type of cake that is being decorated or made, such as a child's birthday party or an anniversary party. Moulds are used to create designs and decor for the top or the outside of the cake.
Cake moulds come in different sizes, from quite small to large. There are even large cake moulds that create shaped cakes, such as a car cake mould, moulds shaped like large letters to form a name out of cakes, or a heart-shaped cake mould. Smaller cake moulds create the cake toppers themselves. Consumers can even purchase cake mould kits to create customised cake moulds themselves using a silicone mixture.
Bakers use a special sugar mixture or paste, fondant, or chocolate to create edible designs and decorations for cakes using cake moulds. The moulded designs are then decorated with frosting or fondant before they are placed on the cake.
Cake Mould Materials
There are several different materials that cake moulds are created from. There are essentially two main types of cake moulds: ones that are used to create entire cakes and moulds that are used for small cakes, candies, and cake decorations.
Silicone
Most smaller cake moulds used for petite cakes and cake decorations are made from food grade silicone. This means that the silicone is safe to be used for baking and cooking, and it is also becoming more popular to use silicone cake moulds instead of the common metal pans for several reasons. First, silicone is very durable and lasts for a long time. Another reason to choose silicone is that it can be tossed into the dishwasher after use and does not have to be hand washed.
Cake moulds made of silicone are easy to use because the cakes and candies come out of the moulds very simply. Silicone cake moulds are good for decorations and small cakes because of their ability to preserve details in the moulds and translate them successfully to the cakes. Silicone cake moulds come in many sizes and shapes, and they are also affordable as well.
Silicone cake moulds offer more variety when it comes to cake decorating, and their flexibility allows them to pop out small cakes and candies quite simply. Silicone does not retain smells, so it is easy to keep the moulds clean between uses. They can also be used in the refrigerator for cakes and candies that need to be kept cold.
Metal
Traditional metal cake moulds are usually used for larger cakes, but they can also be used for smaller cakes and decorations. There are upsides to using metal cake moulds, such as even cooking, quality bakeware, and non-stick surfaces. Many types of shaped cake moulds for larger birthday cakes are made of metal.
Metal cake moulds do not come in the wide selection of designs and styles that silicone cake moulds come in, and for consumers who are looking for small pans to create intricate cake decorations, silicone is the best option. However, for consumers who want to bake large shaped cakes, such as birthday cakes for kids that are shaped like characters or to create cupcakes, metal pans fit the bill.
Metal pans have been around for longer and some baking professionals deem them more trustworthy, but they may not offer the convenience and easy care and storage that silicone offers. It is really a personal choice for the buyers depending on what they need the cake moulds for.
Cake Mould Purposes
The great thing about cake moulds is that they can be used for so many different types of items. Cake moulds, whether they are made of metal or silicone, offer a range of options for cake and candy making as well as cake decorations. Buyers should purchase the proper type of cake moulds for the purpose intended to achieve the best results.
Cake Decorations
Silicone cake moulds are most often used to make cake decorations from sugar paste. The details of the cake moulds produce intricate and eye catching decorations for cakes, ranging from birds and other animals to children's favourite characters or lace designs for wedding cakes. Cake moulds add pizzazz and personalisation to any type of cake no matter what the occasion is.
Food grade silicone moulds are safe an easy to use to create cake toppings and decorations, and this is easily the most popular use for smaller cake moulds. Cake moulds are even used to create cupcake designs as well as cake designs, so consumers can use the cake moulds for more than one type of cake to increase the versatility of the items.
Cake Making
Cake moulds are also used for baking cakes, from large, traditionally sized cakes to smaller mini cakes, Bundt cakes, cupcakes, cake pops, and cakes of various shapes. Cake moulds are either silicone or metal, and both types have their positive and negative features. Cake moulds are great for cupcakes and for a fun party treat called cake pops. Cake moulds create round cake pops that are placed on sticks and covered with icing to make individual party cakes.
Candy Making
Another way that consumers can use cake moulds is to make candy. Chocolate candy or lollipops can be made using different types of silicone cake moulds, so buyers can get more than one use out of their cake moulds. Sticks are attached to make cute candy lollipops, which are good party favours at a baby shower or birthday party.
Selecting the Right Cake Moulds
Buyers should select the right cake moulds based on the purposes they will be used for, the benefits of each type of cake mould, and what the buyer's budget is. Silicone cake moulds tend to be less costly than traditional metal cake moulds, but traditional moulds have stood the test of time and continue to be used frequently by professional bakers.
Type of Cake Moulds

Purpose

Benefits

Small shaped cakes

Larger round or rectangular cakes

Cupcakes

Bundt cakes

Cookies

Sugar decorations for cakes

Cake pops

Easy to use

Easy to care for

Can be folded for storage

Durable

Odour free

Many designs and styles to choose from

Metal Cake Moulds

Traditional sized cakes

Large shaped cakes

Cupcakes

Even baking

Non-stick

Perfectly browned cakes

Candy Moulds

Small cake decorations

Homemade candies

Lollipops

Homemade soaps

Many designs to choose from

Versatile; can be used for many purposes

Inexpensive

Great for parties
Using cake moulds is a lot of fun for buyers, whether consumers are skilled at baking or not. Versatile moulds are used to create decorations, miniature or large scale decorative cakes, candies, and even craft items such as soaps. Cake moulds are a sound investment for buyers who bake frequently.
How to Buy Cake Moulds on eBay
Skip expensive retail baking stores and head to eBay to load up on cake moulds for the best prices available. To find the cake moulds you desire, simply navigate to cake decorating and search for "moulds" to start browsing the wide array of cake moulds found on eBay. To make the search even easier, you can limit the results by holiday or occasion, such as "Christmas cake moulds", or select cake moulds by the material the moulds are made from.
Cake moulds are so affordable you will want to buy more than one type, so communicate with sellers by clicking the "Ask a Question" button on the seller's page to ask what other types of cake moulds he or she is offering, and you can possibly get a bundle of items when you buy more than one item from the same seller. This can reduce shipping cost and be an affordable way to get more than one item you need to help decorate cakes.
Conclusion
Instead of paying professional cake decorators a fortune to create special cakes, more consumers are handling the task themselves due to the ease and fun of using cake moulds to create gourmet style cakes and decorations. They are able to create personalised cakes for children's birthday parties, beautiful wedding or anniversary cakes, or holiday themed cakes with the aid of easy-to-use cake moulds and candy moulds. Consumers can also add decorations to cakes, make beautiful cupcakes, or create cute candies to hand out as party favours.
Cake moulds are an affordable way to create a homemade cake that looks just like a professional bakery item, but without the high price tag. Making custom cakes for family and friends is a great way for consumers to save money, and buyers can hone their baking skills as well. Consumers are able to purchase all of the cake moulds and other baking needs necessary to create the perfect desserts for a great low price on eBay.