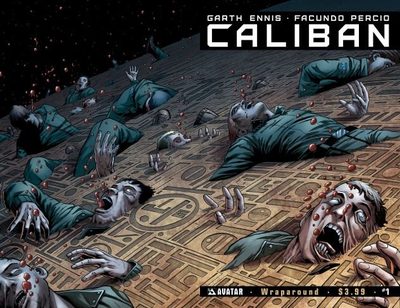 Master story teller Garth Ennis and artist Facundo Persio team up to deliver a haunting new epic of science fiction horror in the first issue of Caliban. The crew of the Caliban travel through hyperspace on a routine trip for the giant vessel. They are human beings that have been shut up inside for far too long. They are confident that there is no other life in the galaxy and travel through the vastness of space with the thoughts of how far they are from home. But when an impossible accident suddenly causes the Caliban to collide into an abandoned alien ship, a nightmare in space begins to unfold. Ennis delivers his unique brand of flawed characters, spot-on dialogue and trademark flare for the unexpected in a new series in the vein of Alien and Event Horizon.

We access this story through some thoughtful (and rather unusual) first person narration. A crew member aboard a warp speed ship, Nomi is one of a small number of people who remains awake for the voyage. From the get-go, it's made apparent that this isn't the most mentally healthy position to be in; the physical realities of warp travel are pretty astounding.

As we learn more about the crew's work and daily life, Ennis is careful not to explain the more unsettling details that come up in Nomi's narration. I'm still puzzling over a line about 'stillborn things that go straight in the trash' and that's not the only moment that rings an alarm bell. We relate to her because she's our focalising protagonist; but there are moments where we feel estranged from her because of her extraordinary situation. This of course only adds to the mounting tension.

I don't perceive the dialogue to be as spot-on as it possibly could be. I found that there were a few too many characters getting introduced at once and this created a tangle of conversation early in the issue. However, the 'Big Situation' that unfolds within the issue just keeps the story rolling. This predicament worsens at every turn, with a revelatory splash page that lets us know that this just got real.

It's not the first time that this so called predicament has been used in other works, but it's played to the hilt here. Percio's compositions capitalise on the sense of confinement. If you have fond memories of Fashion Beast, you'll find that Percio's precise, heavily shadowed style works just as beautifully here. It crowds the edges of panels with technological details which hem the characters in perfectly.

The characters themselves have rather flat affects, which makes sense given the realities of their work; Nomi is distinguished by a melancholy look that meshes well with her narration. But despite the overall lack of emotionality in the characters, a death scene hits home in all kinds of ways. Part of it is the understated way Percio gets across what one crew member is feeling. Part of it seems to lie in the way the compositions work, emphasising the surreal aspect of what has just happened.

While I am finding it extremely difficult to write about Caliban #1 without spoiling it all for you, the revelatory splash page I previously mentioned uses scale expertly, taking an otherworldly element and playing it for maximum shock value. While the nature of this issue is somewhat familiar, the realistic detail and shadowing give it a compelling gravity. Hernan Cabrera's colours also excel here, distinguishing this moment and the circumstances that surround it with a fleshy sepia tone.

Ennis and Percio are producing something exceptionally chilling here, running with the idea that space just wasn't made for us. Space can and will drive us insane. Thoughtful, unsettling, even alienating, Caliban #1 is a comic that leaves you with questions you're afraid to have answered. And if that's not the definition of sci-fi horror, it's damn close.