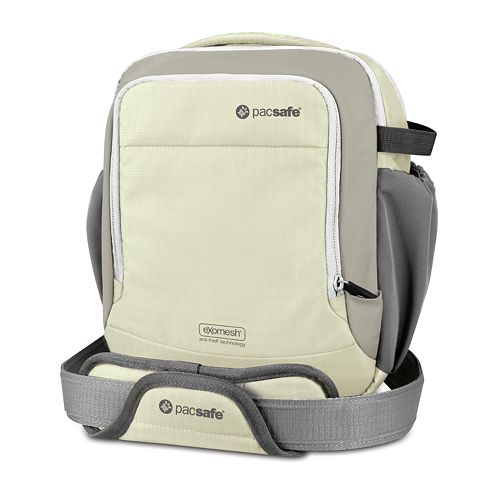 Photography is a very popular hobby for many people and, as any photographer will know, it is very important to protect the camera and photographic equipment either when it is in transit or simply in storage at home. It is also very important that any camera bag used is easy and comfortable for the photographer to carry. After the camera, a good, secure, comfortable camera bag is one of a photographer's most important purchases.
What to Look for When Buying a Camera Shoulder Bag
A camera shoulder bag will keep a photographer's equipment and accessories safe and clean while on the move. As cameras and accessories can cost hundreds of pounds to replace, it is important to get the very best bag available to keep the precious cargo safe and undamaged. Camera shoulder bags are available in a vast range of prices and styles, and choosing the right one can be tricky.
This buyers guide is designed to help with the decision making process by setting out the key features of different camera shoulder bags, making it easy to identify what is required. Once the most suitable type of bag has been chosen, the prospective purchaser can then go on to look at all the different options available from retailers, confident that they know exactly what they are looking for.
Rucksack or Single Strap
When looking for a camera bag that can go over the shoulder, the first decision should be whether it is a single strap case designed to go over one shoulder or whether to go for a rucksack style case.
A rucksack style case is much more comfortable to carry for longer periods of time, so if the purchaser is planning to be walking or cycling as part of their photography trip then a rucksack is certainly the more comfortable option. However, the downside of a rucksack is that every time the camera is required, the rucksack must first be taken off the back and unpacked, and this action may disturb any wildlife that may have been the intended target of the camera.
A single shoulder bag, for example a messenger-type bag, is much easier to access discreetly in this situation. Do not forget, however, that wearing a single shoulder bag may be painful after some time. Thought should be given to how and when the camera will be carried, and how long it will be carried for, as this will determine the level of comfort required from the camera bag.
Size
Size is important and camera owners should consider what they will be carrying with them on their regular photography trips. If a compact camera is to be carried, a smaller sized bag will be suitable – probably something not much larger than the camera with some extra space to hold spare batteries perhaps. If, however, the camera is a SLR or even a DSLR, then a much larger bag will be required to carry the camera along with any extra equipment such as alternative lenses, spare batteries, filters and even a small tripod.
Hard or Soft
There are different types of material used to make camera shoulder bags and the photographer should decide which is most suitable for them. The majority of bags are made from a soft material designed to give extra padding to the camera and accessories held within, protecting them from damage if bumped or dropped. There are a few shoulder bags available with a harder outer shell, intended to give even greater protection from damage. However, some people find these less comfortable to carry.
Waterproof
Many bags now come in waterproof fabric, with many guaranteeing to be 100 per cent waterproof. If a lot of outdoor photography is planned, then it is worth considering buying a waterproof bag as the weather is often changeable. Given the cost of the camera equipment inside the bag, it would be unfortunate if it was damaged by water.
Flexibility of Interior
When looking at larger bags that can carry a camera plus accessories, it is worth looking at the interior of the bag and considering how flexible the interior space is. Most camera bags come with moveable padded sections enabling the photographer to create their own set of compartments to hold separate pieces of equipment safely and securely. Other bags come with fixed interiors where the photographer has to fit their equipment into pre-designed spaces and depending, on how much equipment the photographer has, this lack of flexibility could become a problem.
Branded Bags
Many camera bags are produced by camera companies for specific cameras while other cases are simply produced by case-making companies and are for more general use. The benefit of buying a branded case is that it will have been designed with a specific camera in mind so the fit within the bag will be perfect. However, other more generic bags may have other different features that override the benefits of a custom fit. It is worth looking at both types of bags when making a decision as each will have their own benefits.
How to Buy a Camera Shoulder Bag
Camera shoulder bags are generally considered to be a specialist piece of equipment and so while it is easy to pick up a simple camera case in a range of high-street shops, a larger camera shoulder bag may be slightly harder to find. Having said that, any shop with a photography section or anywhere offering digital printing may have a slightly wider range of camera accessories and, therefore, might stock these larger bags. Larger department stores or catalogue shops may also hold a wider range of camera bags.
If there is a specialist photographic retailer nearby, it is worth paying them a visit and looking at what stock they hold, too. Specialist retailers will also be able to make recommendations based on any specific features that have been requested.
A wider range of products will be found in specialist online retailers and of course there are always a large number of camera shoulder bags available for sale on eBay.
Conclusion
A Camera Shoulder Bag is an important piece of equipment for any photographer and time should be spent deciding on what features are important before making the purchase. The right camera shoulder bag could mean the difference between a comfortable day out taking photos or giving up after an hour.