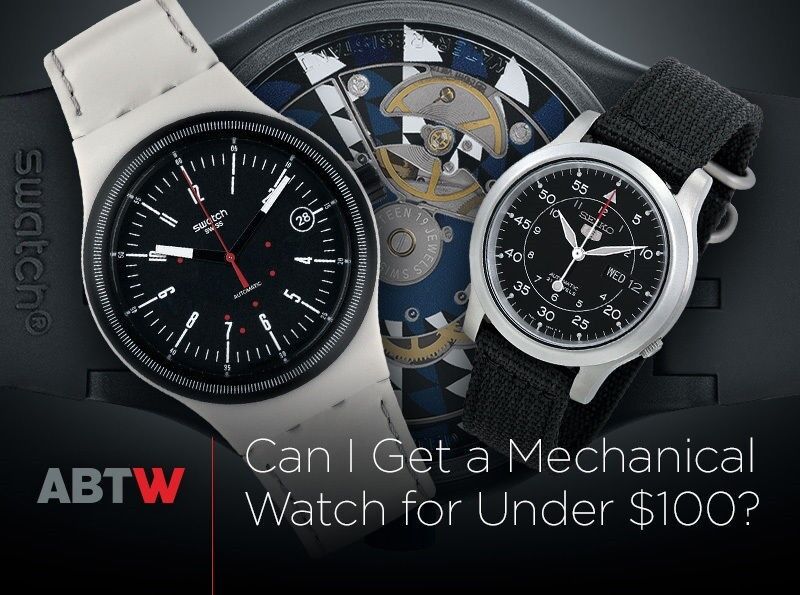 Mechanical watches are wonderful to own and collect. In a small package you get to experience history, the best in design, and miraculous feats of engineering and share the joy with a great community of collectors and connoisseurs. The only downside is that so often these watches are priced out of reach of most people. If you fall into that group you may be asking yourself, "Can I get a great mechanical watch under £100?"
In short, yes, yes you can.
Now, obviously you're not going to be getting a Rolex at that price and you're going to have to expect cheaper materials, flimsier build qualities, and less accurate movements. Even with those expectations though, you can still find great watches. Here are three to take a look at: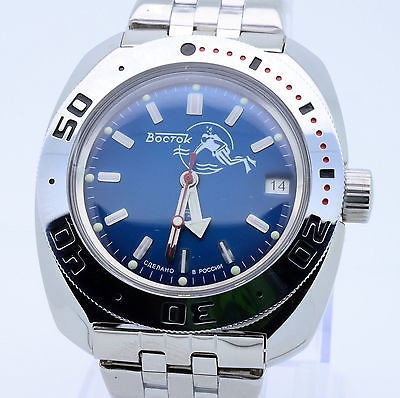 Vostok Amphibia
The
Vostok Amphibia
was designed in the 1960s for the Soviet Defense Department. They wanted a watch that had 200 M of water resistance but couldn't use the same methods the Swiss manufacturers were using at the time because they didn't have equipment with fine enough handling to replicate the process. What resulted was an innovative solution that fitted a larger rubber gasket into the case and a case back that would press tighter and tighter into it as the pressures increased around the watch.
This watch is a great first diver and though it doesn't have the polished finish of other dive watches, it does come with a variety of fun dials (the most iconic, the "Scuba Dude" has a small white outline of a scuba diver on a black dial). It was also worn by Bill Murray in the 2004 Wes Anderson film The Life Aquatic with Steve Zissou.
According to eBay DataLabs' "What's It Worth" tool, the watch can be had new for £72 on average and used for £65 on average.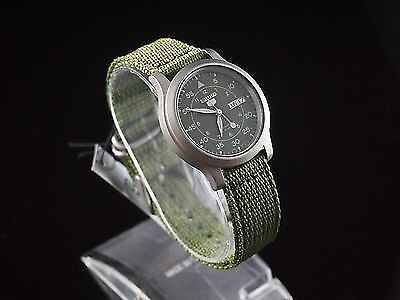 Seiko 5
Introduced in 1963, the
Seiko 5
was designed as a budget watch that still checked all the boxes of a great mechanical watch. Its iconic design has a partially hidden crown at the four o'clock position and it features an automatic movement. Like the Amphibia, this watch comes in a variety of dial and strap combinations. One of particular noteworthiness is the
Seiko 5 SNK805K2
, which has a green dial, an olive canvas strap, and an exhibition case back, making it a great knock around field watch.
The "What's It Worth" tool prices it at £75 on average new and £109 on average used (with such a low price for new watches the used watches wind up being more expensive because they feature upgrades or are pricier vintage models).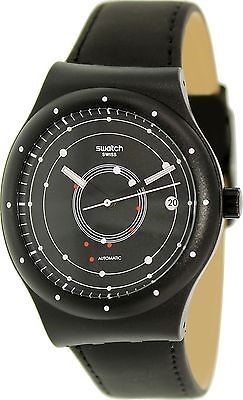 Swatch Sistem 51
It's almost unbelievable, but for under £100 you can get a Swiss made mechanical watch. The
Swatch Sistem 51
features an automatic movement with only 51 pieces, yet still has a power reserve of 90 hours. These are spectacular technical feats for such an affordable watch and if you like modern designs, this may be a great option for you. Again, this watch comes in a variety of dial and strap combinations.
Back to the "What's It Worth" tool and this watch sells new for £110 on average and used for £75 on average.
If you previously thought mechanical watches were only available to those wealthy enough to drop a few thousand dollars for an accessory, know that that isn't the case. For under £100 you can get a great watch and there are enough options out there that you can still find something that suits your personality. And, for those looking for a deal, consider expanding the search to
quartz watches
and don't overlook
Japanese watches
.