Capri 2.8 Injection Special 1984-1986
This is one of many mini illustrated classic car guides I've created for the community. I hope you enjoy it and if you would like to find out more about the classic Ford Capri Mk3 car art featured in this guide please click here.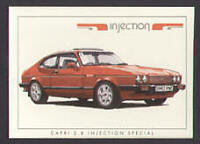 In October 1984 the Capri range was rationalised to just 2 models, the limited edition Laser and the Injection Special. The Capri 2.8 Injection Special was launched to coincide with the London Motor Show, its main features over and above the standard 2.8i being leather trim, spoked RS wheels, rear seat belts and a limited-slip differential. Minor colour coding was also applied - the grille, the bonnet lip extension and the headlamp bezels now finished in body colour, although the rear spoilers and mirrors remained matt black.
If you would like to see more guides on classic Ford Capri Mk3 cars please click!
Thank you for reading my guide and I hope you found it interesting!