Capri Mk3 2.8T Tickford 1983-1986
This is one of many mini illustrated classic car guides I've created for the community. I hope you enjoy it and if you would like to find out more about the classic Ford Capri Mk3 car art featured in this guide please click here.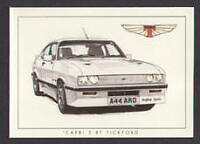 Ford backed limited production of what probably rates as the most dramatic of converted Capris, the 2.8T Tickford. A conversion based on the 2.8i, but with a 205bhp turbocharged 2.8-litre engine, the model was easily recognised by its extrovert body kit, which included spoilers and side skirts, together with its distinctive blanked-off front grille. Tickford reckoned on producing around 250-400 cars, but with prices starting at £14,985 it was hardly surprising that only 83 cars entered production, the last in 1987.
If you would like to see more guides on classic Ford Capri Mk3 cars please click!