Car Boot Sales
Car Boot Sales have now become an established British pastime held mainly at the Weekends and Bank Holdiays but now also midweek.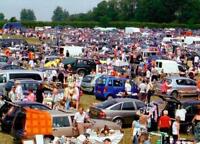 As well as being good exercise and good for the environment by recycling items that would otherwise be thrown away.
It has proved to be an excellent way of finding bargains and saving money.
For car boot sellers it can prove to be a great way of earning some welcome extra income, especially in the current economic climate.
To start you need to find a regular, well attended car boot sale.
Online there is an excellent Boot Sale Directory, where you will be able to find a good boot sale in your location.
www.carbootsaledirectory.co.uk