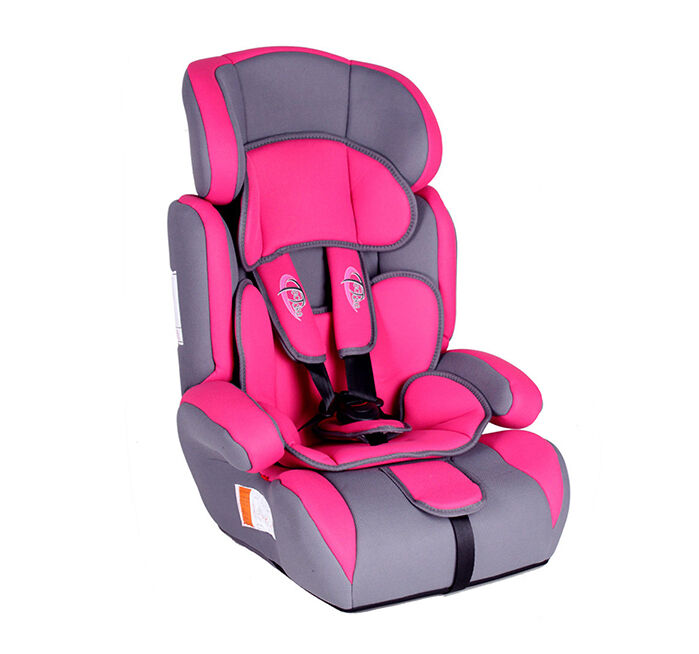 Purchasing a car seat for a child is a big responsibility, because ultimately, it is what maintains the child's safety when riding in vehicles. A common question is, does the most expensive car seat technically mean it is the best? Not always; the answer depends on which specifications a buyer requires. A child's age, weight, and particular specifications are used to find the best car seat for a child. The most important factor to consider when purchasing a car seat is the child's safety. In order to ensure a car seat lives up to its expectations, it is important to follow the manufacturer's instructions and guidelines. A large variety of car seats can be purchased at department stores, children's accessories shops, and on the online auction website, eBay. Selecting the perfect car seat is a difficult responsibility. There are many factors that need to be considered before making a purchase, including: type and group of car seats, ease of use, safety, comfortability, and proper installation.
Types and Groups of Children's Car Seats
Children's car seats can be identified by type and group or by a child's weight. The safest place for a car seat is in the back seat of a car, away from any air bags. The type of car seats available include: rearward facing, forward facing, and booster seats.
| | | | |
| --- | --- | --- | --- |
| Type | Group | Weight | Approximate Age |
| Rearward facing | 0+ | Up to 13 kg | Birth through 12 to 15 months |
| Forward facing | 1 | 9-18 kg | Nine months through four years |
| Booster seats | 2 | 15-25 kg | Four years through six years |
| Booster seats | 3 | 22-36 kg | Six years through 11 years |
Even though the chart provides approximate ages for the types of car seats, weight is the deciding factor between rearward facing, frontward facing, and booster seats. For example, if a child weighs 19 kg and is four years old, a booster seat in group two is recommended.
Rearward-Facing Car Seats
Rearward-facing car seats are convenient because once a base is installed in a car, it remains there and the body of a car seat can be snapped in and out. The rearward car seat doubles as a carrier and a baby can be easily transported out of a car. The carrier portion of the rearward facing car seat snaps into the base . If a baby is going to be traveling in multiple cars, then it may be a good idea to purchase multiple bases and leave the bases in the cars. Rearward-facing car seats are used from birth until the baby is 12 to 15 months, or until a certain weight is reached depending on the manufacturer's recommendations. Most infant car seats are designed to be rear-facing for the safety of the child, because it provides greater protection to the head, neck, and spine.
Forward-Facing Car Seat
Forward-facing car seats are used from around the time the baby is nine months through four years old; although, the size of the forward-facing car seat makes it more difficult to transfer between cars. Unlike the rearward-facing car seat, the convertible car seat cannot be used as a carrier. Manufacturer's recommend paying close attention to the weight limitations for each seat, and do not recommend moving a child to the next group until the child's weight has exceeded the seat's capacity.
Booster Seat
Car seat laws change and vary by location. Therefore, a booster seat is beneficial for larger or older children. The booster seat accommodates children from 14 to 36 kg.
Factors to Consider When Buying a Car Seat
Regardless of the type of car seat purchased, the same six factors can be used to evaluate all car seats. The six factors that need to be considered include: ease of use, 5-point safety harness, latch, easy cleaning, comfortability, and side impact protection.
Ease of Use
The ease of use is based on how easily a car seat can be installed into a car and how easily the child is secured in the seat. The content and clarity of the instruction manual is also taken into account when evaluating a car seat's ease of use.
5-Point Safety Harness
The 5-point safety harness refers to the straps used to keep the child in place. The straps are positioned one for each shoulder, one for each thigh, and one in between the child's legs. The straps are adjustable, therefore making the seat the correct size for a growing child, thereby making it safer.
LATCH
The LATCH (Lower Anchors and Tethers for CHildren) system was put into place to attach a car seat directly to a car, instead of having to use a seat belt. All cars and car seats after 2002 include a compatible LATCH system. The LATCH system makes installing a car seat easier and safer. If the anchors are not easily visible, then review the owner's manual for the car. The owner's manual identifies the locations of the anchors.
Easy Cleaning
Babies constantly need to be cleaned up after, therefore how easy a car seat is to clean is an important factor to consider. Detachable, machine washable car seat covers are recommended because they are much easier and faster to clean. There are many car seats that do not come with detachable car seat covers, so another option to consider is to buy the detachable cover at the same time the car seat is purchased. Some upholstery requires hand washing and line drying, so it is important to consider how much time a buyer has to clean a car seat cover. Leather is easy to clean, but can be very hot or cold depending on the weather.
Comfortability
A well-padded seat that provides plenty of head support is recommended for car seats. The head supports help promote a child's safety, while padding adds to comfortability. It is not recommended to add cushioning to a current car seat unless it is made by the same manufacturer and designed for a specific car seat.
Side Impact Protection
In case of a side impact car accident, some car seats are equipped with energy-absorbing foam and other features to help protect a child's head and chest. "Side-impacted tested" can have different meanings according to different manufacturers. It is recommended to research what "side impacted" means based on the car seat brand. It is recommended to place the car seat in the centre rear position because it is the furthest from impact sites.
Properly Installing a Car Seat
Once a buyer has evaluated all of the car seats and has decided on a safe and efficient car seat, it is time to install it into a car. Proper car installation is one of the most important safety measures. Most local police departments are happy to check car seat installation. Every car seat is different; therefore, it is important to refer to the manufacturer instructions to assure the car seat is properly installed. All car seats should be positioned in the back seat and on a seat where air bags are not present. In the case of an accident, the force of the airbag could greatly injure a child in the car seat.
How to Buy a Car Seat on eBay
eBay has a wide variety of children's car seats. Begin your search for children's car seats on eBay by utilising the search bar located at the top of every page. eBay produces a number of options to choose from within the search results, allowing a buyer to browse until he or she finds the product for which they are looking. For example, a buyer can type in "car seats" and thousands of options appear in the search results. In order to yield fewer results, a buyer can type in "forward-facing car seat " to specifically view the type of car seat needed.
A buyer can determine the dependability of a seller by reviewing his or her feedback. A seller's eBay history includes all feedback ratings from buyers within the last 12 months. Feedback is beneficial for the seller and the buyer. The feedback is advantageous for the seller because it allows the seller to improve on any area that the buyer may not have been happy with, or it can help to attract more buyers to his or her page as a result of positive feedback. Feedback is beneficial for a buyer because it provides a buyer with the seller's past interactions and allows a buyer to make an informed decision before purchasing.
Conclusion
The perfect car seat is ultimately the buyer's decision. However, there are many factors that need to be evaluated in order to make an informed purchase. The car seat characteristics that need to be evaluated before making a purchase include: the type or group of car seats, 5-point safety harness, latch, easy cleaning, comfortability, side impact protection, and proper installation. The type or group of car seat being purchased is based on a child's age and weight. Since age is an approximate measure, it is important to buy a car seat based on the child's weight. Having a car seat that is easy to use ensures that the car seat is being used properly, therefore increasing safety measures. The 5-point safety measure is another system put into place in order to increase a child's safety and ensure that the child remains in his or her seat. A caregiver's ultimate goal is to make sure their child is safe, and with the right research, a buyer can ensure he or she has made the best choice.