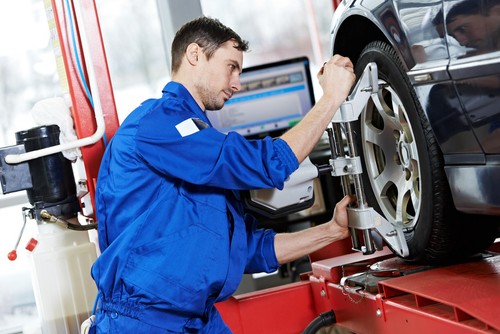 A car's suspension system serves multiple purposes, most related to providing maximum friction between tyres and roads while ensuring the safety and comfort of the driver. A car's suspension system is used to smooth out a vehicle's ride, even on rough terrain, and to minimise jolts and bumps from the wheels to the driver and passengers. It is also used to improve the vehicle's handling, and improve acceleration and braking. Unfortunately, car suspension kits are just as complicated as they sound, and feature many parts: the control arm, the shock absorbers, and the steering linkage.
Though shoppers should always expect car suspension kits to be expensive, many are likely to find that shopping for them online, at websites such as eBay, is likely to help them save substantially over kits purchased through manufacturers or retail locations. When shopping for car suspension kits, shoppers should look for kits and packages which focus on the major components of the suspension system, and may also want to consider purchasing the tools necessary to install their kits.
Control Arm Suspension Kits
The control arms serve to connect the wheels to the car's frame and shock absorber system. The shock absorber system is generally mounted atop the lower control arms, so that shock which impacts the wheels travel through the shock absorbers rather than terminating in the car's control arms or frame. The control arms are generally separated into the steering knuckle, ball joint assembly, struts, and mounts.
Control Arm Steering Knuckle
The steering knuckle attaches the control arm to the steerage linkage, and is what allows the steering wheel's movement to manipulate the arm, and thus, the wheel. The steering knuckle is a fairly complex rigid rod structure which contains a steering arm, brake caliper mounts, and the spindle, and is placed between the two ball bearing joints of the control arm.
Control Arm Ball Joints
Ball joints are placed before and after the steering knuckle, and serve to give a car's wheels the maximum amount of steering and turning capability. Ball joints can be difficult to assemble correctly for the inexperienced, and those without a great deal of mechanical experience intending to install a control arm kit themselves should do so with experienced supervision.
Control Arm Struts
Control arm struts are the stiff metal bars which hold and connect the various other parts of the control arm assembly together. Different makes, models, and years of vehicle often require different lengths and contour of control arm struts, so it is essential to purchase a kit compatible or made for the specific vehicle it is intended for.
Control Arm Mount
The mount is simply the metal plate located on each end of the control arm which allows it to be bolted to the wheel disk, the frame, and the shock absorber system. Control arm mounts are relatively small and inexpensive on their own, for those who only need to replace this part of their control arm assembly.
Shock Absorber Suspension Kits
The shock absorbers mount atop the control arm and connect the frame to the wheels. These allow the frame to move independently of the wheels, so that shock or friction to the wheels is absorbed by the shock absorbers, protecting the frame and car passengers from potential damage or discomfort.
Spring Assemblies
Springs function as one of the most important parts of the shock absorber suspension kits. Springs are generally found in one of four different types, depending on a vehicle's make and model. When replacing a shock absorber suspension kit, shoppers should ensure that they purchase kits which feature the same type of spring assembly, rather than more novel varieties. The major types of spring assemblies are coil springs, leaf springs, and torsion bars.
Coil Spring Assembly
Coil springs are the most common type of spring assembly in modern cars, and they feature a traditional coil spring wound around a damper. Coil springs come in many different materials and varieties, and range in cost from very cheap to impressively expensive.
Leaf Spring Assembly
Leaf spring assemblies are a type of shock absorber which is larger than coil springs, and comprised of many layers of metal bound together at a slight curve. Leaf spring assemblies were used in most vehicles manufactured before 1985, but are also still used in many modern, larger vehicles, such as commercial trucks and vans.
Torsion Bar Assembly
Torsion bars are primarily common only to antique and vintage cars manufactured in the United States and Europe through the 1960s. A torsion bar features a long, slightly twisted steel bar which has one end mounted along and anchored to the car frame, with the other attached to the wheel assembly. The twist in the metal allows the bar to perform with a spring-like property, though it took less machining than true springs and was therefore cost effective for manufacturers of the time.
Dampers
Dampers are used with the spring assembly to dissipate the kinetic energy absorbed by the springs. These are generally found in the form of twin-tube shock absorbers, sometimes also called snubbers, a hydraulic oil pump system. The spring assemblies are generally mounted on or around the dampers.
Anti-Sway Bars
Anti-sway bars are used alongside the other parts of the shock absorbing system to provide additional strength and reinforcement to the axle. Anti-sway bars are only rarely included in car suspension kits, and may be easier to find and purchase separately.
Suspension Kit Installation Tools
There are many tools required to install a suspension kit, or the independent parts of a suspension kit, and there are even several more tools which, though not specifically required, are likely to make installation quicker and easier. For a quick overview of the tools that may be required, consider the chart below.
| Tool Name | Description |
| --- | --- |
| Floor Jack | Lifts the car and frame; more than one is ideal for a car suspension installation |
| Jack Stand | Supports the car and frame for work over the duration of the suspension installation |
| Air Compressor | Used with the control arm and the removal and replacement of the brake system |
| Ratchet Set | Most suspension kits require several sizes of ratchets to be used during installation |
| Breaker Bars (or other pipes) | Required for additional leverage when removing old parts |
| Lubricants and Oils | Required for the ball bearings, steering knuckle, and shock absorber parts |
| Pliers | Most suspension kits require both needle nose and vice pliers for installation |
| Mallets or Hammers | Often required to achieve the tightest fit possible for control arm and shock absorber assemblies |
| Flare Wrenches | Needed for removing and replacing the brake lines during the suspension kit's installation |
| Metric Wrenches | Many different sizes are required for various screws and bolts required during installation |
Those who do not already have these tools may wish to consider purchasing them online in addition to their suspension kits. However, even when purchased at below-retail prices, these tools altogether can come to cost a substantial amount. Looking for second-hand sets may be a good way to reduce their expense.
Buying Car Suspension Kits on eBay
Shoppers are likely to find that a massive selection of car suspension kits is easy to find and purchase on eBay. To begin shopping, head either to the eBay home page or any of eBay's various internal pages, and find the eBay search bar. Once you have found it, type in the phrase or words which describe the type of car suspension kit you are looking for. A good example of this includes "car suspension coil springs". If you are intending to use the kit to replace an existing kit, be sure to include the make and model of the car the suspension kit is needed for. Press "enter" when you are done typing to view the list of items which match your search. These items can then be organised by qualities such as price, location, and year.
Contacting an Item's Seller
There are several instances where it may be beneficial for you to contact an item's seller. If you have questions about an item's condition, for example, or if you would like to request additional photos, you can contact the seller for this information. To contact an item's seller with any questions or concerns relevant to the item which are not addressed in the listing, simply find and click the "Ask a Question" link.
Conclusion
Being able to identify the different types and components of car suspension kits can make purchasing the right one a breeze. For example, those wanting to install or replace suspension kits on classic or antique cars are likely to need torsion bars or leaf spring assemblies, rather than coil spring assemblies, which are more common to modern vehicles. While the vast majority of suspension kits are simply shock absorber kits, other significant components of a car's suspension system, such as the frame, control arms, and steering linkage can also be bought in kit form. Installing any of these parts generally requires a significant amount of technical know-how and mechanical experience.
Those shopping for car suspension kits are likely to find that websites such as eBay are able to offer them at very low prices compared to the prices of retail or manufacturer-bought kits. For shoppers who need specific suspension kits, shopping online may even save a significant amount of time.