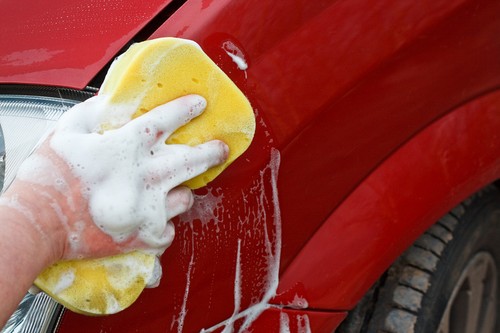 Car valeting is important when it comes to maintaining the look of a car. It includes everything from washing and cleaning to polishing and buffing a car to keep it looking brand new and showroom ready. Once the weather starts to get warm, it is a lot easier and more convenient for consumers to valet and clean the car rather than take it to a professional, and it is less costly.
However, buyers must have the proper valeting accessories and equipment to do a great job on the car. Keeping a clean car is an important part of car maintenance, because leaving a car dirty can disintegrate the finish of the car over time. Debris and dirt should not accumulate on a vehicle for a long period of time, so buyers should take care to valet the car regularly and treat valeting as a part of regular car upkeep.
Consumers can return a car to its brand new state with some simple cleaning, and from eBay, they can purchase all of the valeting accessories and cleaners needed to shine and buff any vehicle. Buyers are able to pick from a wide selection of items, ranging from sponges and towels to cleaners and waxes.
Cleaning a Car's Interior
When it comes to the actual cleaning of the car, there are a few steps that are necessary for consumers to complete in order to do a great job. The car's interior is a great place to start. Once buyers have cleaned all trash and extraneous items from the car, there are a few things that aid in keeping the car's interior fresh and spotless.
Glass Cleaner
Car owners need to clean the inside of the car's windows and windshield with a special glass cleaner. Some types of car glass cleaners are fairly similar to what consumers use inside the home, but they are formulated to clean dirt and spots from car windows. Consumers should use a lint-free, microfibre cloth in conjunction with glass cleaner for sparkling windows. A common brand of car glass cleaner is Meguiars. This type of glass cleaner can actually be used in the home or in the car for a streak-free shine. It is easy to use and comes in a plastic bottle with a nozzle.
Upholstery and Carpet Cleaner
Cleaning and valeting the inside of the car may require consumers to remove stains or spots which have occurred on the upholstery of the seats or on the carpet. Special interior cleaners are used to eliminate stains and liven up dreary and stained carpets. For easy stain removal, consumers should consider buying a valet cleaner for the stains that also has an attached bristle brush to scrub stains away.
Brushes can also be purchased separately and used with interior spray cleaners to scrub upholstery and carpets. There are special brushes created to remove pet hair from the vehicle fabric, which is a good option for consumers who often have a pet in the car. Buyers can purchase interior car shampoo to thoroughly clean the car's interior, and then sponges and towels are needed to aid in this process. Valet Pro and AutoGlym are a couple of brands of interior cleaners that buyers can look for.
Dashboard
Cleaning a dashboard and creating a high shine is a great way to remove dust and spots while valeting a car's interior. Armor All is the most common brand of cleaners for that purpose. It offers a convenient wipe that needs no added towels or sponges. The consumers can simply use wipes to clean the steering wheel, dashboard, glove compartment, and drink holders.
There are also sprays available to clean the dash parts of the car, such as Turtle Wax Cockpit Cleaner for consumers who prefer a spray instead of a wipe to clean the car's interior and remove any scuff marks and dirt. It works well on vinyl, rubber, and all types of plastic in the vehicle.
Vacuum
The quickest way to valet the inside of a car and make it look clean in seconds is by vacuuming it. A handheld car vacuum cleaner is a great accessory to have on hand for consumers who enjoy a clean car. Car owners are able to grab crumbs, dirt, and other debris and make the inside of the car look spotless with a vacuum that is right for the job.
A great vacuum for valeting is one that is powered by a plug that connects to the car's cigarette lighter. They often have long cords so they are easy to use throughout the car, and the small, compact design makes it simple to use. Some vacuums can be used for wet or dry spills, which make them even more versatile.
Cleaning a Car's Exterior
There are a few different items that are needed for washing the outside of the vehicle. Depending on what the buyers desire, the car can either be washed and dried, or there can be an added layer of polish or wax. Valeting a car's exterior requires several different cleaners and accessories for a clean and shiny finish.
Washing a Car
To wash the car, soap is needed, along with items such as a sponge and perhaps a bucket. Another option is to purchase a power washer, which is a hand-cranked washing system that is powerful enough to valet a car and even includes a brush. A portable power washer is great for consumers who frequently wash their car, or do not have access to a water hose. For buyers who want more of a traditional car valeting experience, simply purchasing a car soap to be mixed with water is fine.
Autoglym and Poor Boys both make special car soaps and even specific cleaners for the tyres and rims. Another type of wheel cleaner buyers may want to look at if they are targeting the wheels is Wonder Wheels. These special cleaners offer heavy-duty tyre and wheel scrubbing which makes sidewalls look brighter and removes dirt from wheels. Consumers also may want to use brushes to get tyres extra clean.
Drying a Car
There are a couple of options when it comes to drying the car. Consumers can use several soft, microfibre towels, or a special towel called a shammy, which holds an excess amount of water. These are made of sheepskin, leather, or chamois, and are reusable. It is a good choice when it comes to quickly drying a car, and they leave behind no streaks or spots.
Waxing a Car
The added touch and finishing portion of valeting a car is the polish. Buffing and polishing the car can add high shine and showroom quality finish to a clean car. Turtle Wax and Meguiars are common brands of car wax, and the consumers need polish applicator sponges, which are round, to apply the wax, along with microfibre cloths.
Waxing a car not only makes it look lovely, but it oftentimes also acts as a sealant and protectant for the car's exterior, and it keeps the car from being exposed to the elements and becoming damaged. Buyers can select various types of waxes such as carnauba wax, acrylic, or polymer wax, depending on personal preference.
Additional Accessories
Buyers with special considerations may possibly need some specific car valeting items. Items should be purchased based on necessity, or they are great to have on hand for when they are needed. Consumers should consider adding other items to a car care kit to make valeting more versatile.
Specific Factors and Situations

Accessories to Purchase

Musty smelling or odourous vehicle

Odour-eliminator sprays

Ripped or torn upholstery

Car repair kit for seats

Car seat covers

Dingy or dirty leather upholstery

Leather care and cleaners

Dirty chrome or aluminium

Aluminium cleaner and small bristled brush

Fog and rain protection

Anti-fog

Scratched paint
Car owners can keep a car looking its best and take proper care of it with all of the right cleaning and valeting accessories, which allows them to get the most out of their vehicles. Car valeting and care is not just for aesthetics, but there are functional reasons why buyers should keep their car taken care of and maintained to protect the vehicle from damage by taking care of issues when they occur.
How to Buy Car Valeting Accessories on eBay
Valeting a car is a popular spring and summer pastime, and once the warm weather approaches, it is time to buy all of the necessary accessories for valeting and cleaning your car, and you can do it on eBay. Navigate to car valeting items to see what type of cleaners and accessories you can buy, and make a selection based on category, such as car wax, shampoo, or interior cleaners.
Some sellers may offer a kit that includes all of the items you need for a lower price, which is a convenient way to get the valeting items you want all at the same time without having to search for them one at a time. Pick your favourite brands of cleaners, or shop by the features of the cleaners and accessories.
An important factor to remember is to buy all of your valeting accessories from merchants who are Top-rated sellers, and remember to read feedback before purchasing to ensure a satisfying buying experience. After you have received your car valeting and cleaning accessories and are happy with the buying experience, go back to the seller's page and leave him or her your feedback to help perfect the process as well as be a guide for future buyers.
Conclusion
There is nothing nicer than sliding behind the wheel of a clean, pristine car that has recently been valeted. Car owners can keep up with the maintenance of a vehicle to make driving more pleasurable by cleaning and valeting regularly with the proper cleaners and accessories. Valeting a car is not simply about aesthetics; it also helps maintain the finish of the car and creates a thin layer of protection between the car and the outside elements, protecting it from sun, rain, scratches, and spots that may stain or be hard to remove if left for too long.
Buying cleaners and accessories for valeting at home is a lot less costly than taking the vehicle to a professional, and it is satisfying for consumers to valet their car and do it the way they want it to be done. It is also a good way to keep up with the car and check the tyres, carpet, and other components while cleaning, to regularly ensure that the car is in good condition and requires no other maintenance. Valeting a car is simply part of good vehicle upkeep.