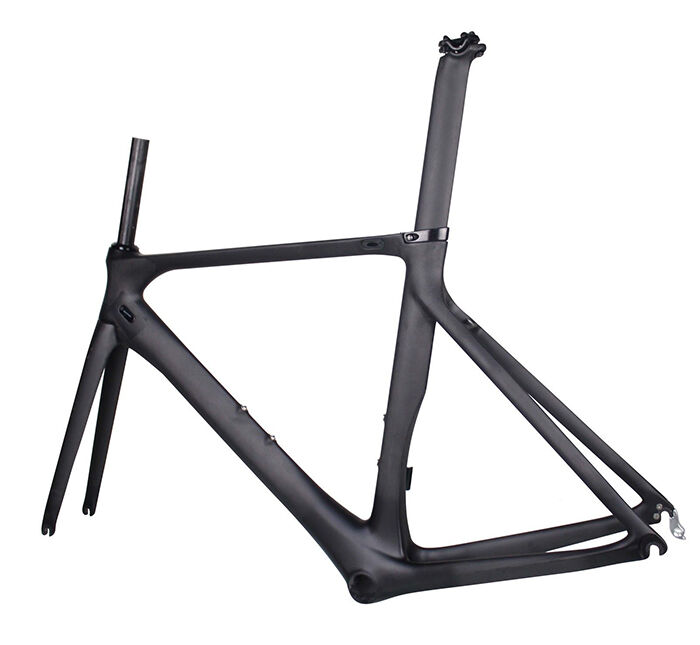 For any cyclist considering kitting themselves out with a new bike, with so many designs in so many materials on the modern market, the sheer volume of choice can seem bewildering.
Before rushing into a decision, all bikers should think carefully about:
* What they want to achieve with their biking.
* What their riding style is.
* How often they ride.
* What their budget is.
One very important decision is the frame of the machine chosen, and the material it's made from. After all, it's the bike's main component, so few things are more critical to the bicycle's performance.
While the basic and most commonly found design of the bicycle frame, consisting of a main and rear triangle and called the diamond design, has remained essentially unchanged for generations, with some notable variations on the theme being models like the tandem, recumbent and penny farthing, technology has leapt forward in recent years, and nowhere more so than with materials used for making bike frames.
While carbon frames have always been at the upper end of the price scale, the good news is that these bikes are quickly becoming far more affordable, thanks to rapidly advancing technology, especially on eBay.
Equally, many riders feel that, actually, the extreme lightness one gets in return for the money spent makes carbon frames extremely good value.
The Emergence of Carbon Bike Frames
Throughout the 1980s, there were significant breakthroughs in developments, and rising demand for high tech cycling products. Carbon fibre and titanium started to appear, while steel frame producers attempted to compete with stronger alloys, advanced shapes, heat treatments and diameter tubes in unconventional shapes to boost comfort and efficiency.
Now it seems that, in common with many sports, at the upper end of the spectrum bicycles are moving away from metals.
When choosing a bike frame, most cyclists are looking above all for a lack of weight, stiffness, something that will stand the test of time and shock absorption. Aluminium and titanium frames are proving strong challengers to steel in terms of rust resistance and weight.
However, at the higher end of the industry it seems probable that composite materials like carbon fibre will outperform metallic frames in virtually all regards.
Carbon frames can be produced in one unit, or perhaps two parts sealed together, known as monocoque construction, or made up of a number of cylindrical tubes joined together with lugs and adhesives, just as a steel frame is lugged or put together.
It's possible to purchase full carbon frames, eBay has a huge selection of them, as well as frames in which just one section, such as the forks, are made from this composite material.
Benefits of a Carbon Frame
Variations in Composition
Metals have the same composition throughout the length of their tube, while carbon can be endlessly varied in a number of different ways, including:
* Varied ply thickness
* Different materials combinations
* Varied fibre angles
That makes it easier to tailor a carbon frame to individual requirements, and to produce frames with very different degrees of stiffness.
For example, there is often particular emphasis on the carbon in the head tub area to enhance rigidity, or stiffness and align the wheels, even when a rider is faced with the stress of taking a corner at high speed.
Light, rust-resistant and durable, carbon can be made into just about any formation required, and fine-tuned for exact strength, for example, where pedalling forces are particularly heavy, while allowing for greater comfort and flexibility in other parts of the frame.
Sometimes tubes can even be made that have great strength in one direction, and more compliance in another. This is not an option with metal frames.
Carbon frames can also be formed with an aerodynamic profile which cylindrical tubes don't offer, often because they would be too heavy. This allows cyclists to travel faster, making carbon frames particularly good options for triathlon and time trial machines. (Carbon frames are generally recommended more for racing bikes and less for off-road machines.)
Weight
This is one area where a carbon bike frame really comes into its own. Generally speaking, frames made from carbon fibre weight less than even their aluminium-built counterparts. (However, in some cases a really high-end aluminium frame could be lighter than a carbon one that's at the cheaper end of the scale.)
This is achieved by having varied levels of thickness in tubing across their length, as mentioned above.
Comfort
While the stiffness of aluminium frames makes them another good choice for serious racers, this rigidity may not those who seek greater comfort because they are putting in long miles on the road. Even if an aluminium frame is combined with carbon forks, saddle post or handlebars, it can make for a more comfortable ride by helping to absorb shocks.
Carbon frames have the great advantage of providing rigidity while still lessening the impact of shocks from the road, giving the twin benefits that all serious cyclists are after - comfort with no compromise on speed, even on longer rides.
Not only that but many frames made from carbon have a good "geometry", which means that there is less sporadic movement than on some dedicated racing machines.
For many riders, the great thing about their carbon frame is that it offers a really nice smooth and confident ride.
And, while appearance of their machine are far from the most important factor for the majority of cyclists, there's no denying that carbon bike frames look pretty smart too.
Finally, when it comes to repairs, technologically, there's nothing about even major carbon frames that requires any particularly advanced skills. Damaged carbon layers can be removed, the area sanded down, and new layers added before more sanding to give back the frame's original shape.
However, some argue that carbon frames are especially prone to damage in the event of an accident or if they are mishandled, making them far more suited to track and road biking than the rough and tumble of trail riding.
Choosing a Carbon Bike Frame
Before any cyclist makes their decision, they need to think about what they aim to achieve with their riding style as well as their budget.
Riders also need to be sure that their choice of frame size suits their riding style and body height and shape. The Internet has various sizing charts for different kinds of machines, to help.
If a cyclist is particularly tall or small they should pay attention to frame size, but those of average height can probably handle most sizes of model fairly comfortably. If the frame is too small, the cyclist will not be comfortable or pedal efficiently, while frame sizes which are too big can make it hard to mount the machine and potentially lead to balance problems.
Riders should check that they can:
* Sit on the bike with their legs fully stretched out. One should be able to reach the ground easily. The frame is too small if, when pedalling, knees are parallel with the floor at the highest point.
| | |
| --- | --- |
| Height of Cyclist | Frame size |
| | 6" (40 cm) frame |
| 5'7" and 6'1" | 18" (45 cm) frame |
| taller than 6" | 20" or 21" (50-53 cm) frame |
The cyclist and buyer should bear in mind that it's important not to confuse frame and wheel size - wheels are measured independently and expressed separately.
Buying a Carbon Bike Frame on eBay
eBay has thousands of new and used carbon bike frames for sale from a wide range of manufacturers. Shopping online with eBay is highly efficient - it's convenient, very cost-effective and allows you to make your purchases in a time and place to suit you. At the same time, many vendors are now offering free shipping with orders, making life even easier.
Remember to use keywords to narrow down your search. All you need to do is type in terms related to your particular search into the search box and you will be able to call up the listings which most closely match your requirements.
The search tips page on eBay.co.uk has more tips on shopping using keywords - or try going to eBay stores.
A carbon bike frame is clearly a significant investment, which is why you need to be sure before you commit to your purchase. Don't be afraid to ask your potential vendor plenty of questions first. Many who sell on eBay will have extensive knowledge of cycling and bikes and be able to offer good advice.
Conclusion
The impact a bike frame can have on a machine's overall performance, and therefore the enjoyment of its ride, is significant.
Carbon bike frames offer one excellent option for roads and indoor tracks. Increasingly affordable and with incredible lack of weight and strength, these machines offer superior handling and comfort, even at speed. Many cyclists who ride carbon framed bikes insist they would never ride anything else. As well as buying a carbon fibre bike frame, you can also consider buying other carbon fibre accessories, such as seat posts, handlebars, and so on.