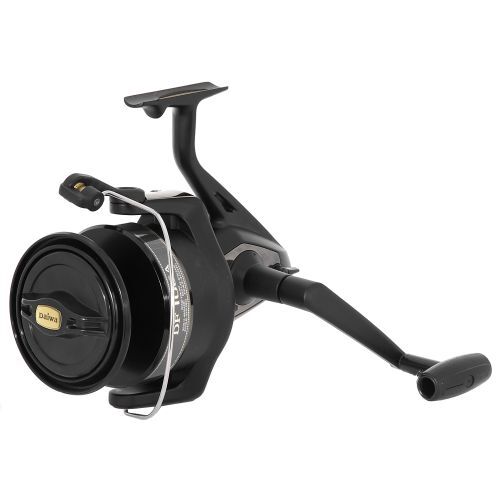 Carp are freshwater coarse fish that are common in Europe, the UK and Asia, and they can be found in rivers, ponds and lakes. Fishing for carp is an increasingly popular sport in the UK, as carp are more difficult to find and therefore more of a challenge. Carp fishing is also widely enjoyed in the US, where there is a threat of carp over-population.
The sport requires a fair amount of specialist equipment, including a number of spare parts in case anything gets damaged. Buyers should carefully consider the best fishing equipment for their personal needs, as this plays a major part in getting the best results possible.
Carp Fishing Reel Basics
When choosing a fishing reel, first the buyer should consider the basic components of their fishing equipment and the type of fishing they intend to do.
Normal carp fishing reels have a spool that does not move but have interchangeable lines, unless otherwise stated. These are the cylinders that hold the fishing line. Normal carp fishing requires a line that is over 250m long, as the angler will be casting bait at varying lengths and may wish to change the line if they are fishing for a long period of time in the sun. Most fishing lines are sensitive to UV light and degrade over the course of a few days. The length of the line is adjusted by pulling the reel's handle, which comes in different shapes and sizes. The handle also enables the angler to pull their rig in or out of the water. The rig is the part at the end of the line that attaches the hook and lead.
Reels come in a variety of sizes that are named according to how big they are, starting often at '3000' or '025'. The smallest of these are most appropriate for carp fishing, as larger ones carry more weight. The angler should buy the reel according to the size of the rod that will accompany it, as this will improve the point of their centre of gravity. This specific type of fishing generally requires the angler to cast at fair distances and depths.
Essential Equipment
Most carp lakes destinations are camping-only and will charge for the bank and the catch. For beginners to be successful, it is recommended that they come with the best carp fishing gear that they can budget for. This should comprise of a 12ft rod, free spool reels, a bite alarm, bank sticks, line and carp rigs, attaining nets and unhooking pads, and bait, at a minimum.
Aspiring anglers should also remember to bring spare parts where possible and try to read as much as possible about the sport before starting out. Many of the procedures involved, such as knot tying and choosing a reel, are very complicated and require some experience to get used to.
An audible and good quality bite alarm is an essential piece of fishing equipment, because carp fishing can require the angler to fish in poor weather conditions where they will leave their rod out overnight.
The 4 Types of Carp Fishing Reels
There are four main types of carp fishing reels that are available via eBay. The main types used for this sport are free spools, also known as Baitrunners, and Big Pit, Centrepin, and Multiplier reels. Each has their own merits, but free spools, invented in the 1980s, are the most widespread and easiest reels to use.
What Reels to Buy and Why
1. Free Spool Reels, or Baitrunners
Size and fish weight: Medium and/or large
Use for: Carp and specimen, plus useful when starting out
Best attribute: Anti-reverse
Expertise: Beginners +
With a standard fishing reel, the spool has a break on it, so the person holding it has to release the line to allow the fish to move on it. This has caused many fishing rods to break, or be lost to the water, as a catch on a spool will pull the rod away from the boat or the bank that it is placed on.
A free spool reel allows the angler to fish without having to keep a close eye on their rod. This effect is achieved by a mechanism setting the tension at which the line is pulled if a fish is hooked. Once the fish is hooked, the free spool effect can be disengaged.
2. Big Pit Reels
Size and fish weight: Large / large
Use for: Big carp, long range, big venues, spodding
Best attribute: Its large size and power
Expertise: Intermediate and up
Although big pit reels have small bodies, they are most suitable for bigger venues and larger catches. These reels were initially designed for beach fishing, as beach fishermen need to cast into particularly long distances and depths to get a good catch.
Big Pit Reels have around three times the ability of a typical free spool. In addition, they retrieve and cast the line quickly at long ranges, as lines strip off easily and with little resistance. The extra power is achieved through larger handles and big spools, which are designed to handle accordingly sized fish. Some will also have a free spool facility for extra usability.
3. Centrepin Reels
Size and fish weight: 11.5cm average diameter / various
Use for: Flowing water
Best attribute: Lands the bait into the riverbed unnoticed
Expertise: Practised specialists
A centrepin reel is the ideal fishing reel for fishing for carp in rivers, as the drum releases the line with the river's flow. This is a more traditional form of fishing reel and is considered by some to be outdated, but it can still yield great results with a lot of practice and due care. A good centrepin reel should revolve for long periods of time and be sensitive to movement.
Centre pins are also available with narrow or heavy drums. If the angler is going to use strong lines for heavy float work, then a wide drum version will be more suitable. Narrow drum centre pin reels are best used when fishing for small fish with light lines. The reel is comes with or without switches to tighten the line. Because of the centre pin's intricacies, using this reel is not something that should be attempted by beginners at first, as misuse can prove costly.
4. Multiplier Fishing Reels
Size and fish weight: Small / small
Use for: Jigs, lures, sea fishing
Best attribute: Gear options
Expertise required: Practised specialists
Multiplier fishing reels were initially used for sea fishing, but are now also frequently used for coarse fishing. These reels are thumb operated, small and compact in size, making them particularly well suited to lure fishing. However, they require placing on a specific area on top of the rod and as a result are difficult to fasten. The main problem with this item is that it tends to tangle when not cast correctly.
The angler will need to buy a rod that is designed for use specifically with this type of reel and be well practised at using the gears on this rod before they get good use out of it.
eBay Buying Guide
To find carp reels on eBay, visit the sports category of eBay.co.uk, where you can find the section for fishing.. Carp fish are a coarse fish, so the items will be listed under the coarse fishing category. Alternatively, you can use the search function to find the specific type of reel that you are after. Sometimes these will be listed under different names and model types, so use the table above to help you to determine what type of reel it is that you are looking at.
When you are buying an item on eBay, try to think about what areas you will be fishing in, what you want to get out of the sport, and what level you are capable of casting off at. Once you have double-checked that all of the details are in line with your requirements, you can either place a bid or 'Buy It Now' if the seller offers this as an option. Your purchase will be covered by the eBay Buyer Protection Programme,, as well as receiving additional cover if you choose to pay via PayPal.
Conclusion
Fishing reels are a great addition to any kit as they can improve fishing and make life easier with their various attributes. By experimenting with different reels the angler will find out what works best for them. When planning to go carp fishing, it is first worth considering what type of reel is the most appropriate for the choice of venue, the size of the target fish, and the angler's skill level. Making the decision as to which reel to purchase is complicated, so it's best to get to know all of the different options available. While it might take time to get used to and understand some of the more advanced reels, the rewards of mastering a more difficult style of fishing can be plentiful.