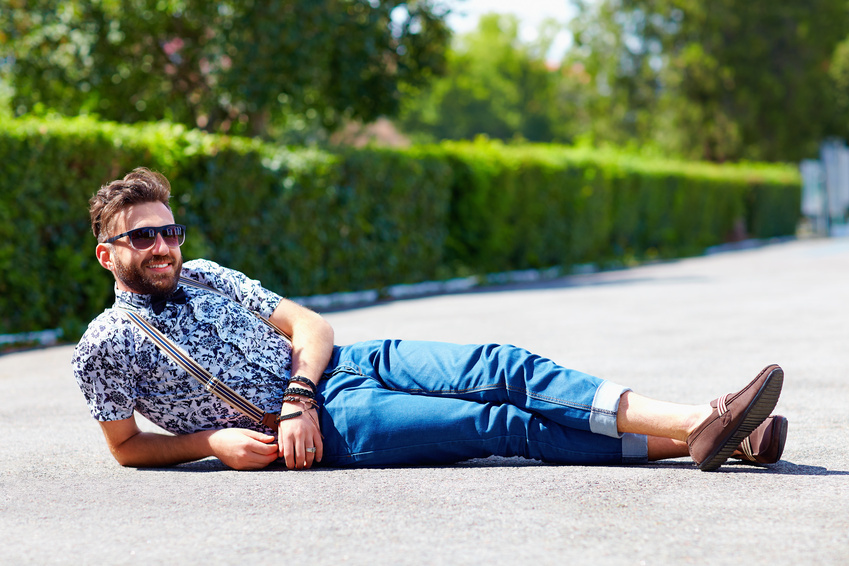 Selecting the correct style and fabric for casual trousers is quite easy. Knowing how different fabrics and styles work to pull an outfit together, and which trousers to wear for casual occasions, is a matter of understanding dress codes and traditional styles. Once you have added a few casual trousers to your wardrobe, you can dress stylishly for any event.
Denim Jeans

Denim jeans have become the go-anywhere, do-anything trouser for both men and women. Available in all sizes, fits, and a variety of styles, jeans are rugged and hold up well to harsh wear. Manufactured in several colour options besides the traditional blue, whether faded, stone washed, or bleached out, jeans are a favourite of many people. They are easy to wash, and you should not iron your jeans. Button down shirts, blazers, and jackets all go with jeans, but the traditional T-shirt is always a good option as well.
Chino Trousers

Chinos are trousers constructed from cotton fabric called chino, hence the name of the trousers. Slim cut with tapered legs, chinos work best for the medium to tall person who is lanky or slender. Chinos are available in a wide variety of colours, with and without pockets, and you should wear them with a belt. Chinos trousers coordinate well with button down shirts, jumpers, and T-shirts that are more formal. Avoid wearing chino trousers with dress shirts, blazers, or jackets.
Cargo Trousers
Cargo pants feature many pockets to hold a variety of items, so they can carry your bits and pieces wherever you go. Developed to mimic military fatigue pants, you can find cargos in the browns, tans, and greens of military uniforms. Usually offered with extra-large belt loops for web belts, cargo trousers work well with or without a belt. T-shirts and button downs look good with cargo pants.
Corduroy Trousers
Corduroy has come a long way from the days of knowing when someone wearing cords was coming by the sound of the pants. Cords are a good choice for winter wear due to the heaviness of the fabric. The slight stripes in cords help to elongate the legs and can make you look a bit taller. Worn with or without belts, and with tucked or untucked shirts, cords are comfortable and stylish.
Drawstring Trousers
Drawstring trousers take the idea of casual to the extreme. Loose fitting to accommodate a wide variety of sizes, drawstring pants are best for the gym or back garden. T-shirts and muscle shirts look good with drawstring pants and these trousers do not work with formal shirts or jackets.