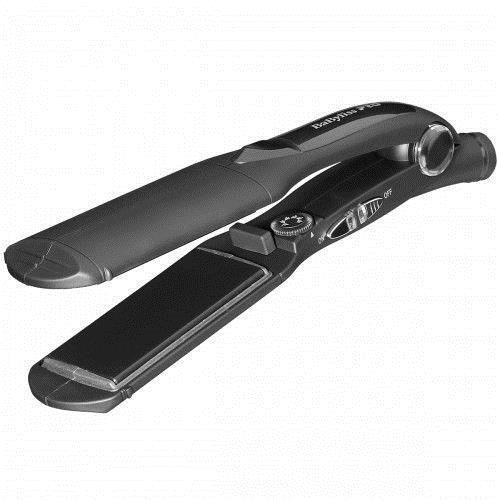 In the present day, the health & beauty marketplace makes available numerous hair styling tools to help women alter their look in minutes. Out of a whole array of styling tools available, including different types of scissors and combs, rollers, dryers, hair irons, and diffusers, most women just need a couple of these to style hair at home. The hair straightener, which helps straighten out curls, is one of these tools that women include in their home do-it-yourself arsenal.
With technological advancements contributing substantially to every sphere of life, straightening irons too have come a long way from the days when women used clothing irons to straighten out hair. Over the decades, numerous improvements were incorporated, and it was only in the 1990s that commercial hair irons became available in markets. The ceramic hair straightener is a product that is used widely, and one can avail of the different types of ceramic straightener available in the marketplace. When purchasing a ceramic straightener, it helps to also be aware of the additional features and benefits that these products offer. Although ceramic straighteners are available in mainstream retailers, one can also access many types of these hair straighteners online through reputable websites such as eBay..
What is a Ceramic Hair Straightener?
A hair styling tool designed to straighten hair using heated ceramic plates, the ceramic hair straightener has almost replaced other glass and metal plate hair straighteners. Ceramic plates,, with their smooth surface, glide through hair with ease, distributing heat evenly while sealing moisture within the hair shaft. Better performance, professional results, and the ability to straighten problematic curly, wavy, frizzy, and coarse hair without damaging the strands was a challenge that ceramic hair irons overcame, to gain immense popularity. Despite their high prices, sales of ceramic hair straighteners continued unabated.
Types of Ceramic Hair Straightener
A hair straightener performs only as well as its heated plates can. Several other added features like heat temperature adjustment, dimensions of the plate, display features, wet and dry modes, temperature lock function, auto shut off, easy to hold design and other comfort features of the gadget make operation easier. Ceramic plates in ceramic hair straighteners may be of various types, and some have other materials such as tourmaline or titanium in combination with ceramic to enhance performance.
Solid Ceramic Plates
Hair straighteners with plates wholly made using pure solid ceramic are expensive gadgets used by professionals and celebrity stylists. However, pure ceramic is a soft material and can crack if handled roughly, but the other benefits far outweigh this disadvantage. Benefits include smooth movement of hair strands between plates of the hair iron, even heating of plates, and abundance of negative ions that promote sealing of hair follicle and even out the shaft to lock in natural oils.
Ceramic Coated Plates
Hair straighteners with aluminium or titanium plates coated with layers of ceramic perform effectively but may not last long. The number of ceramic layers determines its longevity and efficacy, and as long as the ceramic layers are in place, it works fine. However, these layers may wear off, chip, or crack exposing the metal below, causing uneven heating and exposing the hair to positive ions. Snagging and damage to the hair as it slides through the chipped plates, and brittleness because of positive ions are hazards that one may face when using ceramic coated hair straighteners.
Tourmaline Ceramic Plates
Combining tourmaline and ceramic, by adding fine tourmaline powder and baking the ceramic plates, greatly enhances the performance of the tourmaline ceramic hair straightener. Each component passes on its benefits; the ceramic, which distributes heat evenly, makes hair glide through the plates, and the tourmaline produces abundant negative ions. These negative ions, along with those already produced by the ceramic plate, dry the hair fibre from the inside outwards, using lesser heat. The cuticle is laid flat, eliminating frizz, and the hair looks shiny and healthy. A tourmaline ceramic hair straightener imparts lustre and sheen to hair much better than other straighteners.
Teflon-Coated Ceramic Plates
Teflon-coated ceramic plates provide an ultra-smooth surface through which hair glides simply, and the gadget heats up rather quickly to provide amazing results even for coarse and curly hair. And with the protective teflon coating that guards against chipping and heat build-up, the question of hair getting damaged or burnt does not arise.
Nano Titanium Ceramic Plates
In nano titanium ceramic hair straighteners, the ceramic plates are treated with microscopic titanium particles. This enhances the efficacy of the hair iron which has the benefits of ceramic as well as that of titanium. Titanium is stable at high temperatures, conducts heat better than ceramic, and is lightweight and corrosion resistant as well. Besides, the ionic output of titanium is more than that of ceramic, making hair shiny and lustrous without much effort.
Nanodiamond Ceramic Plates
Nanodiamond has two properties that make it ideal to be used in creating high performance plates for hair straighteners. Firstly, nanodiamonds are hydrophilic, meaning that they are effective in attracting water molecules to their surface. Secondly, nanodiamonds are ideal for densification of materials or are used as fillers along with ceramic. Combining the two properties, nano diamond ceramic plates are ideal as hair straighteners while imparting sheen to the straightened hair strands as well.
Other Features to Look For in Ceramic Hair Straighteners
Ceramic hair straighteners are available with a host of other user-friendly features that make operating them easy, and of course, the price varies as well. Most of these features definitely make for better gadgets with longer life spans, which could translate to money saved.
Plate Width
Hair straighteners generally have slim, medium, or wide plates to be used on different hair types. Slim plates are suitable for short hair lengths and have a width of 2.5 cm to 3 cm. Medium plates are 3 cm to 4 cm in width, while the wide plates, ideal for long thick hair, are approximately 6 cm wide.
Heat-Up Time
This is an important consideration. Lesser time taken for the plates to reach optimum temperature and retain a consistent temperature throughout the procedure ensures a quick, efficient hair straightening job.
Wet to Dry Straighteners
For those who do not have enough time to blow dry hair before straightening, wet to dry straighteners are the way to go. Towel-dried hair can be directly straightened for quick results.
Curling
Some straighteners have a rounded outer edge, and these gadgets can be used to curl hair even as they are straightened. The trick is to twist the strand of hair along the body of the straightener inwards in a U-turn, slowly moving the straightener along the hair shaft towards the end of the hair.
Temperature Adjustment
This is a great feature that allows the user to set the optimal temperature suitable for the hair type. Some hair straighteners sense the hair type and automatically select the ideal temperature setting.
Digital Display
An LCD display that shows the temperature settings. This is a convenient feature that can avert potential accidents as a result of high temperatures.
Temperature Lock
This is another safety feature. A temperature lock helps prevent an accidental change in chosen temperature settings.
Why Ceramic Hair Straighteners are Popular
Ceramic hair straighteners may be expensive, however they are well worth the money spent. The chart below compares ceramic to glass and metal straighteners.
| | | |
| --- | --- | --- |
| Ceramic Plates | Glass Plates | Metallic Plates |
| Plate surfaces are evenly heated | Do not impart heat evenly | Create hot spots that burn hair |
| Plate surfaces retain smoothness | Coating wears off and snags hair | Coating wears off over time |
| Plates may develop cracks | Breakable plates | Plates chip and cause snags |
| Great for all hair textures | Good enough for straight hair | For straight and wavy hair |
| Superior results | Results not worthy of the effort | Results take long to achieve |
| Expensive hair irons | Inexpensive gadget | Inexpensive hair straightener |
For sheer performance and excellent results, straighteners with ceramic plates are considered to be better than those with either glass or metal plates.
Finding Ceramic Hair Straighteners on eBay
Ceramic hair straighteners are extremely popular hair styling tools that most women invest in, and eBay offers a vast array that includes different types of ceramic straightener. Shoppers can browse through innumerable listings to find popular brands along with newer and lesser known brands. This ensures that shoppers have a wide choice as far as their budgets go, and a shopper therefore has a high likelihood of finding a suitable ceramic hair straightener on the website.
After entering the applicable search terms using eBay's search functions, shoppers can zero in on the suitable ceramic hair straighteners they are looking for. Individual listing pages provide images and further details about the selected products. This helps shoppers learn more, enabling them to make a final choice.
Other user-friendly features also exist on eBay to make online shopping a secure and pleasant one. Several items qualify for auctions and free shipping, so shoppers can grab great money-saving deals. Numerous payment options are available so that shoppers may choose the one that is ideally suited for them.
Conclusion
Every person wants to look well-groomed, and great looking hair contributes immensely in enhancing one's looks. Ceramic hair straighteners are hair styling tools that individuals can operate by themselves to achieve great looking hair. Thanks to the enhanced performance, minimal hair damage, and longer life span they offer, ceramic plates have almost replaced glass and metallic plates in hair straighteners.
While plates may be made wholly of pure ceramic, some manufacturers do use layers of ceramic coating on other metals. Combining ceramic with other materials such as tourmaline, nanodiamonds, titanium, and teflon are all geared towards enhancing product performance. Most of these materials increase the negative ions during the procedure to soothe the cuticle layer, seal in natural oils, and eliminate frizz to give shiny, lustrous locks. Other innovative features in hair straighteners, such as LCD display and temperature lock, make these gadgets easier and safer to handle.
With the plethora of product options and functionalities that eBay offers, one can easily find the right type of ceramic hair straightener that can enhance one's looks.